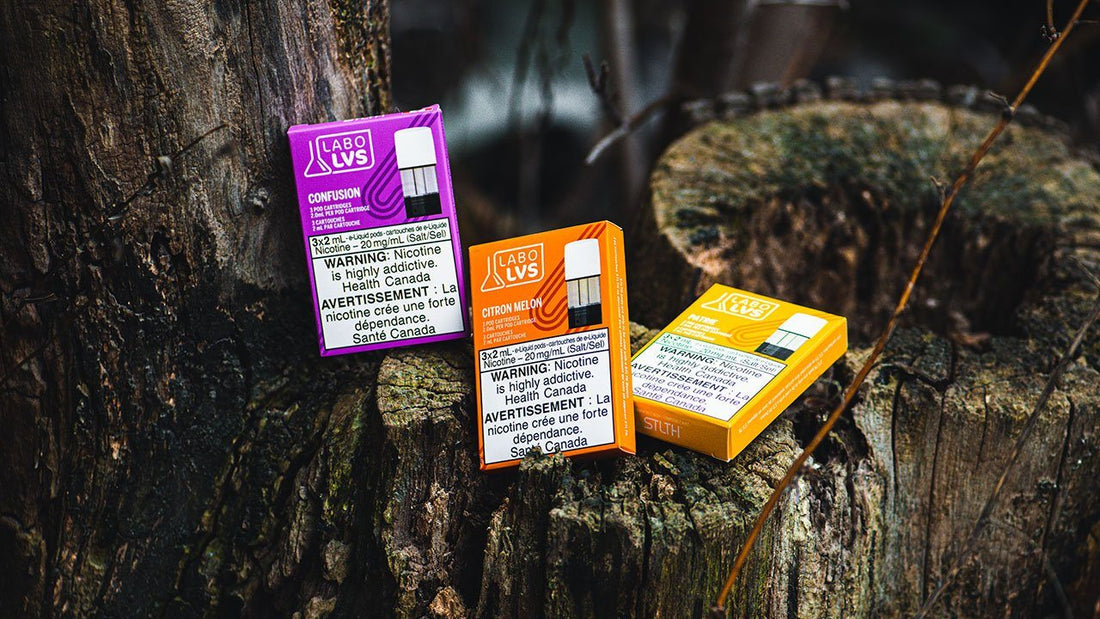 STLTH Labo LVS Pods Review
STLTH is one of the big names in the pre-filled pod game, and Labo LVS has cooked up some tasty vape juices that will have you watering at the mouth! You'll find a couple of delicious fruit blends in Citron Melon and Confusion, and then a tasty tobacco e-liquid in Patrie.
All Labo LVS pods are filled with 2mL of juice. You'll have your choice of 20mg, 35mg, and 50mg salt nicotine concentrations, all blended in a 50/50 PG/VG ratio.
If you're looking to add a bit of kick to your STLTH device, then Labo LVS might have just what you're looking for!
Flavours
If you're looking for tasty fruity blends or a classic tobacco taste, then you'll have fun pursuing through Labo LVS's selection of flavours!
Citron Melon gives you the sweetness of melons and the sour zest of lemons all wrapped in a delicious blend. The sharp sour hits first on the inhale while the sweet, fruity blend fleshes out in a full-bodied taste on the exhale. If you're looking for a bit of sweet and sour, then you're looking for a little bit of Citron Melon!
As the name implies, your palate will be quite confused when the tasty vapour of Confusion hits your mouth. It's a pleasant blend of raspberry, lime, grenadine, and grapefruit. You'll also catch notes of mangosteen, which is itself like a blend of smooth, sweet fruits like peaches, strawberries, and lychee. Those that are tired of straightforward flavours will love the taste of Confusion!
Finally, Patrie is a delicious e-liquid geared towards tobacco lovers. Specifically formulated after the rich, smooth flavours of Canadian tobacco, you'll get thick, tasty vapour that has the extra kick of salt nicotine. The result is a vaping experience that is very close to authentic smoking tobacco (without all the nasty smoke!).
Conclusion
Labo LVS is perfect for vapers who are dedicated to the STLTH pod system but want some more unique, tasty vape liquids to quench their tastebuds. If you want a gentle fruit blend, Citron Melon is an excellent choice, while Confusion offers a truly unique tasting experience that is hard to replicate among other juices. Patrie offers a great solution for smokers looking to transition to vaping or vapers who miss the taste of tobacco.
Whether you're looking for simple or complex sweetness or a bit of savoury flavours, you'll love what you find with Labo LVS Pods!