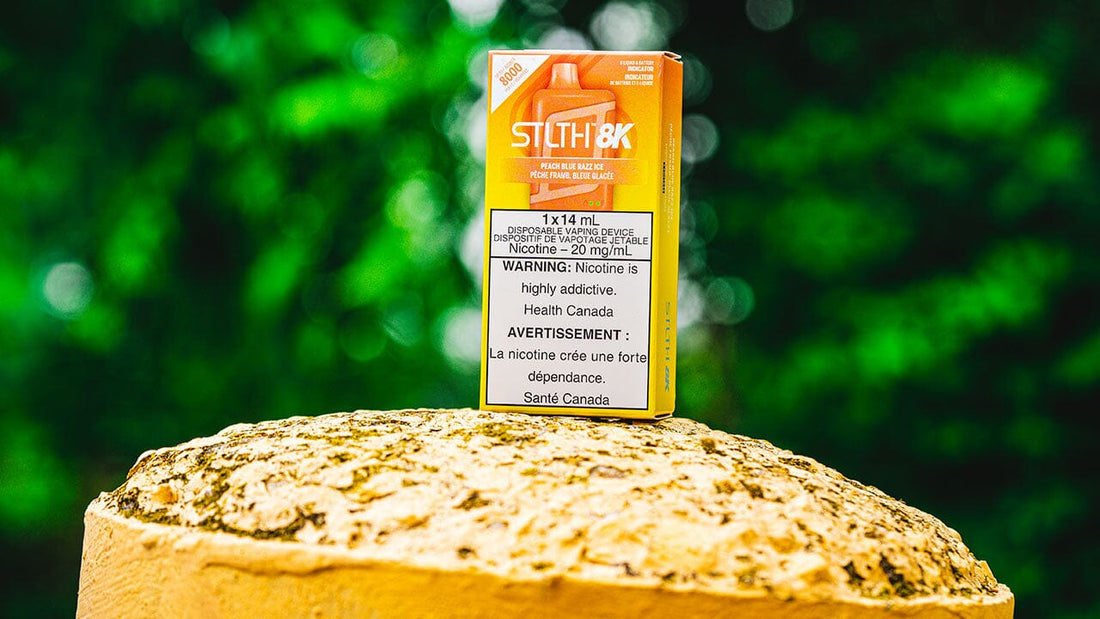 STLTH 8K Disposable Vape: The Latest Buzz at Your Local Vape Store
We are thrilled to share that all VapeMeet locations now carry the latest addition to their disposable vape line - the 8K STLTH! These innovative, high-performance disposable vapes have blown us away, and we think you will be too.
As vaping grows and adapts in the modern world, we see a substantial shift towards disposable vapes. In the past, disposable vapes would only offer a small number of puffs, but today and with improvements to technology and design, disposable vapes could be how modern people choose to vape. We see more  high-powered disposables offering over 5000 puffs, and the new STLTH 8K boasts 8000 whiffs in one portable and convenient package. In this blog post, we'll dive into a few new flavours and features that make this product stand out. Check it out and see what you think!
A Powerhouse of Features with STLTH 8K
The STLTH 8K Disposable Vape isn't just another vape. It's a marvel of modern vaping technology. With an impressive 8000 puffs, it's designed to last and keep you satisfied for longer. Its powerful 800mAh internal battery ensures you will be safe and dry halfway through your day. But the features continue.
This vape comes with a generous 14mL of e-liquid, allowing ample volume to enjoy your favourite flavours. And with state-of-the-art type-C charging, you can easily power up your device quickly.
A Symphony of Vape Flavours
Now, let's dive into the heart of any vape - the flavours. The STLTH 8K Disposable Vape offers a delightful variety that caters to all taste buds:
A refreshing blend of sweet white grapes with an excellent icy finish. Perfect for those who crave a fruity and fresh vaping experience.
An irresistible mix of ripe strawberries and tangy lime with a touch of ice. Ideal for vapers who love a well-balanced fruity and citrusy blend.
Punch Ice: An exciting concoction of mixed fruits with ice punch. This one's for the adventurous souls who like to keep their taste buds guessing.
A unique fusion of exotic dragon fruit, tart kiwi, and juicy berries, rounded off with a hint of ice. A must-try for those who enjoy exploring individual flavour profiles.
Personal Experience & Recommendations
Having tried the STLTH 8K Disposable Vape, I know it lives up to the hype. The long-lasting battery, great e-liquid, and convenient charging make it a hassle-free choice for any vaper.
As for the flavours, each one brings a distinctive taste experience to the table. However, my personal favourite is the Kiwi Dragon Berry Ice. The surprising blend of tart and sweet with an excellent finish makes every puff an adventure.
So, if you want to spice up your vaping routine, the STLTH 8K Disposable Vape could be what you need. Give it a try and discover a whole new world of vaping enjoyment!
Need more vapes in your feed? Stay up to date with all our deals and promotions by following our Instagram page!