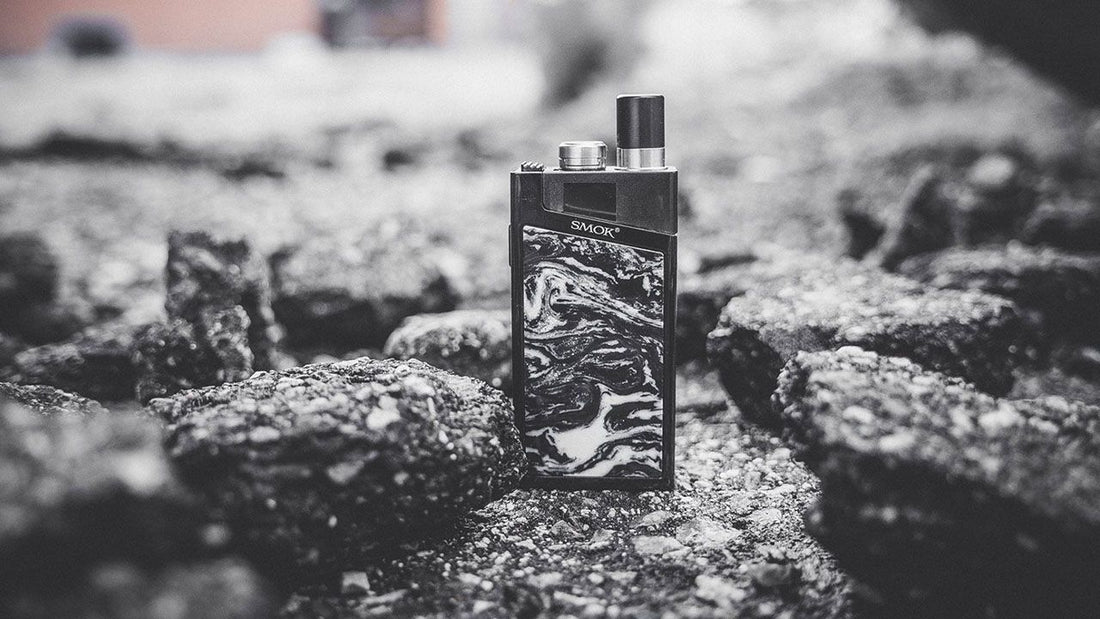 SMOK - Trinity Alpha Kit Review
The SMOK Trinity Alpha is an AIO-style pod in a shape that has become very popular lately. It shares a few things in common with the SMOK Nord, but it has a boxy form factor reminiscent of the Lost Vape Orion series and a few new additions. The Trinity Alpha uses 2.8 mL pods that are cross-compatible with the entire Nord coils line. They feature a slide-to-open top filling system and a replaceable 510 drip tip. The kit includes a pod and both an MTL coil and a DL coil.
Specifications
Size: 91x38x16mm

Battery: 1000mAh (internal)

Material: Zinc alloy

Uses Smok Nord coils

Push out pod with lock mechanism

Battery and power indicators

Slide / screw top filling cap
What's In The Box
Smok Trinity Alpha device

Nord Mesh coil 0.6ohm

Nord Mesh coil 0.8ohm

Lanyard

USB cable

Manual
Design
The Trinity Alpha features resin-printed panels that give it a high-end look that I really like. It feels much lighter and lighter than the actual mod, but it's also more affordable. The overall quality of construction is acceptable on the basis of its price tag. The device weighs a little over 90 g with a full pod. It is 91 mm in height, 38 mm in width and 16 mm in depth. It's a bit thicker than the Orion DNA Go, but it's about the same height. You can release the pod by clicking the latch on top of it. It has four LED lights to monitor battery life and display power modes.
Flavour Production
I can't help but compare the Trinity Alpha to the Nord because it uses the same exact coil heads. The draw is the restrictive lung hit that I would expect, which is not a true MTL draw, even with the MTL coils. They produce a similar flavour to the Nord, which is about as good as you can get for a pod system right now. The "hard" setting allows you to achieve a slight boost in taste, but keep in mind that the coils will wear out a little faster.
Overall Performance
I didn't get that sharp of a throat hit with this device, even using 50 mg of nic salts. It has two airflow slots that provide a draw no matter which coil you use. You can cover one of the slots with your finger or a piece of tape if you want a little less airflow, but I happen to enjoy that style. The vapor never gets too hot, it's usually a bit cooler on the side, even at its maximum output setting. I really like adding the replaceable 510 drip tip because it gives it a very comfortable and familiar feel. Vapour production is quite impressive, especially when using the 0.6-ohm mesh coils in hard mode.
Battery Life
Running low on the battery, but can't wait for your next vape? With the Trinity Alpha pod pack, you can enjoy convenient pass-through technology that allows you to use your device when charging. You can also customize your vaping experience by choosing the power settings made up of Hard, Regular and Soft. This lets you choose how easily your system heats up the e-liquid and lets you find the best ramp-up time for a vape that suits your style perfectly. If you're not willing to settle for the fixed power output of most all-in-one pod systems that you only need to learn to love, you'll really appreciate the flexibility that the Alpha Trinity offers.
Verdict
The SMOK Trinity Alpha is a logical improvement from the Nord and is very comparable in results. It's a good middle ground between the pod vape and the AIO, which is ideal for people who are switching from the starter kit to more advanced vapes. It's an inexpensive device that's easy to use. If you're still in love with your Nord but want some extra versatility and a slight boost in power, check out the SMOK Trinity Alpha.
If you're still reading up to this point then there's a good chance this product is exactly what you're looking for. Check out the SMOK Trinity Alpha product page and order yours today. You owe it to yourself!