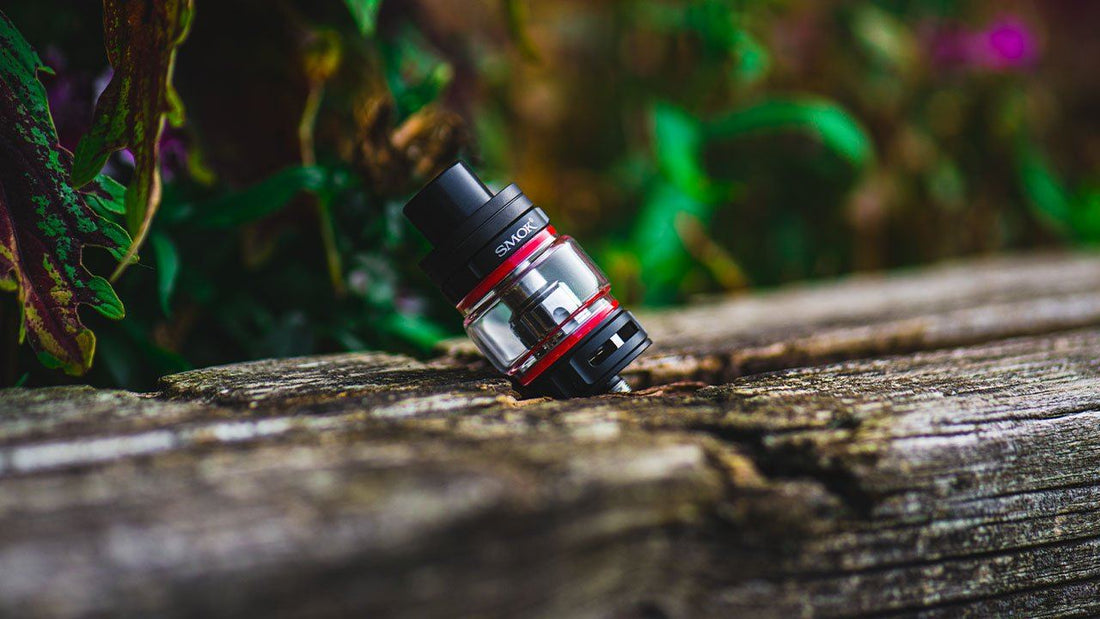 Smok TFV9 Tank Review
Being on the cutting edge of vaping is what many vapers love to focus on. Anything that gets them closer to more authentic tasting vapour, higher quality vapour production, or any other quality of life improvement is what they're constantly on the prowl for.
For fans of Smok and for those looking for the latest and greatest, the Smok TFV9 is an eye-catching choice. It offers a new coil that is perfect for cloud chasing, improved airflow from past Smok tanks, and many standard Smok tank features that fans have grown to love.
Considering a cutting-edge tank? Take a closer look at the TFV9 to learn how it can give a nice boost to your vaping experience.
What's in the Box
1 x TFV9 Tank
2 x V9 Meshed 0.15ohm Coil
1 x Replacement Glass
1 x Instruction Manual
Design
The TFV9 has a fantastic design. The base has a diameter of 28mm, which helps give room for a whopping 6.5mL of vape juice capacity. As with many Smok tanks, the TFV9 features a gold-plated 510 threaded connection, which aids in overall conductivity and helps with the overall durability of the connection.
You'll also find Smok's childproof top-cap design, which is also great for preventing spills and messes. Instead of a simple twist or a locking butting, the top cap needs to be lifted and then turned, which helps the top cap remain secure when it is placed back onto the tank. Once removed, you'll find an oversized fill slot that makes refilling a breeze.
Finally, the combination of a large, open mouthpiece and oversized airflow vents will give you solid control of creating great-tasting, smooth vapour. This feature is often overlooked by other tanks, but the TFV9 gives it the attention it deserves!
Performance
The performance of the TFV9 is a wonderful pump in quality due to the cutting-edge coil it uses. The V9 meshed coil is made from Kanthal, which is one of the best alloys to use for enduring a wide-range of high-temperatures. The coil has 0.15ohms of resistance and a recommended wattage output range of 40-90W.
The coil not only uses a high-end alloy to easily conduct heat, but the mesh design provides a large surface area for the vape juice to come into contact with. The result is rapid vapour production, but the coil and airflow design keep the vapour from getting scorched or harsh. Instead, you get gigantic mouthfuls of tasty vapour!
The resulting performance is ideal for sub-ohm vapers and particularly for those that would consider themselves cloud chasers.
Conclusion
The new coil design, upgraded airflow system, and the retention of highly-praised, classic Smok features make the TFV9 an easy choice for most vapers. It gives a special focus to sub-ohm vaping and huge vapour production while still making sure that you get a great flavour!
Since it is sub-ohm vaping, freebase nicotine e-liquids are the best match for this tank. Salt-nicotine e-liquids tend to be much harsher with sub-ohm vaping, so if you are married to this style of vape juice, you should consider a higher-resistance tank.
The wattage requirements of the TFV9 are comfortably modest, so most box mods will function well with this tank. As with all coils, your box mod should be able to meet the upper threshold of recommended wattage to ensure you have access to the full range of vapour production and flavour that the TFV9 has to offer.
If you're looking for a brand new coil system dedicated to sub-ohm vaping, then the Smok TFV9 tank is a must-buy!