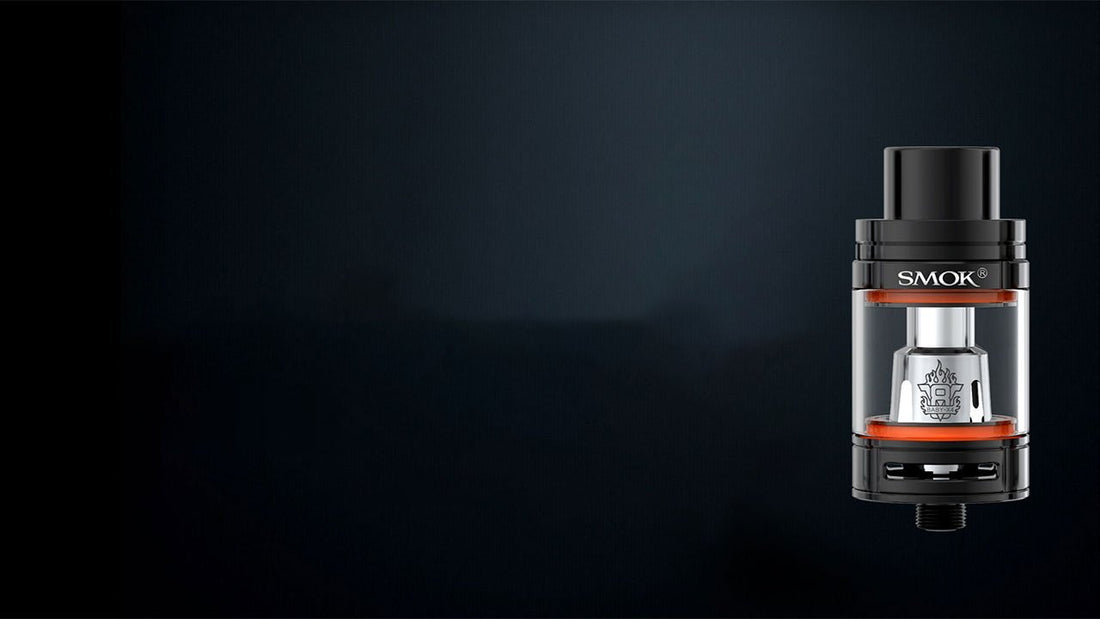 Smok TFV8 Big Baby Beast Tank Review
Finding the ideal vape juice tank can be a bit of a Goldilocks situation. It's easy to find one with too high of power requirements or another that is too small and simple, but that "just right" tank can be hard to come by.
If you feel trapped between too high-end and too basic, then the Big Baby Beast might be that comfortable middle ground you've been looking for. It's designed to be a middle offering between the Smok Cloud Beast (a super-high wattage monster) and the Baby Beast (just a little guy, perfect for smaller box mods with moderate wattage outputs).
Think the Big Baby Beast might be that comfortable in-between vape tank you've been searching for? Read on to see if it's a good fit!
What's in the Box
1 x Tank
1 x Coil - V8 Baby X4
1 x Coil - V8 Baby T6
1 x Replacement Glass
1 x 510 Drip Tip Adapter
1 x Spare Parts
1 x Instruction Manual
Design
The Baby Beast and Big Baby Beast largely differ in their design (you'll be happy to see later on that their performance is quite similar). As you would expect from the name, the Big Baby Beast is...well...bigger! It's a little chunkier and a little taller with measurements of 24.5x56mm, and the vape juice capacity has been bumped up to 5mL.
You'll still get a quality stainless steel construction and food-grade glass with the Big Baby Beast, as well as a larger airflow vent to help customize how smooth, thick, and cool you want your vapour hits to be. The drip cap is slightly larger, allowing more air to flow through to help increase vapour production.
The filling mechanism is largely the same, which should be pleasant news. Most Smok tanks have a secure-locking mechanism and a side-swivel drip cap, so you can be sure that the device is locked to prevent spills and so you can easily refill the tank. It's important that this process be easy and convenient, and the Big Baby Beast continues in that tradition.
Performance
The Big Baby Beast has a mature, grown-up performance that most vapers will adore. It comes with V8 Baby-Q2 EU Core Dual Coils, with a resistance of 0.4ohms. If you'd prefer more coils or coils with less resistance, the Big Baby Beast is compatible with all V8 Baby coils, including the V8 Baby RBA!
Wattage requirements for the included coil are very modest. You'll really only need around 65W of output to get the most out of these coils. If you branch out into the other available coils, you'll need to make sure your box mod has at least 80W output capacity to be able to thoroughly enjoy the entire line of V8 Baby coils.
The coil line performs exceptionally well with freebase nicotine juices, as they all offer a sub-ohm vaping experience. There are a few higher resistance coils, which will work a bit better for vapers who are committed to enjoying salt-nicotine juices.
With performance so highly customizable (especially with the RBA coil), you can make the experience exactly how you want it to be. You can still expect excellent vapour production and smooth, refreshing flavours regardless of what coil you end up using!
Conclusion
The Big Baby Beast is perfect for vapers who like the Baby Beast but need just a bit more oomph in terms of size and capacity. The ability to hold more vape juice is a huge plus, and the large airflow vents are a great small tweak to an otherwise fantastic design.
The power requirements, like the Baby Beast before it, continue to be very moderate. Most box mods can easily use this tank with the majority of the coils in the V8 Baby library. However, if you're focused on high-wattage vaping, similar to what the Cloud Beast offers, you'll want to look for a tank that can handle higher wattage.
Overall, if you liked the Baby Beast but wish it had more capacity and a more substantial size, then the Big Baby Beast is primed and ready to go home with you!