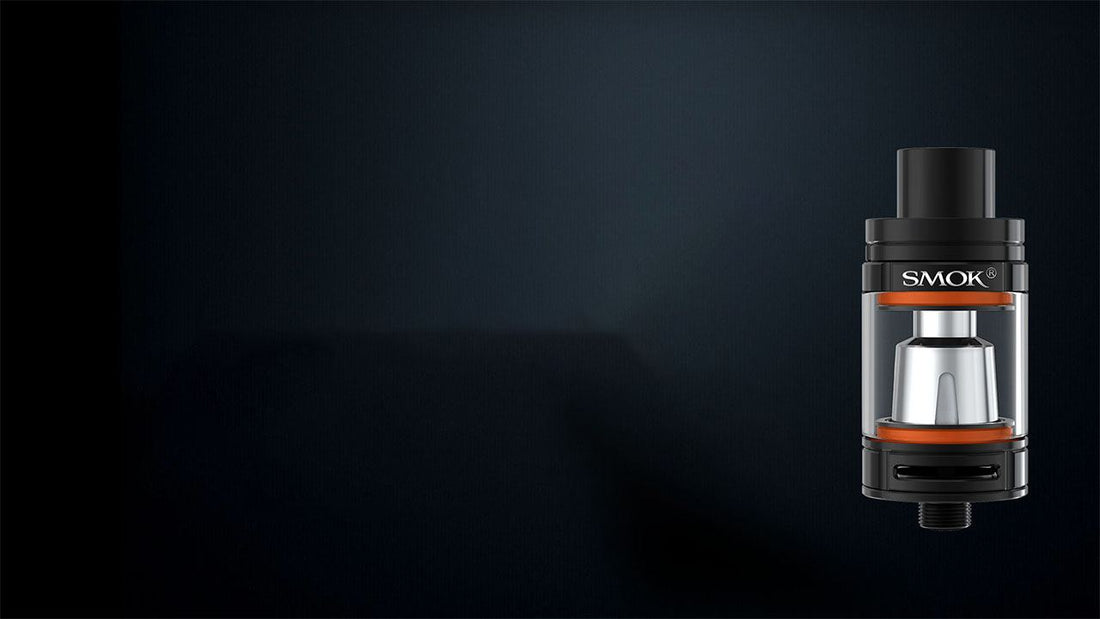 Smok TFV8 Baby Beast Tank Review
One of Smok's most premium vape tanks is the Cloud Beast. It's designed for extreme high-wattage, sub-ohm vaping and is geared towards experienced vapers who love to tinker with their vape juice tank. While the product is amazing, the power requirements and learning curve are often too much for vapers that would otherwise love the performance.
Sound like you? Then you may be interested in the TFV8 Baby Beast! It features a smaller physical size, lower wattage output requirements, but still provides a punch of performance that experienced sub-ohm vapers will adore.
If you are interested in a high-performing tank that allows for a high level of customization, then you should take a closer look at the TFV8 Baby Beast!
What's in the Box
1 x Tank
1 x Coil - SMOK V8 Baby Q2 0.4 ohm
1 x Coil - SMOK V8 Baby T8 0.15 ohm
1 x Replacement Glass
1 x User Manual
1 x Spare Parts Pack
Design
The Baby Beast sports a 22x53mm size, which is far more accommodating than the larger Cloud Beast. However, with that smaller size, you'll get a compromise in e-liquid capacity. The standard capacity is 3mL, though this can be expanded with a bubble tank (which is sold separately).
Though the vape juice capacity is much smaller when compared to the Cloud Beast, the Baby Beast still features the incredibly convenient top-cap filling design that Smok offers on many of their vape juice tanks. A secure button holds the drip cap in place until pressed, which thin swivels to the side to allow for easy refills.
Even though it's just a baby, the Baby Beast still has large air slots that allow for airflow adjustments to be made, helping to tweak the flavour and volume of the vapour you produce. The drip tip is also designed to help a large amount of air to flow at once, helping to draw plenty of vapour in with each draw you take!
Overall, while you lose some features in exchange for a much smaller size, the Baby Beast still sports the high-quality build you'd come to expect from Smok!
Performance
While it may be in its infancy, the Baby Beast provides fully-grown performance. It comes installed with the V8 Baby-X4 Core (which has 0.15ohms of resistance), and the tank kit includes the V8 Baby-T6 Core (which has 0.2ohms of resistance). The Baby Beast is compatible with all V8 Baby coils and cores, so if the kit doesn't include one you like, you should browse their offerings to see if another may be a better fit!
The wattage output requirements of the included coils are fairly modest, especially when compared to the Cloud Beast. You'll get a range of 40-110W, though you'll want a box mod with at least 60W of wattage output to really enjoy the depth of performance the Baby Beast provides.
For experienced builders, the included coil supports RBA functions, so you can take it apart, switch and swap coils, and even change the wick if you want! We suggest sticking to a cotton-based wick, but the Baby Beast opens the door to let you experiment and see which specific kind of wick works best for you!
Don't let the "baby" in Baby Beast fool you. The performance is anything but, and we love the quality of vapour flavour and vapour production this e-liquid tank provides.
Conclusion
When two Cloud Beasts love each other very much, you get to experience the compact, high-end performance of the Baby Beast! It's ideal for smaller box mods and devices with moderate wattage output while still appealing to experienced vapers that enjoy the opportunity to play with RBA features and building.
If you're looking for super high-wattage vaping, you should consider the Cloud Beast, since the Baby Beast doesn't support much more than 110W. If you despise refilling your vape juice tank regularly (regardless of how easy), then the somewhat limited capacity of the Baby Beast may be a deal-breaker for you, as well.
However, for those that are looking for a modest vape juice tank with more than modest performance and build quality, then the TFV8 Baby Beast should be on your radar!