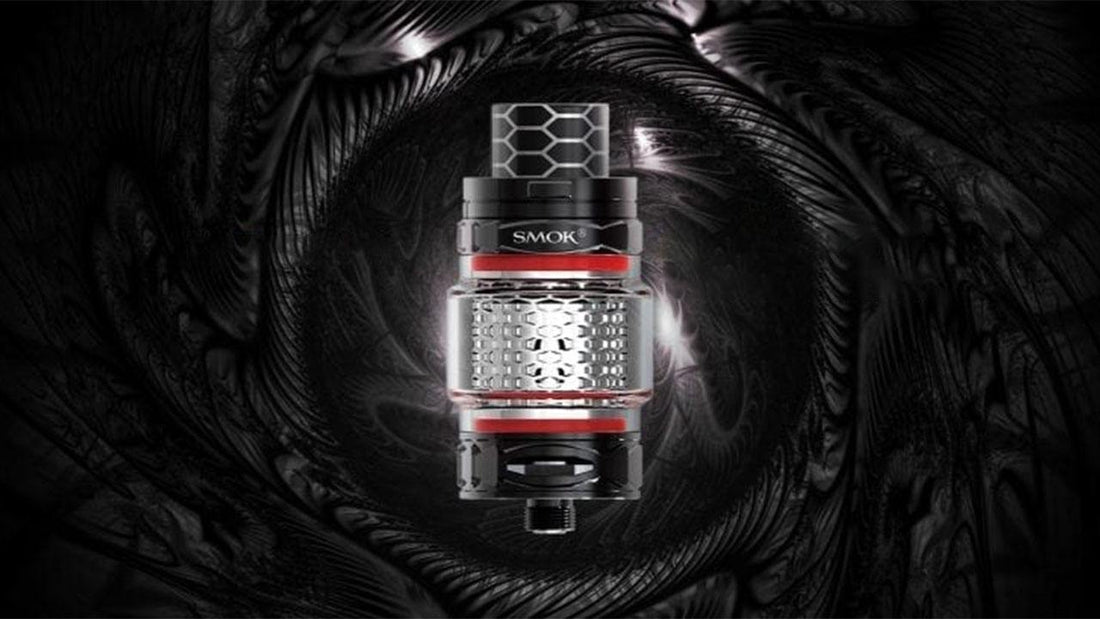 Smok TFV12 Prince Tank Review
Smok is an industry leader in providing high-end vape juice tanks with thoughtful designs and quality builds, but the TFV12 Prince adds a splash of royalty to your vaping experience. Whether you're concerned with e-liquid capacity, a bright aesthetic, or cutting-edge coils, you'll feel like part of the vaping monarchy when you take a rip from the Prince.
Sound enticing? Keep reading to learn how the TFV12 Prince can satisfy your vaping needs!
What's in the Box
1 x Tank
1 x Coil - V12 Prince-T10
1 x Coil - V12 Prince-X6
1 x Coil - V12 Prince-Q4
1 x Replacement Glass (2mL)
1 x Replacement Glass (8mL Pre-Installed)
1 x Spare Parts Pack
1 x User manual
Design
The design of the Prince caters to vapers who enjoy easy, all-day vaping with needing to regularly refill. You'll find a generous 8mL vape juice capacity, which is more than enough for more vapers to vape throughout the day without hassling with refilling.
When the time comes to refill, the wide-mouth drip cap flips to the side with the press of a button, revealing an oversized fill hole which makes filling easy without needing to worry about spills or drips of vape juice in a large airflow tube.
The build materials are meant to help create a long-lasting and safe product. The Prince features stainless steel and food-grade glass, so you won't need to worry about dangerous chemical leeching if you choose to vape at high temperatures.
Finally, there is a large selection of incredible-looking resin drip tips and bulb tubes, which is fantastic for creating a unique look that matches your personal style perfectly! These drip tips and bulb tubes can be bought separately, so need to buy several tanks!
Performance
If you're familiar with Smok's line of vape juice tanks, the quality of performance will come as no surprise. The tank kit will come with three different coils: the 0.4ohm V12 Prince-Q4 Quadruple Coils, the 0.15ohm V12 Prince-X6 Sextuple Coils, and the 0.12ohm V12 Prince-T10 Decuple Coils. If these coils don't fit your fancy, the Prince is compatible with the entire line of Prince Coils, and you have plenty to choose from!
The wattage requirements of the included coils vary, and you can enjoy a range of as low as 40W and as high as 110W. While most box mods can easily accommodate this range, you'll want to be sure that your device has at least an 80W range to get the smoothest, best-tasting vapour possible.
These coils (as well as the other compatible coils) excel in a high-wattage, low-resistance style, so if you're looking to crank out huge plumes of vapour that also taste great (instead of scorched), you'll love the line of coils that Smok has to offer!
Conclusion
If you're looking for a solid vape juice tank upgrade, then the TFV12 Prince should be on your radar. Its standard physical size, 510 threaded connection, and somewhat standard wattage requirements make it a great match for most box mods. You'll also have access to great style customization and high-grade materials that will give your style, not just vapour flavour, a nice pop!
While the Prince tank will accommodate most vapers' needs, those that exclusively vape salt nicotine juices may want to consider a higher resistant tank. Those with box mods with lower wattage output capabilities (even if you fall into the bottom acceptable range) will want to consider a tank that is made more specifically for lower wattage vaping.
For the vapers that are looking for an eye-catching, customizable design with a hyper-focus on sub-ohm vaping and smooth vapour production, you'll feel like you're part of the royal family with the TFV12 Prince!
Has our review convinced you? Check out the TFV12 Prince product page to shop now!