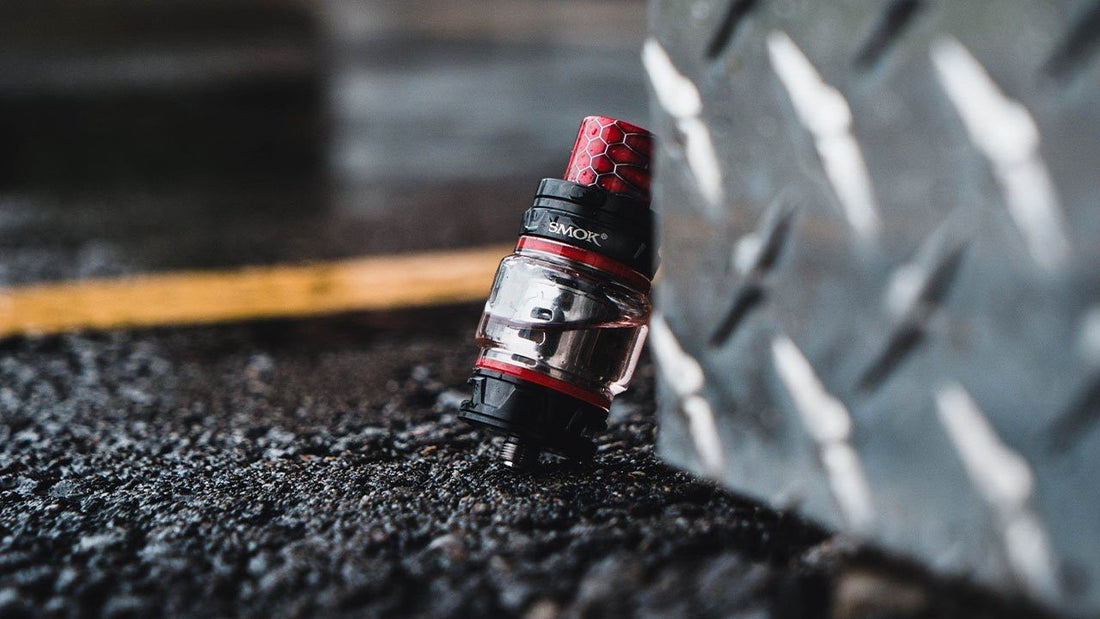 Smok TFV12 Prince Cobra Edition Tank Review
If this is your first time taking a look at a Smok vape juice tank, then you're in for a treat. Smok creates products geared for seasoned vapers who understand how thoughtful, precision craftsmanship can create an incredible vaping experience. Regardless of what Smok tank you choose, you'll have access to a huge library compatible coils, too!
So, what makes the TFV12 Prince Cobra Tank worthy of your attention? True to its name, it features unique "cobra" mesh, dedication to sub-ohm vaping, and impressive juice capacity (even when compared to other premium Smok tanks).
If you're looking to add a bit of a bite to your vaping experience, then keep reading to see what exactly the Prince Cobra has to offer you!
What's in the Box
1 x TFV12 Prince Cobra Edition
1 x V12 Prince Q4 Coil (Pre-Installed)
1 x V12 Prince Mesh Coil
1 x Replacement Acrylic Tank Section
1 x Instruction Manual
Design
The design is geared towards heavy daily vapers (so if you vape occasionally, you're going to feel extra spoiled and pampered!). It has measurements of 28x63mm, which makes it just a bit bigger than a standard vape juice tank (so double-check to make sure it'll fit comfortably on your box mod before purchasing!)
The material build is stainless steel and pyrex glass, which is the industry standard for premium tanks. You'll also get a default e-liquid capacity of 7mL, which can be expanded to 8mL with the bubble tank attachment (sold separately). This is huge capacity, which will get even heavy vapers through the day without much need to refill.
However, when you find that you need to refill, the Prince Cobra features a twist to the side drip cap, which allows for easy top refilling. This is also a feature found on most Smok tanks, should you like this convenient feature and want to expand your tank collection.
Finally, the cobra mesh, base colours, and drip cap colours come in a wide variety, so it's easy to mix and match for your preferred aesthetic. The cobra mesh can actually be purchased separately if you like the idea of regularly altering your vaping style!
Performance
As with many Smok vape juice tanks, the Prince Cobra absolutely shines in its performance. The cobra mesh, named for a mesh that is shaped like little cobra hoods, helps to heat e-liquids evenly and quickly, providing plenty of vapour with pristine flavour while reducing the risk of scorching.
This tank will come installed with the V12 Prince Q4 Coil, which features quadruple coils with 0.4ohms of resistance and is rated for top performance between 60-80W. The tank kit will also come with the V12 Prince Mesh Coil, which supports 0.15ohms of resistance and is rated for 60-70W of power. These are great coil options for optimal vapour production among freebase nicotine juices.
Fans already heavily invested in Smok products will be happy to hear that the Prince Cobra is compatible with the entire library of Prince coils, which features a huge range of wattage outputs (though they all are geared for sub-ohm vaping). Even if you're new to Smok, it's a great way to shake up your vaping habit a bit without having to invest in several new tanks.
The performance of the Prince Cobra is versatile and will comfortably work in a broad range of box mods. If you're looking for mid-range wattage vaping dedicated to sub-ohm techniques, then you'll be quite happy with the performance of the Prince Cobra.
Conclusion
Those that are familiar with Smok's line of products should not be surprised by the high level of quality put into the Prince Cobra. Not only are you getting huge e-juice capacity, access to variable vaping wattage in the coils, you also get a product that has a great focus on a customizable style.
As amazing as it is, the Prince Cobra can't fit 100% of all vapers' needs. First, make sure your box mod can hit the power requirements (we recommend 60-80W as a minimum). In addition, salt nicotine vapers need to stick with the higher resistance coils, or potentially choose a different tank that is geared towards that kind of vape juice.
If you're looking to turn heads and have a great time vaping, the Prince Cobra Edition is our top pick!