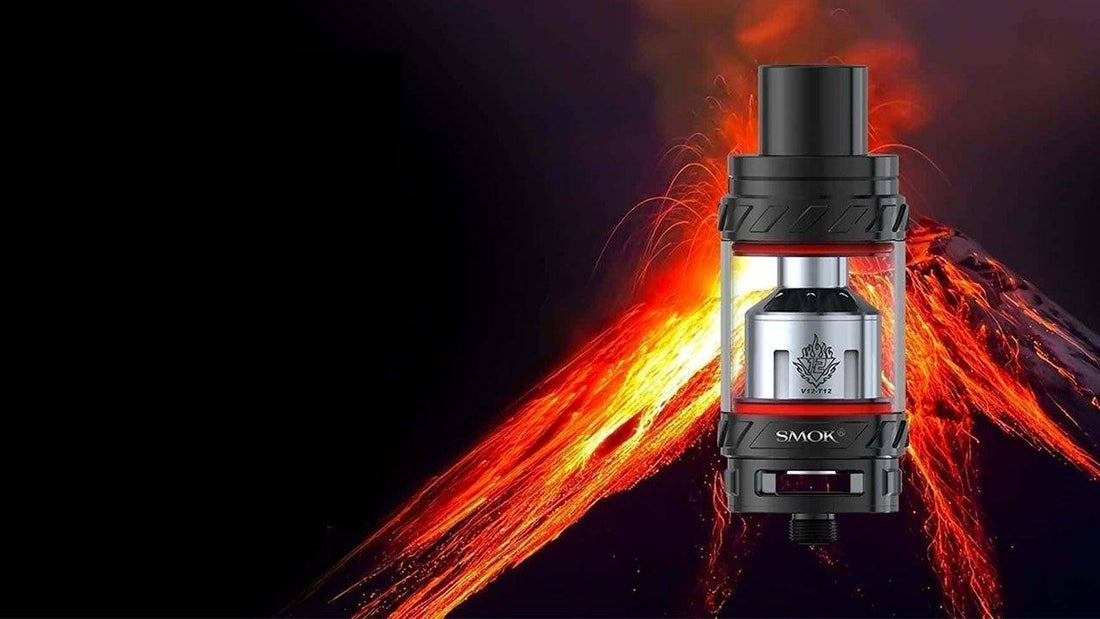 Smok TFV12 Cloud Beast Review
There is an absolute bounty of vape juice tanks on the market that cater to mid-wattage vaping. These are great products because they open the door for all kinds of vapers to enjoy high-quality products.
However, not everyone is looking for a mid-wattage vape juice tank. Some want a tank that is an absolute monster, one that can handle absurdly high wattage, has enormous vape juice capacity, and can use an extensive library of unique, high-quality coils.
Find yourself looking for this kind of creature? Then the Smok TFV12 Cloud Beast is the monstrosity for you. It is NOT a vape juice tank for all box mods. Only the most powerful box mods will be able to handle it, and vapers lucky enough to be able to handle it will get an out-of-this-world experience.
What's in the Box
1 x TFV12 Cloud Beast
1 x V12-T12 Coil (Pre-Installed)
1 x V12-Q4 Coil
1 x Replacement Glass
1 x Instruction Manual
Design
The design of the TFV12 Cloud Beast is a bit bigger than other vape juice tanks (due to its large capacity), but its overall form factor and 510 threading will allow it to connect to most box mods. This does NOT mean it will function well on most box mods, but at 25x70mm, it is not really prohibitive in terms of size.
The stainless steel and glass are specifically designed to handle rough handling and super-high temperatures. The drip cap is non-toxic and the glass is food-grade, so you don't have to worry about chemicals leeching into the vapour when you are pouring wattage through the tank.
Finally, the standard capacity of the TFV12 Cloud Beast is quite impressive. It sports 6mL capacity, easily accommodating long periods of vaping without needing to constantly refill. Of course, when that time inevitably comes, it features a swivel top that makes refilling on the go quite simple.
Performance
The performance is the real draw of the TFV12 Cloud Beast, and it easily sets it apart from other vape juice tanks. It comes with two excellent coils: the V12-T12 Coil, and the V12-Q4 Coil. The V12-T12 is the monstrous part of this tank, rated for use between 60-350W (with a recommended power setting of 130-200W). The V12-Q4 Coil is recommended for use at 90-160W, which will still provide a solidly high-wattage vaping experience.
If you like to experiment with coils, the TFV12 Cloud Beast is compatible with many. This includes the V12-T8, V12-T6, the V12-T6, the V12-X4, the V12-Q4, the V12-RBA-T, and the V12-RBA. All of these coils have varying wattage requirements, though the bare minimum will be at least 60W.
Cloud chasers will love the preinstalled V12-T12 coil, though. In addition to its ability to handle crazy high wattage, it has 0.12ohms of resistance and a special design made to quickly vaporize e-liquid and get that vapour to your mouth equally quickly. The result is an oppressive amount of vapour that will absolutely overwhelm beginners, but experienced cloud chasers will simply adore.
The performance is what puts the beast in Cloud Beast, and we're certain cloud chasers will agree.
Conclusion
The Smok TFV12 Cloud Beast lives up to its name, especially in terms of its performance. You get insane vapour production paired with a generous vape juice capacity that makes for intense, long-lasting vape sessions. Even if you aren't looking to push the limits with high-wattage vaping, the extensive selection of coils makes it easy to hone in on what specific vaping experience you're looking for.
Of course, such a mighty beast isn't for everyone. Mid-range box mods and below will really struggle to take full advantage of what the Cloud Beast has to offer. Even if you hit the minimum requirement, you're not really going to get the full experience unless your box mod can comfortably hit at least 120W output.
Those looking to enjoy salt nicotine vape juices will want to consider another tank as well. These coils cater sub-ohm vaping, where salt nicotine juices provide the best flavours when combined with high-resistance tanks.
For vapers who have the box mod with the power requirements, the TFV12 Cloud Beast promises to provide a monstrous vaping experience!