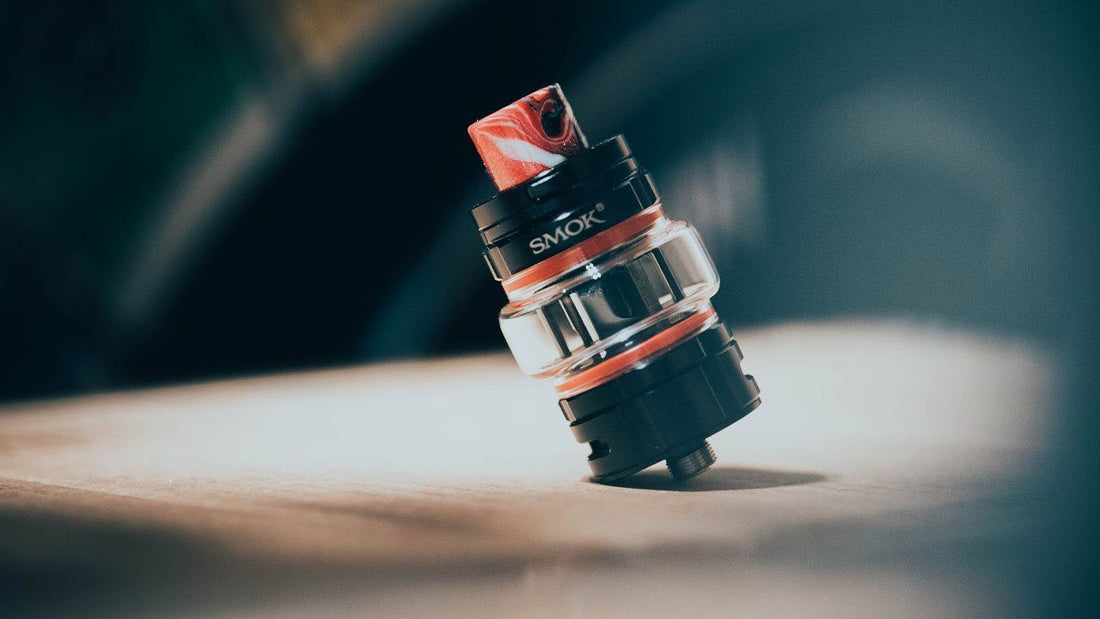 Smok TF2019 Tank Review
Smok is a solid brand for both high-end box mods and vape juice tanks, and the TF2019 is no exception. You get generous vape juice capacity, a carefully designed airflow vent, and coils geared to create the best tasting vapour possible. Flavour chasers should absolutely continue to read on, as you'll be hard-pressed to find a vape juice tank as dedicated to flavour quality as the TF2019.
Of course, this vape juice tank offers way more than just quality vapour production. If you have found your interest piqued, then read below to see what else the TF2019 has to offer!
What's in the Box
1 x TF2019 Tank
1 x TF2019 BF-Mesh 0.25ohm Coil (Pre-Installed)
1 x TF2019 BF-Mesh 0.25ohm Coil
1 x Silicone Cover
1 x Replacement Glass
1 x Instruction Manual
Design
The design offers a fantastic aesthetic for vapers looking for an eye-catching style. The drip cap comes in a wide variety of bright, resin designs, and the drip caps can be bought separately to make it easier to customize your style. If you happen to pair the TF2019 with a Smok box mod, you'll end up with a fantastic-looking setup!
The dimensions of the TF2019 come in at 30x56mm, so it's a little bigger than some other comparable e-juice tanks. If you aren't using a Smok box mod, you'll want to make sure that it will fit comfortably on your preferred device. It does feature 510 threading, so if it will physically fit, your box mod can likely use it!
The capacity of the TF2019 is 6mL, which is pretty competitive among high-end vape juice tanks. The large capacity combined with the twist-slide drip cap for easy refilling makes this the heavy vaper's dream tank. You won't need to refill it often, and when you do, it is extremely easy, even if you're out and about!
Overall, the design not only looks great but offers some great features that will please beginner and experienced vapers alike.

Performance

The TF2019 gives a lot of special attention to flavour, and it's thanks to its specially designed coil. It comes installed with BF-Mesh Coil with 0.25ohms of resistance, and inside the coil, you'll find a mesh that provides a huge surface area for heating. The result is quick, easy vapour production without the need for high-wattage use (the coil performs ideally at 60-70W) or risk of scorching.
The airflow is also designed to allow for more flavour customization, especially if you like a lot of extra air in your hits. The air vent has considerably more space than other vape tanks, allowing more air to come in at a time, which can help smooth and cool hits as you inhale. Combined with the BF-Mesh Coil, you'll end up getting consistently great-tasting vapour.
Overall, the performance is exceptionally good, especially for sub-ohm vapers who enjoy vaping at moderate wattage outputs.
Conclusion
If you are already sold on the Smok brand, or you simply want a great vape juice tank that focuses on quality of flavour, then the TF2019 is an excellent choice. You'll get 6mL of vape juice capacity, an easy refill feature, a variety of resin colours, a superb coil, and great airflow. It's hard to find a comparable tank that will perform noticeably better.
One thing you do want to watch out for is the wattage your box mod offers. The requirements for the TF2019 are pretty modest, but your device really does need to be able to put out at least 60W to really get the benefit of the flavour production. Also, if you're wanting to vape salt nicotine e-liquids, the sub-ohm coil may not be a great fit (higher resistance coils will definitely be a better fit for salt nicotine).
Ready to start vaping in style? Head over to the TF2019 product page to shop now!