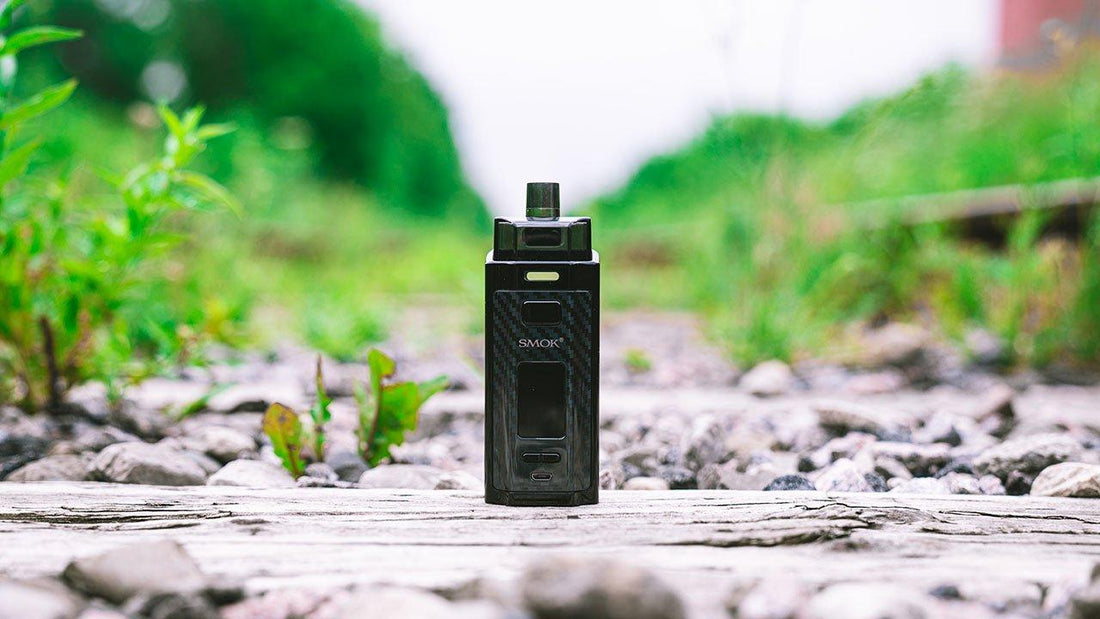 SMOK - RPM160 Mod Pod Kit Review
The new SMOK RPM160 device, which should be considered a true pod mod, is one of the best devices I've used. But it's hard for me to call the RPM160 a pod mod. This device puts every other pod mod I've used in the past to shame, and that's a good sign for the future of vaping. With an e-liquid capacity of 7.5ml (non-TPD), it delivers up to 160W of pure DTL flavour and vapour. Even though it's bigger than most pods on the market today, it still feels comfortable to hold but doesn't fit very well in your shirt pocket.
Specifications
Size: 125.0×45.0x28.2mm

Output Wattage: 5-160w

Battery: Dual External 18650

Display: 0.96 TFT Screen

Airflow – Non Adjustable Dual Slot Airflow

Charging: Via Micro USB with Battery Balancing or Externally
What's In The Box
1 x RPM160 Device

1 x RPM160 Pod

1 x Micro USB cable

1 x User Manual

2 x RPM160 Mesh 0.15Ω Coils
Design

It comes in a zinc alloy frame with a sleek metallic finish. It seems unlikely that the finish will scratch or lose its luster, but it will easily attract fingerprints. The RPM160 mod comes with a built-in pod section and is 125mm x 45mm x 28.2mm. It's high, heavy, rounded, and ergonomic that I was excited to hold it. It feels heavier in the hands with the dual 18650 batteries, to be expected. The rectangular shape is ergonomic and has two flattened sides. Your fingertips fit nicely when you hold the RPM160 Mod.
Flavour Production
The SMOK RPM160 is a versatile and powerful pod mod. It is powered by a dual 18650 battery and is paired with a 7.5ml large pod with two 0.15ohm mesh coils. It's a lot bigger than your regular pod vape, but it gives you a comfortable hand feel. The taste is intense and the production of vapour is enormous, which can be compared to your normal sub-ohm tank. It's a good vape, but it's not for everyone. I'm not recommending this to transition smokers. It's easy to use, and it provides a very powerful flavour.
Overall Performance
The coils will be the most important part of any pod vape. The RPM160 comes with a 0.15ohm sub-ohm coil. I used 70/30 3mg of Deep Fried Cream Cookie steam juice in the coil and found it to be best around 80W. The taste is delicious and the taste is very warm. The huge vapour is getting more and more flavourful as the mesh coil is broken in. The quality of the cotton is great, and the coil can last a week at a higher wattage. I don't have anything to complain about. The battery life depends on your 18650s, the higher-watt vapour will make the battery run faster.
Battery Life
The SMOK RPM160 Pod Mod is powered by two 18650 external batteries. Since the mod is capable of powering up to a maximum of 160W, I would recommend using matched batteries with a CDR value of at least 25A each. But who really needs that much power? The IQ-160 chipset boasts a lightning-fast speed of 0.001 seconds and can intelligently auto-detect the perfect wattage for your coils. It also does a terrific job of optimizing your battery life.
Verdict
The SMOK RPM 160 is a heavy hitter. If you're looking for massive vapour production on a pod system that hits like a tank and a mod from the good old days, this is a great option. I highly recommend this to any cloud chaser and hope to see you rock one of the great surprises of 2020.
If you're still reading at this point then there's a good chance this product is exactly what you're looking for. Check out the SMOK RPM160 product page and order yours today. You owe it to yourself!