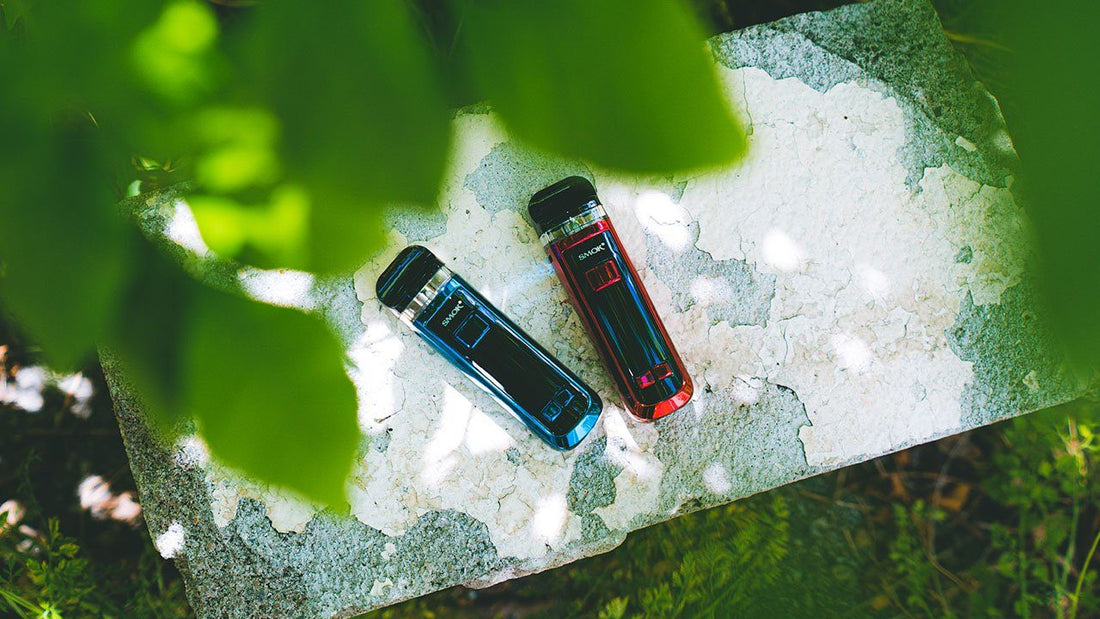 SMOK - RPM 2 Open Pod Kit Review
The SMOK RPM 2 80W Pod Kit is the newest hybrid system to be launched in 2020. It boasts more strength, better performance, and better overall aesthetics compared to previous renditions. The new RPM 2 coils deliver fantastic flavour and cloud production. SMOK has possibly created one of the best vaping products, for both beginners and veteran vapers, this year. Their attention to detail is of utmost importance. In addition, they provide exemplary customer service worldwide.
Specifications
Size: 2

9

x 31 x

108mm

Weight: 13

4

g

Battery: Internal 2000mAh

Screen:

1.14 inch

TFT Color Display

Charging: USB

Type-

C
What's In The Box
1 x Smok RPM2 Device

1

x RPM2 Pod – 7.0ml (

RPM2 Mesh 0.16Ω preinstalled, recommended 25-50 watts

)

1 x RPM Pod - 7.0ml (RPM Mesh 0.4Ω coil preinstalled, recommended 25 watts)

1 x User Manual

1 x Warning Card

1 x USB-C Cable
Design
At first glance, the RPM2 Pod features a solid build design, made of zinc alloy with a metallic finish. You won't find any rattling parts, from the buttons to the pods itself. On the front, you'll find the fire button up top, the full colour TFT screen in the middle, and the adjustment buttons down below. The USB Type-C charging port is on the side and there are 2 large, non-adjustable airflow slots, one on each side of the device.
The 7ml pod features an easy fill system (all you need to do is pull out the plug, fill, and then replace the plug), and a press fit coil design.The pod itself is held on to the body of the device by four surprisingly strong magnets. While attached you will still be able to see your e-liquid level, which is a great feature. As long as you keep an eye on it, this will help to prevent you from vaping your pod completely empty and risk prematurely burning your coil.
Flavour Production
The SMOK RPM 2 80W Pod Mod Kit consists of two types of cartridges and coil sets. The original version and the new RPM 2. Both cartridges can hold 7 ml of e-liquid! The new coil is rated as 0.16ohm and vapes as a dream. The wide airflow slots provide a heap of air, and each puff is buttery smooth. This makes it perfect for DTL vaping, but not for a lot of MTL. You can always block one of the holes in the air to tighten your draw.
Battery Life
The on-board battery is an impressive 2000mAH. The average user should be able to comfortably get through a full day on a single charge. Speaking of charging, the RPM2 charges impressively fast - from dead to full in approximately 80-90 minutes. The RPM2 also supports pass-through vaping so you can vape while it charges. As it charges, if you press and release the fire button once the screen will display the current battery percentage as well as the number of minutes left until the battery is full. If you press the fire and up adjustment buttons at the same time the screen will briefly display the approximate number of puffs left as well.
Overall Performance
The RPM2 is a workhorse. The large e-liquid capacity and great battery life will satisfy even the most demanding of users' needs. USB Type-C was a great choice by Smok as it's a much superior method of charging when compared to micro USB. Flavour is excellent and the life expectancy of the coils is approximately 1-2 weeks depending on your usage.
Verdict
The only downfall that I've found is the lack of adjustable airflow. If that wasn't the case then this would truly be a device that anyone could enjoy. If you're a fan of more restricted draw, this might not be the device for you. With that said, if you enjoy airy, more on the wide open side of airflow for direct-to-lung vaping then you can't go wrong with the RPM2.
If you're still reading at this point then there's a good chance this product is exactly what you're looking for. Check out the SMOK RPM 2 product page and order yours today. You owe it to yourself!