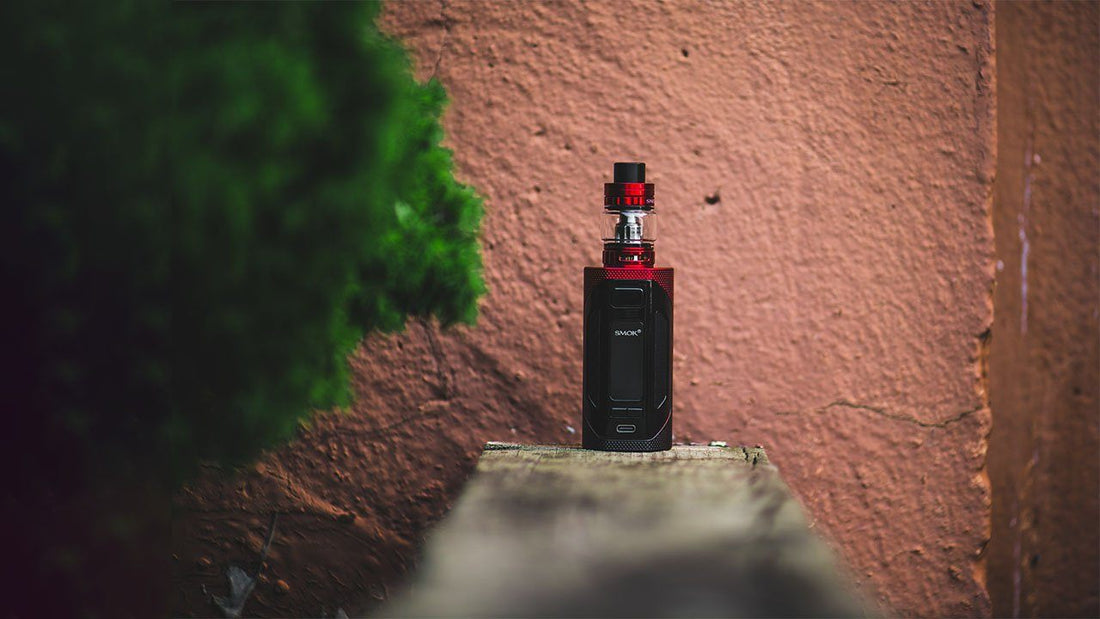 Smok Rigel 230W Kit Review
Smok offers a huge variety of different vaporizers to choose from. You'll find choices that are compact and discrete, while other choices are absolutely jam-packed with features. Smok has dedicated their line to providing an answer to specific and common vaping problems.
So, what does the Smok Rigel seek to resolve? It offers a full-featured experience wrapped into a rugged, durable design. If you've been putting off making the investment into a high-end box mod because you're afraid you'll drop and break it, the Smok Rigel is going to be worth your attention.
Read below to see how the Smok Rigel is a rugged, feature-packed box mod that is perfect for experienced, butterfingery vapers!
What's in the Box
1 x Rigel Device
1 x TFV9 Tank
2 x Coil - 0.15 ohm
1 x Replacement Glass
1 x Type-C USB Cable
1 x User Manual
Look and Feel
As soon as your hands wrap around the Smok Rigel, you'll notice how high quality and secure its build really is. The body is a mix of zinc alloy and carbon fibre, which provides a light, but durable design. The outside corners are also coated with rubber, helping the Rigel to be nearly shockproof.
Even though the Rigel seeks to be a rugged choice, the overall body design is still relatively slim. It has measurements of 88x44x28.8mm, which is bulkier than other compact designs, but quite a bit slimmer than other full-featured box mods in similar performance classes.
Your adjustable features will show up on a TFT display that's just shy of 1in, with buttons below the screen to adjust temperature and other options and the fire button above the screen for creating tasty puffs of vapour. It's a comfortable ergonomic design that is great for one-handed use (and, because of its durable design, you don't have to be worried about dropping the device should you choose to use just one hand).
The overall look and feel will give you confidence that you won't accidentally damage this device with simple drops, but it still has a nice, compact body to prevent the Rigel from looking too noticeable or bulky.
Performance
The performance of the Rigel leaves almost nothing to be desired. It supports an adjustable wattage range of 1-230W, a voltage range of 1-8V, and can read resistances between 0.1-2.5ohms. When you get your preferred temperature options set, you'll enjoy a firing speed of 0.001 seconds, so you'll be getting tasty vapour in no time.
The Rigel will automatically recognize and adjust to atomizers attached to it, and with the range of power requirements it supports, you can expect to use nearly any vape juice tank or other attachment that you want. If you're interested in using non-vape liquid attachments (like those for dry herbs or wax concentrates), the Rigel is an excellent choice.
All of these bells and whistles are powered by dual 18650 batteries, which are easily replaced and exchanged over the life of this box mod. You'll also find a host of safety features (which are important for a box mod this powerful), including an 8-second automatic shut-off feature and an over-heating protection feature.
The included Smok TFV9 Sub-Ohm Tank is a perfect match for the Rigel and works wonderfully for freebase or salt-nicotine e-liquid choices. It has a 6.5mL vape juice capacity, a sliding top-fill design, and a fantastic stainless-steel construction.
The Smok Rigel is a powerhouse, and experienced vapers will love the consistent, high-end performance.
Final Verdict
The Smoke Rigel is an amazing solution for those looking to make a significant investment in a high-end box mod without having to worry that careless or clumsy handling will damage the device. It is tough, rugged, and will withstand most drops while providing top-end vapour production.
As with many high-end box mods, the Smok Rigel may be lost on beginner vapers, as most are just starting to dip their toes into customizing different features. However, for experienced vapers who are looking for something rugged, the Smok Rigel is a tough choice to beat.