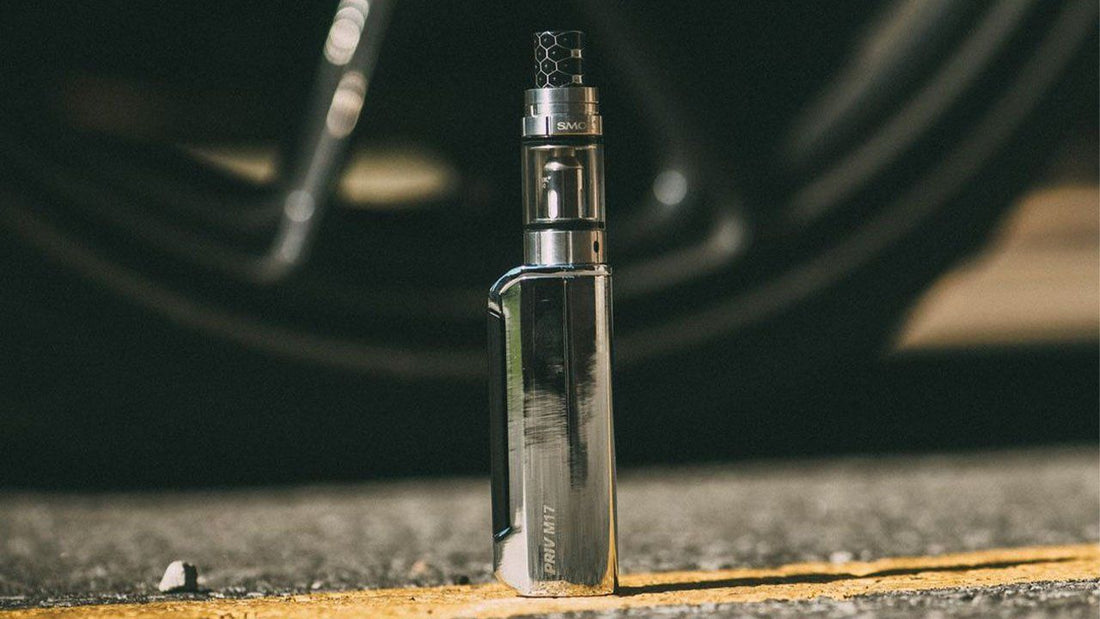 Smok Priv M17 Kit Review
Too often, vapers have to choose between power and versatility in a vaping device or a slim, discrete design. Sometimes a big, box design isn't fit for public use, but slim, pen-like vapes often don't provide the oomph or versatility needs for satisfactory vaping. What is a vaping enthusiast to do when faced with such an impossible decision?
Well, you compromise on neither and get both instead! The Smok Priv M17 is a box-mod/pen-style hybrid, offering plenty of power and versatility to enjoy a wide variety of vape juices and vape juice tanks, but a super slim profile that is perfect for discrete, public vaping.
Sound enticing? It should! Take a look below to learn more about the Smoke Priv M17!
What's in the Box
1 x Priv M17 Device
1 x Tank
1 x Coil - 0.6 ohm (Pre-Installed)
1 x Coil - 0.6 ohm
1 x Micro USB Cable
1 x User Manual
Look and Feel

The Priv M17's size is a huge selling point. It is just a bit wider than a typical pen design, with measurements at 70x26.8x19.5mm, it is slender but not too thin to easily handle. It's designed with a squeeze-to-fire trigger, which works perfectly with its petite design. Even being small, it still has a nice weight to it and will feel great in your hand.
You won't have a large digital display, but there is an LED light that can provide all kinds of information, including a low battery warning, and an indication that the device is powered on. There's not a way to manually alter the wattage output, so the LED light will let you know if it isn't providing sufficient power to your preferred attachment.
The look and feel of the Priv M17 is the perfect little travel companion. One of the most ergonomic choices of a vaporizer this size that we've reviewed!
Performance
The performance is quite impressive for a device that aims to be as small and discrete as the Priv M17. It has a wattage output of up to 30W, which the device adjusts automatically depending on the e-liquid tank you have attached. It also has some great safety features, like an 8 second automatic shut off, short circuit protection, and low voltage protection, that will help put users at ease.
The included tank, the Stick 17MM, is a great pairing with the Priv M17. It sports an all-stainless-steel design and has a 2mL e-juice capacity. It's designed to work seamlessly with the automatic power settings of the Priv M17, which means all you need to worry about is filling the device and vaping away!
All of this is powered by an internal 1200mAh battery, which for a device this small is a boatload of power. It will easily last you all day for normal vaping (and if you're using it sparingly, it might last you a couple).
Overall, the performance is excellent for a small, discrete device. You get the benefit of a 510 threaded connection to use your preferred compatible tank, but vapour is produced best when using the included tank. We're confident you'll be quite happy with the consistent, tasty flavour production!
Final Verdict
The Smok Priv M17 is a compelling choice for those who are looking for an inconspicuous way to enjoy their favourite vape juices in public without having to settle for a limited pen design or disposable vape. You'll get consistent, quality vapour production that will taste great (and definitely better than lower-end vapes), but you won't have to struggle with a big, boxy design.
Of course, the Smok Priv M17 is not for all vapers. The best fit will be beginners looking to upgrade to a more powerful device than a small vape pen or disposable, as well as vapers who value easy public use more than anything else. It is an enticing choice for vapers who are looking for a second device aside from their primary, though the lack of adjustable features might leave more experienced vapers wanting.
For beginners and vapers on the go, the Smok Priv M17 is a fantastic choice, head over to the product page to shop now!