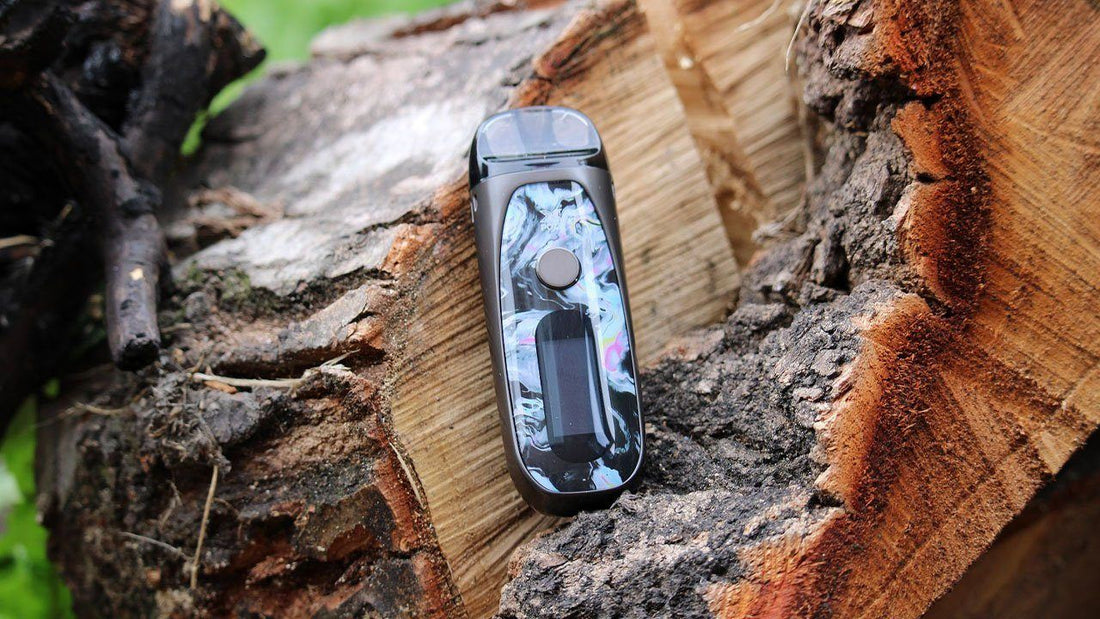 SMOK - Pozz X 40W Open Pod Kit Review
If you're on the pod-style device market, the Pozz X is a perfect option. It works well, has enough features to keep even long-time vapers satisfied, and has a healthy, long-lasting battery for such a compact device. It's worth noting that it doesn't really offer something that the RPM 40 doesn't, just a single button that makes it a bit easier to use. But even with that in mind, the Pozz X is still an outstanding pod device that is unlikely to fail you.
Specifications
Size 97.3 x 33.6 x 22mm (Height Width Depth)

Weight 97G

Output Voltage 1V – 4V

Output Power 5W – 40W

Battery Capacity 1400mah

Input Voltage 3.3V – 4.2V

Resistance range 0.3ohm – 2.5ohm
What's In The Box
Pozz X Device (1400mah)

USB cable

User manual

RPM Triple coil 0.6ohm

Pozz X RPM Pod (RPM Mesh 0.4ohm coil pre-installed – 4.5ml)
Design
The Pozz X looks pretty well-made, with a sturdy frame that seems like it's going to stand up to knocks and drops pretty well. It's got a pretty typical pod vape look. It is about 10 cm (4 inches) long and has rounded corners and a pod doubling at the top as a mouthpiece. The wide body faces have designs, with a total of nine different colour variations. My device is a variant of black and white camo, but you can also get green camo, black or white carbon fiber as a design, and resin models in purple, blue, orange, yellow and gray/7-color. Each of these has its own charm, and while you're sure to have a favorite, they all look pretty good.
Flavour Production
The Pozz X pod is compatible with all RPM coils. The two coils included in the kit provide superb vapour production. Unique three-spoke air intake channels allow for a sizeable Direct Lung inhale. The 0.4ohm RPM mesh coil produces good flavour, with a pure and strong taste. There is a radical increase in air flow, If you're a fan of SMOK products, we can definitely say the Pozz X is much more open than the Nord in thee airflow department.
Overall Performance
The 0.6 ohm coil is a triple coil and is ideally suited for nicotine salt e-juice, although it can also be used for freebase juice. The coil has a slightly tighter draw than the mesh option, which makes it good for mouth-to-lung vaping, but not very suitable for direct-to-lung, even when the airflow is open all the way. The good news is that vapor performance is still good, not at the same level as the mesh option, but more than enough to keep you satisfied. The taste of the coil is also very pleasant, with all the different components of your juice's flavour coming through easily and strongly.
Battery Life
The Pozz X battery is one of the key selling points, at 1,400 mAh it's a lot bigger than many basic pod systems and up there with a lot of sub ohm pen systems. The big difference is that you don't have to run the Pozz at massive power settings to get a great vapour output or a satisfying nicotine hit, so this really is a huge battery when you think about it all. In reality, it lasts for around 200 puffs or a full pod. With nicotine salt juice, it's simple enough for vaping all day, and even with regular e-juice, it's going to get you through most of the day. Charging is very fast too, with the Pozz X going from dead to recharge in about an hour.
Verdict
The Pozz X, while incredibly similar to the Nord 2, does have some clear and beneficial upgrades. most notable being the increase in battery size, and juice capacity. If it is your scene, the variations in colour ways are not at all unwelcome, as the Nord 2 colour ways are rather basic. Overall, the POZZ X is indeed an outstanding device.