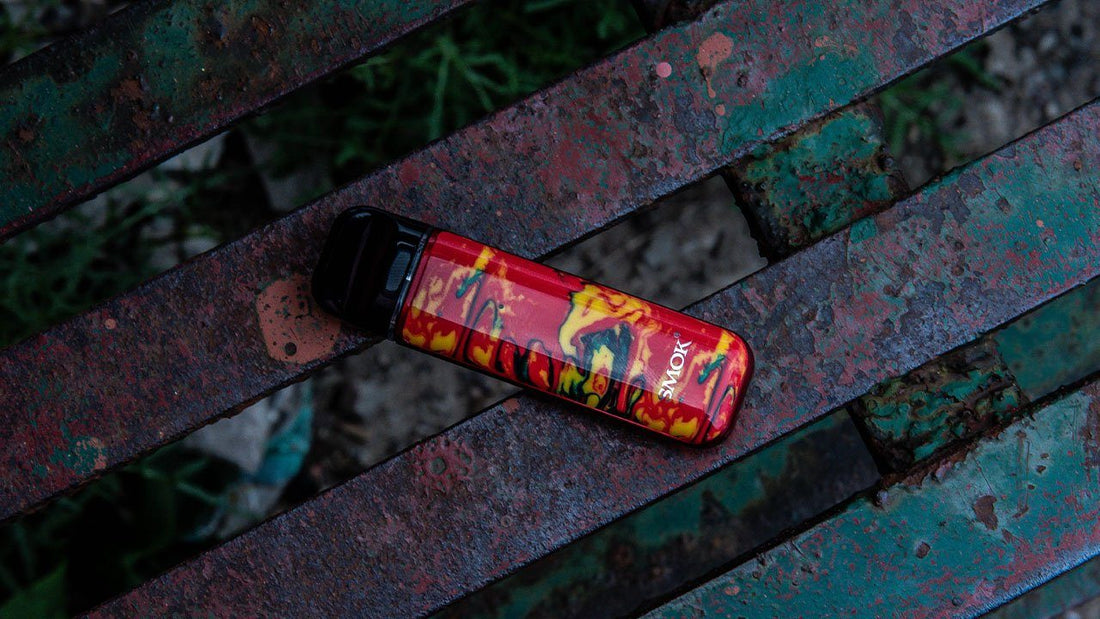 SMOK - Novo 2 Open Pod Kit Review
The Novo 2 is the successor of the very famous Novo 2018. Its size is almost the same, but its battery capacity at 800 mAh is almost double that of the original Novo, which is 450 mAh. It comes with a 1.0 ohm pod for regular e-juice and a 1.4 ohm pod for nicotine salts, each containing 2 ml of e-juice. The initial Novo was a wonderful product, but the battery life and coil connection issues were a drawback. SMOK seems to have been listening to the community by creating the Novo 2 open pod kit. Could this be the pod we've all been waiting for?
Specifications
88.3mm x 24.5mm x 14.5mm

2ml E-liquid Capacity

Weighs 43g

800mAh Battery

Draw Activated

6W-25W Output
What's In The Box
1 x Novo 2 Device

1 x 1.0ohm Mesh Pod

1 x 1.4ohm Dual Coil Pod

1 x User Manual

1 x USB Charging Cable
Design
The Novo 2 is basically the same size as the original Novo. It is 88.3 mm long, 24.5 mm wide and 14.5 mm thick. It's a small device that I can hide almost entirely in the palm of my hand, making it a super discreet vape. I like the design and the rounded body is very comfortable to hold. As a bonus, it's light as well, weighing just 43 grams. You can get the Novo 2 in 18 different colours and designs, and some of them are pretty cool! The SMOK logo is labelled on the front panel and Novo 2 on the back panel. The Novo 2 has a simple, elegant design that looks fantastic.
Flavour Production
While the original SMOK Novo worked well in most cases, after extended usage, I felt that there was a lack of dynamism, which could only be compensated for by switching to a more efficient e-liquid. The SMOK Novo 2 enhances this by marginally improving the output power of the device to a maximum of 24 watts depending on the coil used. The kit includes a 1.0 ohm and 1.4 ohm MTL pod, which can accommodate up to 2 ml of e-liquid. The lower resistance of the 1.0 ohm pod provides a much higher performance in the production of vapor, although it should be noted that I preferred the tight and restrictive air flow of the 1.4 ohm MTL pod because of its noticeable flavour production and throat effects.
Overall Performance
For a small device, the Novo 2 packs a punch that's hard to deliver with a sleek design. Many pod devices I've personally tried have a weaker airflow, but this one seems to get it just right with the different coil options. While there aren't many options, the ones that come with the device are perfect for most mouth to lung vapers. Another significant advantage this device has is that the touch points on this version have been slightly redesigned so we don't see the pod contact issues that the previous generation had, and the contact with the pod is much stronger. You can especially feel this while inserting the pod into the device, it just feels better.
Battery Life
Perhaps the most impressive aspect of the Novo 2 is its battery. The device is the same size as the original Novo, but SMOK managed to fit in a battery that's almost double the size! The 800 mAh battery generally lasts about two and a half days with regular usage (about 200 puffs a day). When in doubt about your battery percentage, there's a very handy LED light that appears both when the pod is first inserted, and while you are taking a pull on the device. It may be easy to miss since it's such a small light, but once you see it you won't forget where it is! While you're using the device, the device will light up one of three colours to indicate battery life:
Green: 70% and more

Orange/yellow: from 70 to 30%.

Red: less than 30%.
Verdict
The Novo 2 is SMOK's finest pod vape yet. It's also one of the best pod vapes of the year, by far. The pods are gorgeous and offer excellent flavour while also wicking whatever type of e-juice you throw at them. Battery life is yet another major pro. When it comes to pod vapes, it's definitely up there with the greats. If you're looking to buy your next pod vape or even your first unit, the Novo 2 is an option that you won't regret.
If you're still reading at this point then there's a good chance this product is exactly what you're looking for. Check out the SMOK Novo 2 product page and order yours today. You owe it to yourself!