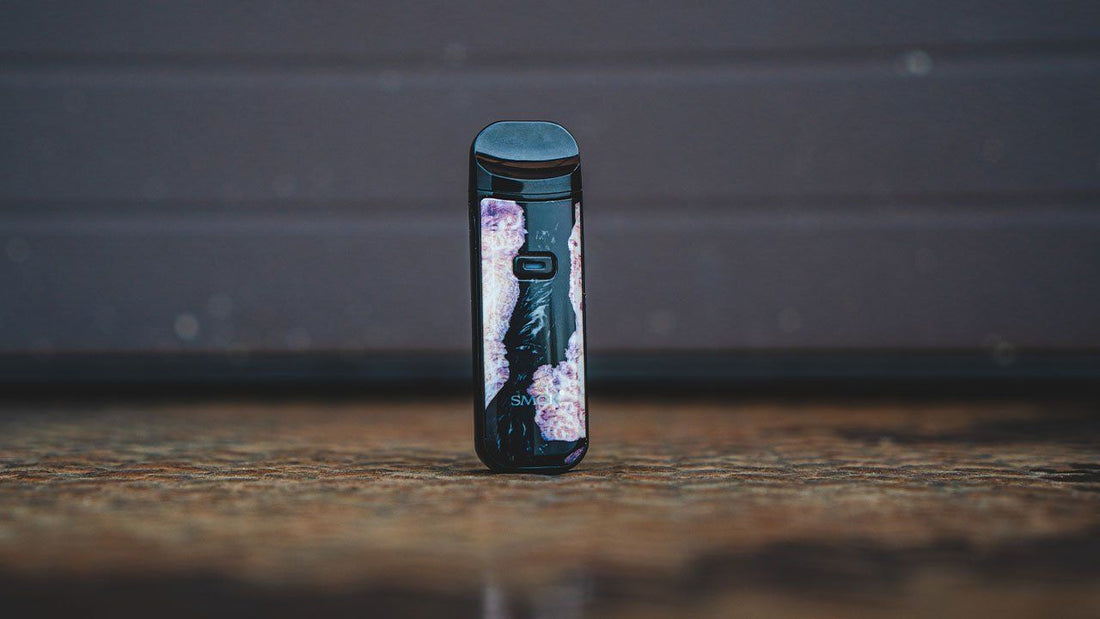 SMOK - Nord 2 Pod System Review
Not so long ago, Smok was seen as the king of the sub-ohm scene, and we look forward to their future pod strategy. With the Nord 2, they want to show the world that much more can be expected from a pod system and that they do not accept limitations on power and functionality. Let's take a closer look.
Specifications
Size: 95 x 30.5 x 20mm

Output Power: 1 – 40W

0.

69inch OLED screen

Battery Capacity: 1500mah

Resistance Range: 0.3 – 3.0Ω
What's In The Box
1 x Nord 2 Device

1 x USB Cable

1 x User Manual

1 x Nord 2 RPM Pod

(RPM 0.4Ω Coil Pre-installed 4.5ml)

1 x Nord 2 Nord Pod

(Nord DC 0.8Ω Coil Pre-installed 4.5ml)
Design
The Nord 2 looks very similar to the original Nord that Smok released some time ago as far as form factor goes, but there's a lot more to this device than its predecessor. One the side of the device you'll find a 0.69 inch screen which displays your battery life and wattage. That's right, the Nord 2, unlike the original, has adjustable wattage. Three quick clicks of the fire button will get you into wattage adjustment mode. From there, simply hold down the fire button to cycle through the wattage range. Once you reach your desired wattage release the fire button and wait a few seconds until the wattage number on the screen stops flashing and you'll be good to go.
The pod design has changed as well. The Nord 2 comes with two different pods, one that takes standard Nord coils and one that uses Smok's newer RPM line of coils.
Flavour Production
Flavour from the Nord 2 is great, no matter which coil you choose to use. You will find that the RPM coil gives off a stronger and warmer flavour as it is lower resistance and requires a higher wattage (recommended 25 watts). With the Nord coil, while still getting good flavour it will be slightly cooler and have a more restricted airflow. As always, since you get one of each in the kit, it's a smart move to try both out before you purchase a pack of replacements.
Overall Performance 
Here's where the Nord 2 really shines. The original model could deliver up to 15W of power, but Smok installed 40W of power into its successor. Why is there so much power? The Nord 2 will use both the Nord and the RPM coils. The RPM versions can be used at a much higher setting than the Nord, which is why extra power is needed! If you like MTL vaping, then the Nord coils are just what you need. However, if you're like me and prefer something with a little more power, then you can use the RPM coils. Overall, I was impressed by the performance of the Nord 2, it works as I hoped it would, and these RPM coils make it even more flexible than the original.
Battery Life
The battery capacity of the Smok Nord 2 is considerably higher than that of the first Nord; 1500mAh compared to the 1000mAh of the first, all housed in an extremely light and portable chassis. 
Verdict
Smok Nord 2 is a success. It takes a little after the original, cleans the design, and adds a few important extra options that the original lacked. In a way, that's what you'd expect from a "sequel" There's more to it than you expect, and enough new features to get you excited. I'd suggest this pod to those who just quit smoking, along with experienced vapers as a second unit, or even the first one. It's really easy to use and it doesn't take up your whole pocket or purse.
If you're still reading at this point then there's a good chance this product is exactly what you're looking for. Check out the SMOK Nord 2 product page and order yours today. You owe it to yourself!