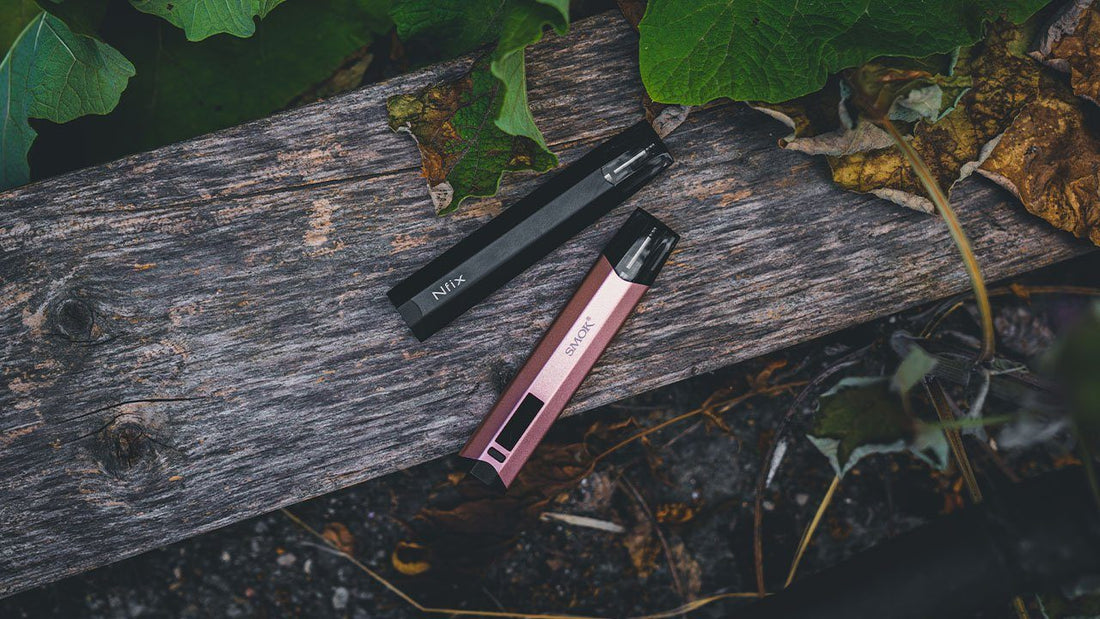 SMOK - NFIX Pod Kit Review
The SMOK NFIX, is another pod device from SMOK. In the world of vaping, there are not many niches left, especially when it comes to hardware. Not only do you need to create an entirely new way of doing something, but you are probably going to use a variation of something that already exists. Most people are looking for a pod that is ultra-portable, delicious, effortless, waterproof, and lightweight. Does the new SMOK Nfix meet these needs?
Specifications
Weight: 32g
Size: 110 x 21.5 * 13mm
Power Range: 1-25w
Charging: USB-C 5V/0.68A
Battery Capacity: 700mAh – Built in
What's In The Box
1x Nfix Device
1x USB-C Cable
1x User Manual
2x Nfix DC 0.8ohm MTL Pod
Design

The device's main body is made of aluminum alloy, it is really light, weighing about 32 grams in total. Similar to the Uwell Caliburn, its form factor is slim and long, making it very easy to fit in your pocket. It feels comfortable in the hand and is unique in its octagonal shape. It appears that the finish holds up well and has a very nice gloss and it does not scratch too easily. There's a recess into which the POD slides from top to bottom, a small airflow hole on each side of the case, a 0.69-inch OLED screen in front with a single button below, and a USB Type-C charging port at the bottom.

Flavour Production

To get the SMOK Nfix up and running, there is not much to be done. The first thing to do would be to charge the battery and fill the pod through the side filling port. The coil is fixed and pre-installed, so it doesn't have to be replaced. When the coil inside the pod has burnt out, you will need to replace the pod. The coil's life depends on the thickness of the juice used and how much you vape. After filling the pod, please wait at least 5 minutes for the cotton wick to be fully saturated, which may effectively prevent a dry hit.

Performance

You will only use one button to turn the device on and charge it. The POD is draw activated device, which means it will trigger the coil and release your vapour as soon as you begin inhaling it. Pick it up and inhale, no messing with the buttons. On this little device, there is also a screen, which is an absolutely fantastic addition. The screen is a super-simple 0.69-inch OLED screen, but it allows you to see how much battery you have left, the wattage you're set to, the coil resistance and your puff meter. The puff meter resets to zero when you remove the POD.

Battery Life

The Nfix has a 700 mAh internal battery in. It is certainly not the largest battery, but it is not the smallest either. You will only be able to get a few hours out of it if this is your only device and you will need to charge it often, but if you only use it occasionally, it will last you long enough. That's probably the only real issue with the Nfix. It takes about an hour to charge from dead to full via the USB Type-C port, although Smok also provides an estimate of the time required to charge fully on the included OLED display while charging.

Verdict

In fact, it's a very cool POD device. Even if it doesn't bring anything new, in terms of shape, it reminds me a lot of the Caliburn. The Nfix is definitely an excellent product of this type for the smart usability and convenience. The Smok Nfix is perfect if you are looking for a small on the go device.
If you're still reading at this point then there's a good chance this product is exactly what you're looking for. Check out the SMOK - NFIX Pod Kit product page and order yours today. You owe it to yourself!