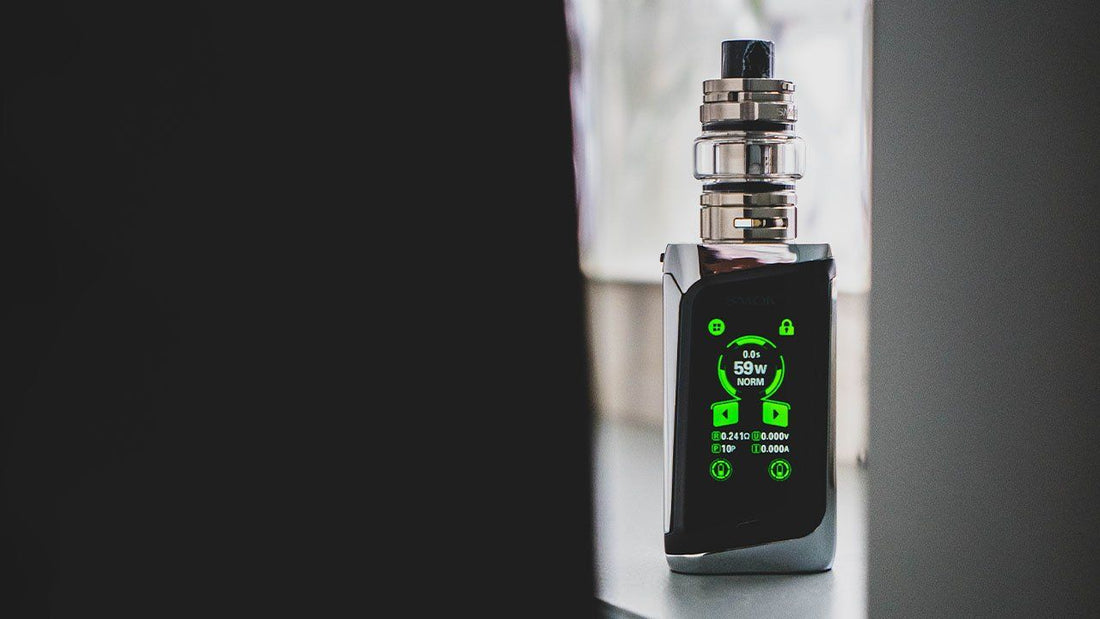 Smok Morph Kit Review
Smok is a great brand that offers a wide variety of different box mods to choose from. While they will have something for almost everyone, each different model they provide caters to a specific little niche that will fit perfectly with a select group of vapers.
So, what does the Smok Morph bring to the table? It is an absolute monster of a box mod, but it has a full suite of features all packed into a delightfully compact design. Even the included vape juice tank is made for small spaces (but still has huge e-liquid capacity).
If you're looking for a truly state-of-the-art vape wrapped into an itty bitty design, then we encourage you to take a closer look at the Smok Morph.
What's in the Box
1 x Morph Device
1 x TF 2019 Tank
2 x Coil - 0.25 ohm
1 x Bulb Glass Protective Silicone
1 x Replacement Glass
1 x User Manual
1 x Spare O-Rings
1 x Micro USB Cable
Look and Feel
A big selling point of the Morph is its diminutive size. With measurements of 45mm x 30mm x 84.5mm, you'll quickly notice that it is significantly smaller than other box mods with similar feature offerings. Small sizes often mean difficult handling, especially if you're trying to use a device one-handed. However, the Morph has been carefully designed to remedy this problem.
First, the squeeze-to-fire design eliminates the need to try to maneuver fingers to a specific fire button. You literally squeeze the device as it fits in your hand and the device will create tasty vapour! This design also makes it easy to keep an eye on the 1.9in OLED screen during use.
The Morph also features a full touch-screen display for navigating features, which is a great use of space instead of having to cram in extra physical buttons for this option. Overall, you get an excellent compact body with a design to easily make use of the breadth of features offered without being frustrated with poor handling.

Performance

While the design of the Morph is small, its robust features are anything but. This little box mod is a full-fledged vaping champion. It supports wattage output between 1-219W, voltage output of 0.5-8.2V, and reads a range of resistances between 0.1-2.5ohms or 0.05-2ohms, depending on which specific model or model you're using.
The Morph makes use of the IQ-S chipset, which is why it can support such robust features. It's also why it offers an insane firing speed of 0.001 seconds. You'll have no problem getting right to vaping as soon as your dual 18650 batteries are loaded and your preferred tank is installed.
While the Morph can be used with all kinds of tanks, we recommend starting with the vape juice tank that comes included in the kit. The Smok TF Sub Ohm Tank is reminiscent of Smok's Prince line of vape juice tanks in terms of performance, though the physical size has been scaled down to match the smaller overall size of the Morph. Fortunately, it still holds 6mL of vape juice, which is a crazy capacity for a box mod and tank designed to be so small.
Though the Morph is small in stature, it performs just as well as other high-end vapes of larger sizes.

Final Verdict
If you're looking to command and control the powers of the vaping universe in an itty bitty box mod space, then it'll be hard to do better than the Smok Morph. The attention to the design and detail, both in terms of making it compact and easily used, makes for just a satisfying vaping experience.
The design with the intense level of feature offerings makes the Morph an easy choice for experienced vapers. Beginner vapers may want to try a device more basic (and less expensive) unless they are sure that the style and function of the Morph will fit their needs.
For its form factor and top-end performance, the Smok Morph is an excellent choice!
Did our review convince you? Head over to the Morph Kit product page to add one to your cart!