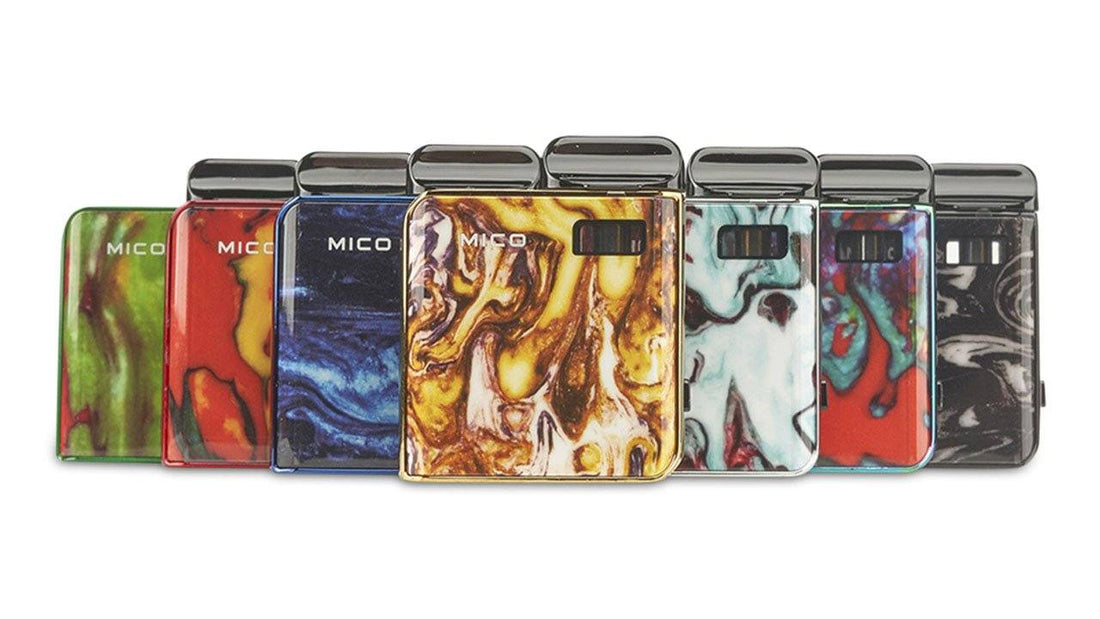 SMOK - Mico 26W AIO Pod System Review
The SMOK Mico kit is the latest creation of from Smok, which, let's face it, looks familiar. SMOK decided to build on the success of the Nord 15W pod. A powerful 700 mAh internal battery, a rechargeable 1.7 ml pod, and a good choice of coils, including mesh coils, are a feature of this device. Read on to find out whether or not Mico should join your personal collection of pod devices.
Specifications
Size: 56.3×46.5×14.8mm
Capacity: 1.7ml
Output Power: 10 – 26W
Material: Zinc Alloy
Weight: 65g
Battery: 700mAh Internal
Input Voltage: 3.3V – 4.4V
Output Voltage: 3.0V – 4.0V
What's In The Box
1 x Mico Device
1 x Lanyard
1 x USB Cable
1 x User Manual
1 x Mico Pod (0.8 ohm mesh coil) (1.7ml)
1 x Mico Pod (1.0 ohm regular coil) (1.7ml)
Design

First of all, yes, it looks very similar to the Smoking Vapor's Mi Pod. The pod's shape, size and style are comparable and you can quickly see that the two look the same. However, you cannot really blame Smok for taking a page from the Smoking Vapour book, given the popularity of the Mi Pod. The SMOK Mico Pod is a device that is small and lightweight. It is 56.3mm by 14.8mm by 46.5mm and weighs only 65 grams. It is the perfect device for on the go vaping. With the included lanyard, the SMOK Mico Pod can be conveniently placed around the neck for easy access.

Flavor Production

The SMOK Mico Pod produces a high-quality vaping experience when used with nicotine salt. The mixture of nicotine salts and the 0.8 ohm coil, is excellent, producing a smooth and tasty vapour. The vapour quality was always high, despite the lack of adjustment options, even when the battery level begins to decrease. And although the 1.0-ohm pod is designed for nicotine salts, it is probably best to use a strength less than 50 mg, as some people may find that nicotine level too intense.

Performance

The two options make a difference in the quality of the vapour for each of the Mico vape cartridges, albeit a slight one. Because there are no adjustable settings (power or airflow), even if the airflow is a bit tighter than usual, you can create a delicious vapour with the direct power of the 700 mAh cell. These mini devices are the easiest to use, and this device is no different from others. The pods are very simple to fill, although sometimes the side filling holes are annoying, they are not an issue.

Battery Life

Battery life exceeded my expectations. On a full charge, I had 4 to 5 hours. Also, since it takes only about an hour to fully charge the battery, you could easily use it all day. I'm impressed that such a small device has a 700 mAh battery.

Verdict

Although this is another pod mod kit in an already saturated market, I believe it will be very popular. It has decent flavour and vapour production, add to that the small size and the nice sleek design, it's a winner. I highly recommend getting one if you are looking for a small daily MTL pod.
If you're still reading at this point then there's a good chance this product is exactly what you're looking for. Check out the SMOK - Mico 26W AIO Pod System product page and order yours today. You owe it to yourself!