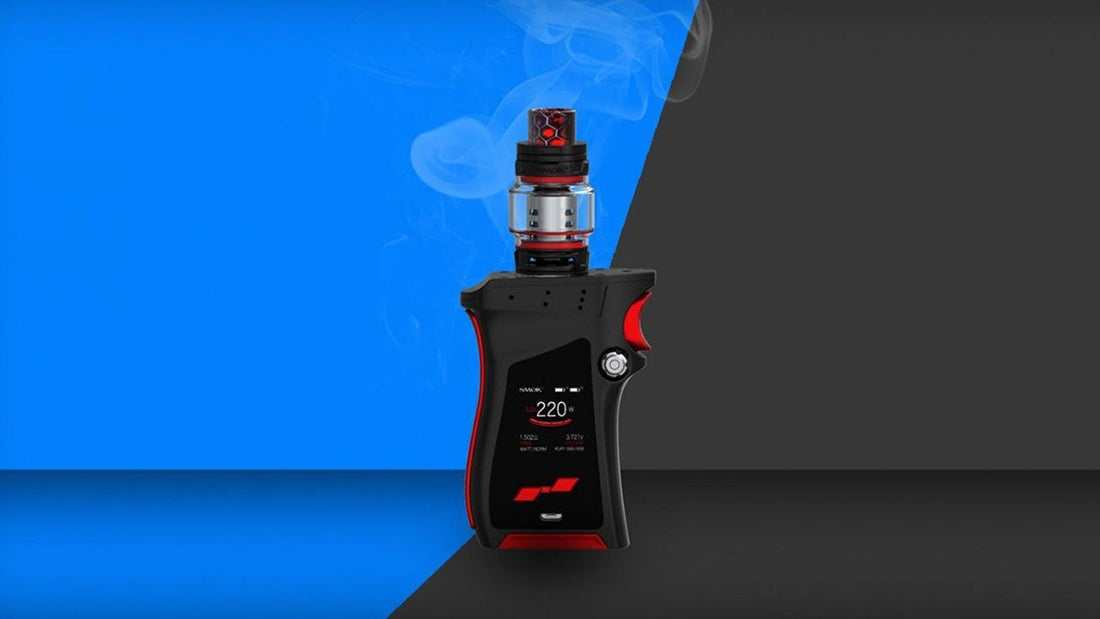 Smok Mag Kit Review
We've all been there. You're sitting there, enjoy some solid puffs off of your box mod vape, and suddenly you think, "Man, I sure wish my vape was cooler than this boring old box". The good people at Smok have heard your cries of firearm-themed vaping, and have created the Smok Mag just for you!
The Smok Mag is a true vaper's device. You'll find a flashy design that is equal parts style, ergonomic, and practical. Of course, it's trigger fire button and magazine-styled battery compartment are very very gun-esque, though there's a lot more to the design than wanting to say "pew pew" every time you use it.
What's in the Box
1 x Mag Device
1 x TFV12 Prince Tank
1 x Q4 Coil (Pre-Installed)
1 x M4 Coil
1 x Replacement Glass
1 x Micro USB Cable
1 x User Manual
Look and Feel

The Smok Mag honestly feels amazing in your hand. It's designed to mimic the handle of a pistol, but pistol-handles are designed like this for good reason. It's a comfortable, ergonomic design that allows for maximum grip while allowing your fingers easy access to on-board features. On the Mag, features include not just the trigger-fire, but the OLED-screen facing options buttons, too.
The battery has a unique loading interface, too. Using an adjustable button close to the trigger fire, the bottom of the Mag opens, where the dual 18650 batteries can be loaded. It looks and feels just like loading a magazine into a pistol. It feels great when it locks into place, and even better once you start taking puffs!

Performance

While the Smok Mag doesn't make use of real ammunition, you'll find that it definitely "shoots" plenty of flavour and vapour! It supports a wattage range up to 225W, voltage variability up to 9V, and can read resistances as low as 0.1ohms and as high as 3ohms. The supported temperature control range is 200F-600F, so with all of those variable options, you'll be able to use whatever vape juice tank or attachment you want!
As with many Smok vape kits, this one includes their TFV12 Prince e-liquid tank. It sports a maximum vape juice capacity of 8mL, and when that's combined with the incredible battery power the Mag supports, you end up with easy all-day vaping. The tank has a wonderful stainless steel design and is durable and easy to fill.
Overall, the performance of the Mag is one you'd expect from a Smok device. It's designed to cater to hardcore vapers who value flavour, vapour capacity, and ease of use without having to worry about frequent charging or refilling.

Final Verdict

The Smok Mag should be in the crosshairs of any vaper looking for a serious, permanent upgrade to a high-end vape. The style and design are fun and flashy, but it also pays special attention to a quality grip and feel that makes using the Mag a blast. While the pew-pew style may initially bring you in, the actual comfort and ease of use will make you stay.
The performance is precisely what you would expect from a high-end box mod. It has all the standard variable features (like precision temperature control, wattage adjustment, ability to read a wide range of resistances), and those options are prominently displayed on the 1in OLED screen.
The initial investment and full-suite of features might not fit beginners well, especially if you're one that is trying to decide what you do and do not want out of a vape. However, experienced vapers will feel cocked and ready to go with this vape, especially if the suite of features lines ups with your needs.
The Smok Mag is an easy target for experienced vapers looking to upgrade to a high-end box mod, or simply those looking for the classic pistol grip style and design.
Are you locked and loaded on this kit? Head over to the Smok Mag product page to shop!