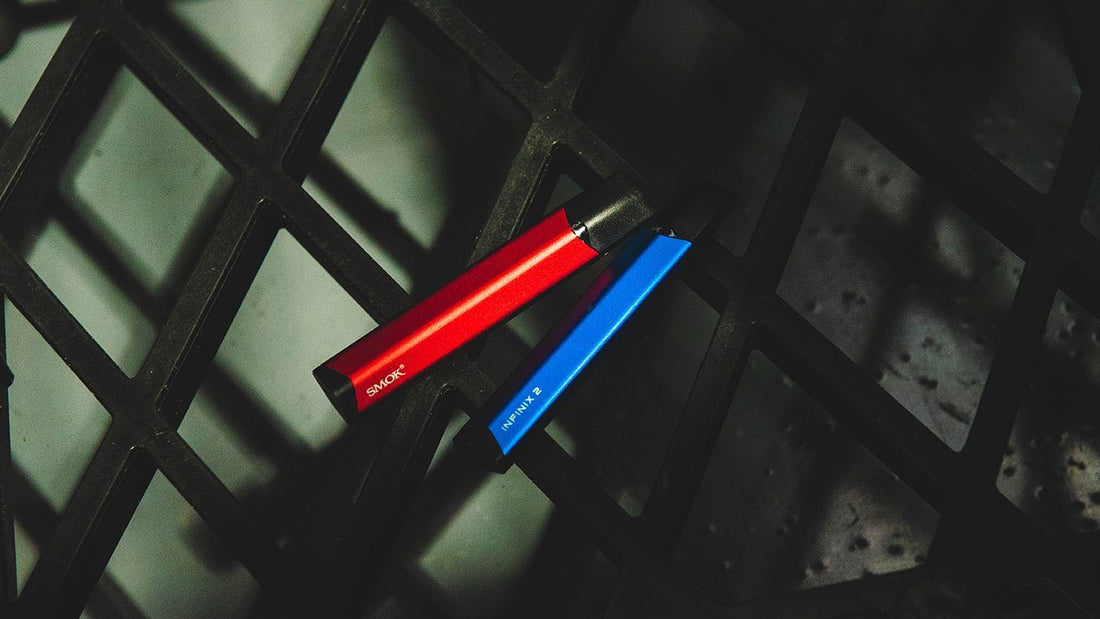 SMOK - Infinix 2 450mah Pod Kit Review
The Smok Infinix 2 is an updated version of Infinix. It follows the first model's trend of a thin and elegant device that you can take anywhere. Powered by an integrated 450mAh battery, the Infinix 2 can provide longer vaping time than the 250mAh battery capacity of the original Infinix. There is also a multicolour LED indicator on the Infinix 2 vape kit, so you can clearly see the unit's status from the different colours. The kit includes two pods, both of which have a 2mL capacity, and you can fill them with the e-liquid you want. No start button, no up and down controls, just inhale!
Specifications
Size: 110×12.5×12.8mm

Battery Capacity: 450mAh

Output Wattage: 10W-15W

Resistance Of Pod: 1.4ohm

E-Juice Capacity: 2ml

Input Voltage: 3.3V-4.2V
What's In The Box
1×Infinix 2 Device

1×USB Cable

1×User Manual

2×Refillable 1.4ohm MTL Pod
Design
The Infinix 2 looks nearly identical to the original Infinix at first glance, which isn't necessarily a bad thing.  It has the same light alloy body to display battery life, using a single LED. The pod is placed on the top and has a suction sensor for automatic drawing, so there are no buttons. When fully charged, the LED lights up green, then changes to orange and finally red when you you're due for a charge.
Flavour Production
The 1.4ohm coils that are contained within Infinix pods offer incredible flavour with an average life of 1-2 weeks based on our testing. Even with heavy use, I didn't notice any significant loss of flavour or vapour which is the sign of a well built coil! The tight MTL draw also plays a big role in the great flavour that Infinix pods create.
Overall Performance
The new Infinix 2 pods still look nearly similar to the original ones, although there are a few variations. The tiny rubber stopper covering the filler hole appears to be slightly improved. It fits much better and isn't as fragile as it was before. I didn't have any leaks when I used Infinix 2 and it was a little easier to put the cap back on after filling. Kike the previous model, we are limited to a capacity of 2 ml, so there has been no improvement there. The Infinix line of devices are designed to offer a fuss-free experience meaning users won't need to adjust power, airflow or other settings. Simply vape and enjoy!
Battery Life
The increased battery is the biggest difference with the Infinix 2, giving you 450 mAh instead of  the original 250 mAh. This may seem a little low when you've got 1000 mAh pod systems, but they're much bigger and heavier. Infinix is specifically intended to be used with a high concentration of nicotine, I would suggest 20 mg to start if using salt nicotine e-liquids.
Verdict
I prefer it to the original Infinix, it's not quite advanced as other devices on the market, but the larger battery and better pods make it a worthy upgrade. The compact size and simple operation also make the Infinix a pocket-friendly backup vape when on the go! This kit also costs less than a few packs of cigarettes, so if you have a friend who wants to try to vaping, this would be a great option!