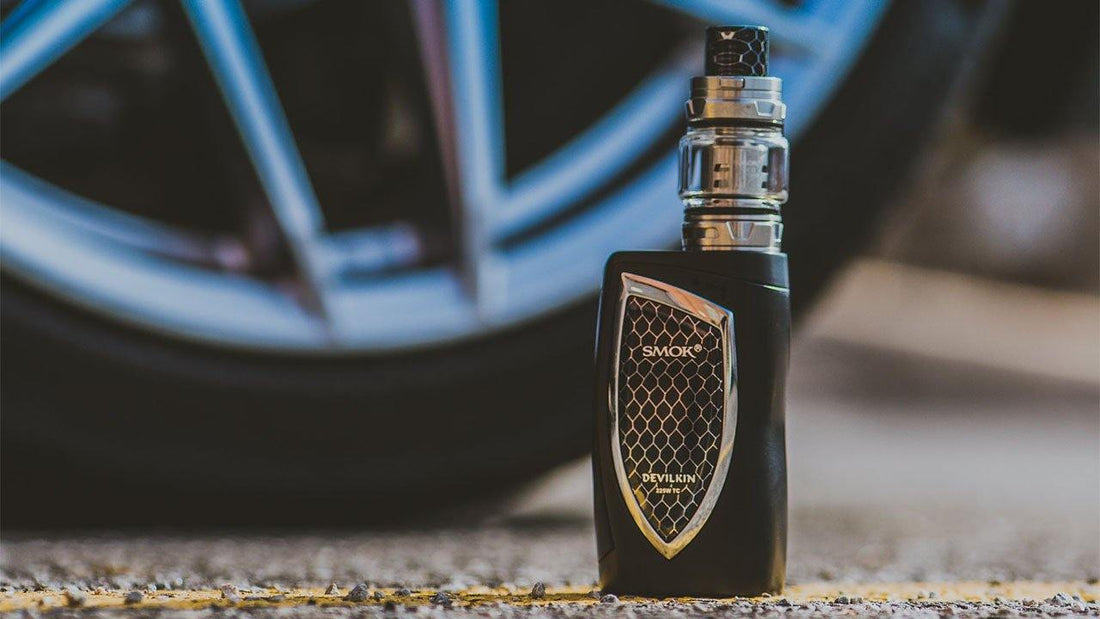 Smok Devilkin Kit Review
Nothing feels better than having a box mod that feels good in your hand, looks good to use, and offers a satisfying vaping experience. As you can imagine, it's hard to find a device that balances these three factors so well. If you've had a hard time finding the device that fits just right, then take a good, hard look at Smok Devilkin.
The Smok Devilkin is designed with smooth, modern curves and a glossy finish that captivatingly eye-catch. It makes use of a contemporary fire button, natural ergonomic design, and a stunning visual display that makes it easy to navigate features and customize your experience.
Let's take a look at some of the specifics to see what makes the Smok Devilkin such a treat!
What's in the Box
1 x Devilkin Device
1 x TFV12 Prince Tank
1 x Q4 Coil (Pre-Installed)
1 x M4 Coil
1 x Replacement Glass
1 x Micro USB Cable
1 x User Manual
Look and Feel

The first thing you'll notice about the Smok Devilkin is the glossy zinc-alloy construction, but you shouldn't just stop there. The fire button is of stealth design and blends nicely into the side of the vape body. The buttons to cycle through wattage and voltage options are placed on the face below the 1.3in HD-OLED display, making it easy to see and select options.
The overall look and feel of the Smok Devilkin is top-quality. You'll feel a pleasant weight when you hold it, and the ergonomic button placement makes it easy to adjust options and take hits with a single hand (you really only need to use two hands if you're filling the tank or switching attachments).

Performance
So you know that the Smok Devilkin looks good, but how well does it play? Short answer; it plays quite well with others. With a supported wattage range of 6-225W, voltage variability of 0.5-9V, and minimum resistance of 0.05ohms, you'll have all the flexibility you need to try all kinds of vape juice tanks or related attachments.
Even if you're a beginner, the intelligent atomizer recognition feature will help automatically adjust settings for optimal performance. Beginners and veterans alike will appreciate the overheat protection, over-discharge protection, and 12-second automatic shutoff safety features.
The included Smok TFV12 Prince Sub-Ohm Tank is a perfect fit for this box mod. It holds 5mL of your favourite vape juice, which can be modified to hold up to 8mL, which is just crazy capacity. The tank is compatible with two sets of coils, the 0.12ohm V12 Prince-T10 Decuple Coils and 0.4ohm V12 Prince-Q4 Quadruple Coils, which are excellent choices for standard freebase nicotine vaping.
All of this is powered by dual 18650 batteries, which can be replaced through the hinged bottom-loader battery access. You'll easily get all-day, on the go vaping when using the Devilkin with the included Prince Sub-Ohm tank, but even more power-hungry attachments will enjoy long periods of use between charges.
Final Verdict
The Smok Devilkin with the Smok TFV12 Prince Sub-Ohm Tank is an absolute slam dunk. You get a fantastic visual design, a high-end display, ergonomic button placement for easy one-hand use, and the top-notch performance you'd expect from a power-house like the Devilkin.
Unlike many full-featured box mods, the Devilkin will treat beginners well, since it includes a load of safety features and a lot of automatic adjustment features if switching between tanks or attachments. Experienced vapers will appreciate the convenience of these features, but will love just how well the device performs overall and how compatible it is with so many different vape juice tanks.
Whether you're looking to upgrade or start exploring a vaping hobby, the Smok Devilkin is a sure-fire place to start. We're certain you won't be disappointed.
Has our review convinced you? Check out the Devilkin product page to shop now!