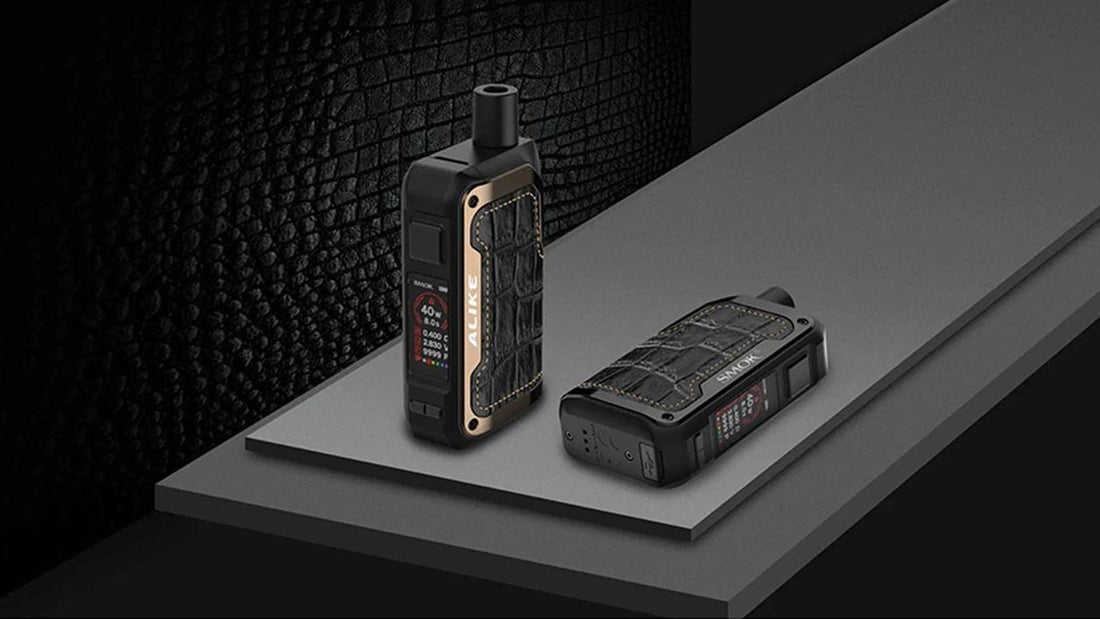 SMOK - Alike 40W Open Pod Kit Review
While pod systems remain very popular, SMOK continues to generate confusion around pods and their compatibility. There are still questions about which coils across the range of pod systems are compatible, despite the change in aesthetics and overall design. That being said, the brand-new 40-watt pod system from SMOK Alike has a few features that set it apart from similar devices on the market. We're going to cut to the chase and see where it takes us.
Specifications
Size 77 x 43.2 x 23.4mm
Output voltage 0.5V – 4.0V
Resistance range 0.2ohm – 2.5ohm
Charging voltage 5V
Weight 120g (excluding pod)
Output power 1W – 40W
Battery capacity 1600mah
What's In The Box
Alike Device
USB cable
User manual
Warranty card
Alike empty pod (5.5ml)
RPM Mesh 0.4ohm DL coil
RPM DC 0.8ohm MTL coil
Design

The Smok Alike is, without a doubt, a really nice looking device. The mod is wrapped primarily with embossed rubber, and the stitching compliments the colour of the mod. The rubber coating provides water and dust protection. The metal casing made of aluminum or zinc alloy, has a nice matt finish, this undoubtedly helps to keep the entire device sealed well. All in all, this gives a fairly distinctive look and feel to the Smok Alike.

The 510 drip tip can be changed to suit individual preference. The tank for a pod of this size has a large capacity of 5.5 ml. The Alike could probably last you all day without having to be refilled. You simply lift a small silicone tab to refill the tank, which is not too complicated. The inserted cartridge, however, is no longer visible enough to estimate the remaining e-liquid level. To estimate the amount available, it must be manually removed. This problem could have been easily solved by a tiny opening on top of the mod.

Performance

The 40 watt output is not the most in this category, but it is more than sufficient for this kit. This is mainly because the RPM coils, work very well. The two enclosed coils are very efficient. Both coils last longer than most pod and AIO heads. Even my most viscous e-juices seemed to flow with no issues through the pod to the RPM coils. Chain vaping or longer draws may yield different results, but I found no issues with extensive use.

Battery Life

Not all micro USB cables fit, due to the recessed nature of the port, and you can't vertically charge the device. In fact, the device in the horizontal position takes thirteen minutes less to charge. There were sudden and unexplainable percentage drops during use, which was quite annoying. There is no doubt that this small issue will be resolved by a firmware update. It's helpful to know that this has pass-through charging, which means you can still vape while it's charging.

Verdict

Smok has designed a product that is not just about aesthetics. For instance, it is ideal for those who work in construction, as it is solid, robust, and constructed for use in such environments. It can also be used for an entire day, without needing a charge. The Smok Alike Pod Kit is a viable option for those who like the portability of a pod system, and prefer a less restrictive vape.
If you're still reading at this point then there's a good chance this product is exactly what you're looking for. Check out the SMOK - Alike 40W Open Pod Kit product page and order yours today. You owe it to yourself!