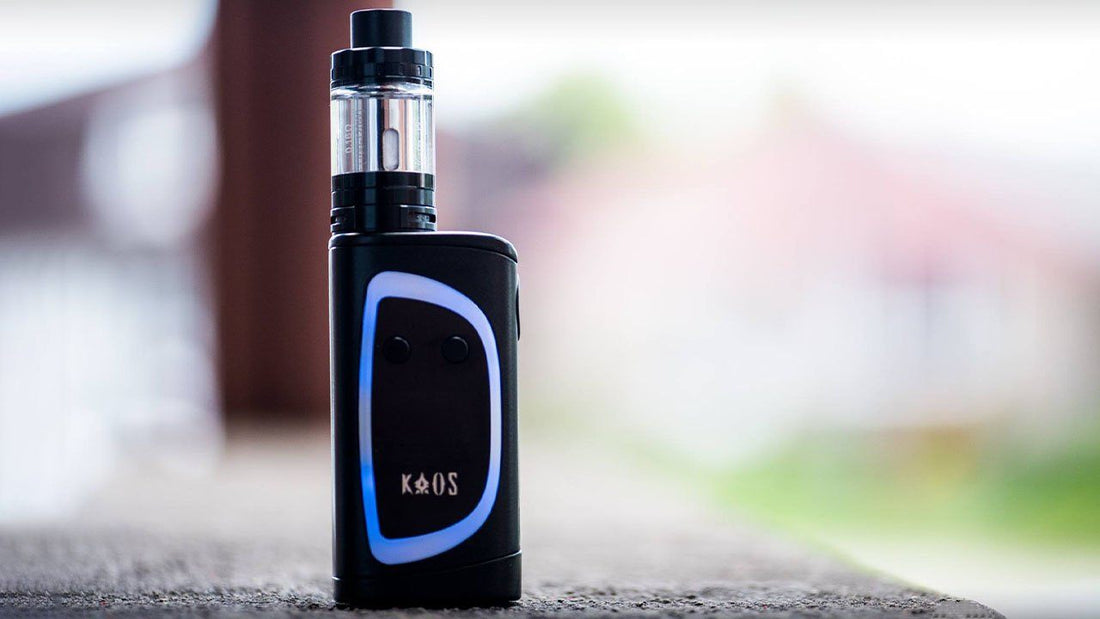 Sigelei Kaos Spectrum Mod Review
As much as we want our box mods to be highly functioning, top-quality devices, sometimes we just want a bit of pizazz to go along with it. A little sparkle, a bit of style, something that catches your eyes and those around you. Many box mods excel at providing an excellent experience or catering to customizable style, but few are able to do both.
Enter the Sigelei Kaos Spectrum. Not only does it offer a full suite of high-end features, like precision temperature control, but it also sports a modern-looking body and programmable LED lights. You'll get customizable performance and looks with the Sigeli Kaos Spectrum.
What's in the Box
1 x Kaos Spectrum Device
1 x Micro USB Cable
1 x User Manual
Look and Feel

As mentioned, one of the biggest appeals of the Sigelei Kaos Spectrum is its close attention to its design and style. The body makes good use of its zinc alloy to make smooth curves and provide an overall sleek, modern look. There are two buttons on the almost 1in TFT screen which can be used to navigate visual menus, while the power button is located on the side.
One of the biggest components of how this box mod looks is the programmable LED display. You can customize how the lights display while the device is on, and they are completely interchangeable with different coloured lights. Put it all together, and you get a great looking box mod body that is eye-catching in the exact ways you want it to be.
The Sigelei Kaos Spectrum is a device that fits comfortably in your hand, is designed ergonomically so all the buttons can be easily reached with a single hand, and is one of the flashiest, most fashionable box mods out there!

Performance

As much attention as is given to the look and feel of the Sigelei Kaos Spectrum, you'll be happy to hear that an equal amount of consideration is put into how the device performs! It makes use of dual 18650 batteries to power a wattage range of 10-230W and a voltage range of 1-7.5V. It supports TCR and TFR adjustments and can read a minimum resistance of 0.1ohms.
The Kaos Spectrum is built with a brand new chipset, which is why its range of feature support is so broad. You'll be able to hook up nearly any kind of vape juice tank or attachment and have a fantastic vaping experience. It also features a 510 connection, which is the de-facto universal standard among most box mods.
The Kaos Spectrum supports all kinds of tanks and coils, too. It comes ready to handle Ni2000, titanium, and stainless steel. The wattage and voltage output make the box mod a strong contender for dry herb vaping, as those attachments are notoriously power-hungry.
The performance you'll find is that of a top-shelf box mod, with a full suite of features, customizations, and versatility. Whether you want to customize this device for freebase nicotine, salt nicotine, or even attachments for dry herbs and wax concentrates, you'll be hard-pressed to find something that the Kaos Spectrum can't handle.

Final Verdict

The Sigelei Kaos Spectrum is a tantalizing choice for all kinds of vapers. Beginners will love how straightforward the device is to use, even with the full suite of features it offers. Experienced vapers will appreciate the depth of features offered (especially at a very reasonable price point).
If you've been looking to upgrade to a full-featured box mod, the Kaos Spectrum should be an eye-catching choice. The performance is top-notch, the depth of features is extremely appealing, and the look and feel simply can't be beaten.
Ready to light up your life? The Kaos Spectrum is waiting for you on our product page!