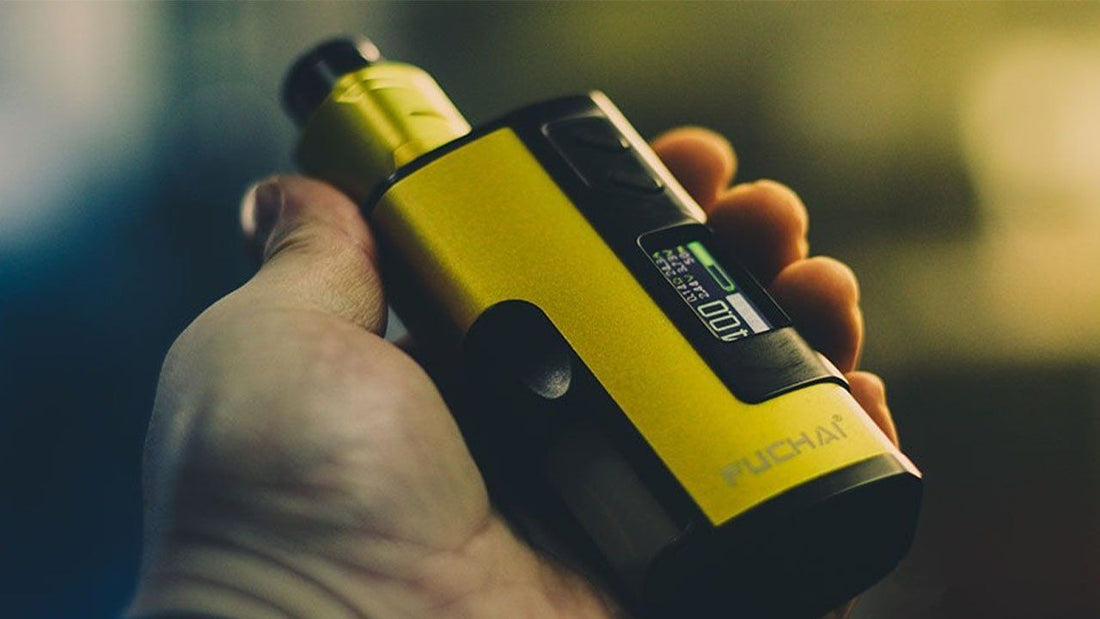 Sigelei Fuchai Squonk Kit Review
Many box mods focus on features like precision temperature control and voltage options, but not many focus on vape juice flow control. This is where "squonk" box mods come into play, as "squonking" means you are squeezing vape juice from the bottom into the atomizer. The result is as much, or as little, e-liquid hitting your heating element as you want, making it easy to create big, powerful hits on command.
Of course, not all squonk box mods are created equal. You still need a large vape juice tank, exceptional features, and a satisfying and comfortable look and feel. The Sigelei Fuchai Squonk is an incredible choice in this regard, so take a look below to see if this is the squonk box mod you've been looking for!
What's in the Box
1 x Fuchai Device
1 x Squonk RDA
1 x Accessories Kit
1 x Micro USB Cable
1 x User Manual
Look and Feel

The body of the Sigelei Fuchai Squonk is simply superb. The 5mL squonk bottle is ergonomically designed so you can easily squeeze it while pressing the fire button. The body is constructed from an aluminum alloy, which gives it a bit of durability and a smooth, cool feel.
The firing button is on the opposite side of the squonk tank, while the navigation buttons are located on the front of the device. The OLED screen shows all kinds of different options, including wattage options, voltage settings, battery level, and more. The screen is just shy of an inch long, so it's easy to keep your fingers out of the way to see information while vaping.
Finally, the gold-plated 510 connection is spring-loaded, so you'll always know when your preferred e-liquid tank is connected (should you use one different than what's included in this kit).
Overall, the conveniently placed buttons and squonk tank, along with an overall ergonomic design and aluminum build, make the Sigelei Fucahi Squonk a choice that looks and feels great!
Performance

The performance of the Sigelei Fuchai Squonk makes it an enticing choice in the squonk box mod market. It supports wattage ranges of 10-150W, voltage adjustments between 1-7.5V, and can read resistances as low as 0.05ohms. Not only does this let you tweak your vaping experience to exactly how you like it, but it also makes it easy to switch between different kinds of vape juice tanks.
You can use your choice of one 18650, 20700, or 21700 battery. Regardless of your choice, you should be able to count on long-lasting vaping sessions without needing to worry about charging (though you'll find the battery is not as long-lasting compared to other box mods that make use of dual-battery designs).
The included Sigelei Cubic 22mm Tank also makes for top-quality e-liquid vaping. It offers a deep 6mm juice well, a stainless-steel build, and PEEK insulators. It is designed specifically for e-juice vaping, and you'll notice the quality in performance as soon as you start!
Between the breadth of features and the high-end build of the included tank, e-juice vapers will feel right at home with the performance of the Sigelei Fuchai Squonk.

Final Verdict

If you've been curious about giving a squonk box mod a go, the Sigelei Fuchai Squonk is an excellent place to start. It offers plenty of features that you would expect from a full-fledged box mod, but there is special attention to ergonomic design to make it easy to squonk.
If you are a brand new vaper, you might be a bit overwhelmed by all the different features and capabilities of a squonk tank, especially the Sigelei Fuchai. However, veterans who are looking to get quick, enormous hits if vapour will fall in love with the performance and design of the Sigelei Fuchai Squonk.
Ready to start squonking like a pro? Visit the Fuchai Squonk product page to shop now!