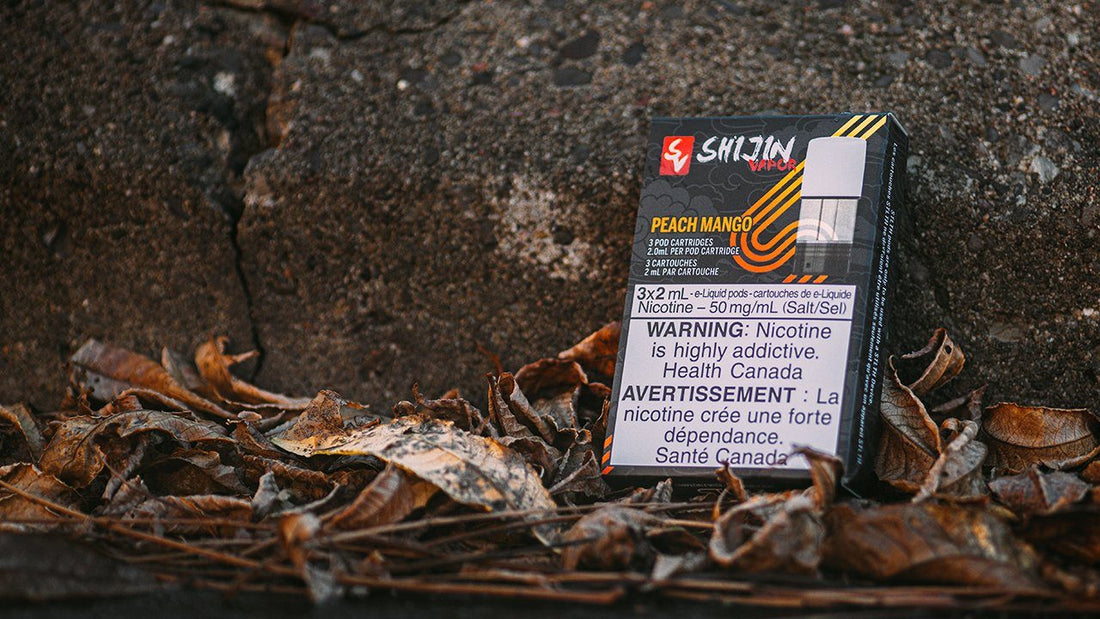 Shijin STLTH Pods Review
Shijin just released a handful of new flavours, which makes it the perfect time to take a second look (or perhaps a first look) at their fruity lineup! You'll find blends of some of the most popular fruity flavours, including Blue Raspberry and Green Apple, Blue Raspberry and Green Apple Iced, and Peach Mango.
Shijin vape pods come in packages of three, with each pod holding 2mL of liquid. Each flavour is available in either 35mg or 50mg salt nicotine concentrations, all blended in 50VG/50PG mixes.
The Flavours
Shijin has a focus on tasty fruit blends, with a special emphasis on blue raspberry and green apple!
Blue Raspberry and Green Apple
As an intense collaboration of your favourite fruity flavours, Blue Raspberry and Green Apple is a tasty treat. You'll be hit with a delicious blend of bright, sweet flavours while being able to distinguish the blue raspberry and green apple notes on the exhale. This vape juice is a great choice for vapers who love vibrant and tart fruit flavours!
Blue Raspberry and Green Apple Iced
If you vaped Blue Raspberry and Green Apple and thought, "This would be perfect if it only had a splash of mint," consider your mind read! This flavour is the delicious blend of blue raspberry and green apple with a hearty kick of cool, smooth menthol. This is a great twist on an already delicious recipe, and we're sure you'll think the same!
Just because you like fruit flavours doesn't mean you're into tart, strong fruit tastes. Peach Mango is an amazing turn towards the smooth, mouth-coating sweetness that peaches and mango are famous for. This blend has a strong sugary sweetness, so it's more like a peach mango blend than standard peaches and mangoes.
Conclusion
Shijin continues to impress with great new additions to their e-liquid lineup. Their sweet and fruity flavours are able to shine in perfect blends of vape juice, all conveniently packed into STLTH pods. If you love unique fruit flavours (with maybe a mint kick), then Shijin should have your attention!