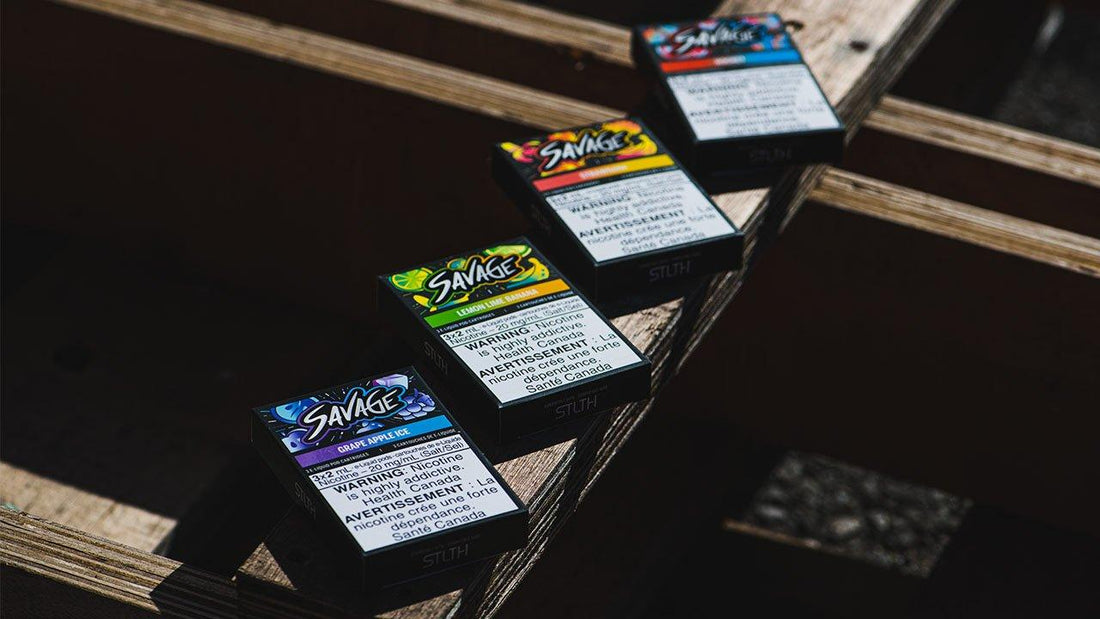 Savage STLTH Pods Review
Ready to take your vaping experience to the next level? Look no further than Savage STLTH Pods! Their unique range of fruity and sweet flavours will help you break away from the usual single-flavour pods. With unbeatable quality, great affordability, and an array of tantalizing flavours, these e-juices offer something special for both experienced vapers and newbies. So, step out of your comfort zone and give Savage STLTH a try - you'll be glad you did!
What are Savge STLTH Pods?
Savage STLTH pods are a disposable vape pod system packaged in boxes of three, containing 2mL of vape liquid each. Additionally, their flavours are blended with a 50VG/50PG mix - ideal for bringing out the best in delicious flavours! Unless stated otherwise, that is.
For those looking for a powerful nicotine hit, the Savage STLTH line offers an incredible selection of salt nicotine-based e-juices in three different concentrations - 20mg, 35mg, or 50mg. Whether you're after a subtle buzz or a bolder throat hit, this unique lineup of vape juices will definitely satisfy your craving. Try them out today and experience first-hand just how powerful these e-juices can be.
Savage STLTH Flavours
Check out the Savage STLTH line for an excellent selection of flavours! Whether you're simply curious or looking for something specific, there's bound to be a recipe that captures your attention.
Immerse yourself in the incredible taste of Savage STLTH Grape Apple Ice! First, you'll get a crisp and tart burst of apple, followed by a hint of smooth grape that blends seamlessly with an invigorating touch of icy mint. Perfect for those who crave a sweet and minty sensation, this flavour combination will create an unforgettable mouth-coating experience.
For a truly satisfying taste experience, try out Savage STLTH Lemon Lime Banana. First, you'll get the sharp and sweet citrus hit of lemon and lime - but when you exhale, that smooth banana flavour takes over to give an unforgettable sensation. Expert flavour seekers may even find that exhaling through the nose or mouth produces different tastes!
Experience juiciness at its best with Mango Peach Pineapple! As you take a hit, your taste buds will be overwhelmed by full-bodied flavour - and the smooth mango and peach notes will become even more apparent as you exhale. If you're looking for an intensely fruity experience each time, this vape juice is sure to hit the spot.
Power casts off the pretence of fruit flavours and dives into teasing your palate. You'll find a pleasant blend of sweet and sour in this flavour. While this mix may not give you the monstrous energy you crave, the accurate flavour just might!
Get ready for a flavor explosion with Rocket! Red cherries, blue raspberries, and a blast of mint make this vape juice an ideal choice for anyone seeking a cool and refreshing experience. Each puff will send your taste buds soaring to new heights. If you're looking for something that packs a little more punch than the usual minty mixes, then Rocket is sure to be a blast!
You'll experience another classic flavour combination with Strawberry Kiwi Watermelon. Each puff will deliver sharp, tangy, and smooth sweetness, with juicy watermelon rounding out the experience as vapour leaves your mouth. This is another delectable choice for vapers that prefer sweet-forward blends.
For the final flavour, Savage STLTH brings you a classic all-time favourite: strawberry and banana! You'll taste a perfect blend of sharp and smooth sweetness, with strawberries hitting first and banana flavours following up on the exhale. This combo is common among vape juice for a reason, and Savage's recipe does not fail to please!
Conclusion
Whether you want unique fruity blends, sweet-forward flavours, or delicious takes on some classic recipes, Savage STLTH Pods will not fail to disappoint. Pick a pod flavour that seems tasty and enjoy a new favourite line of vape juices!