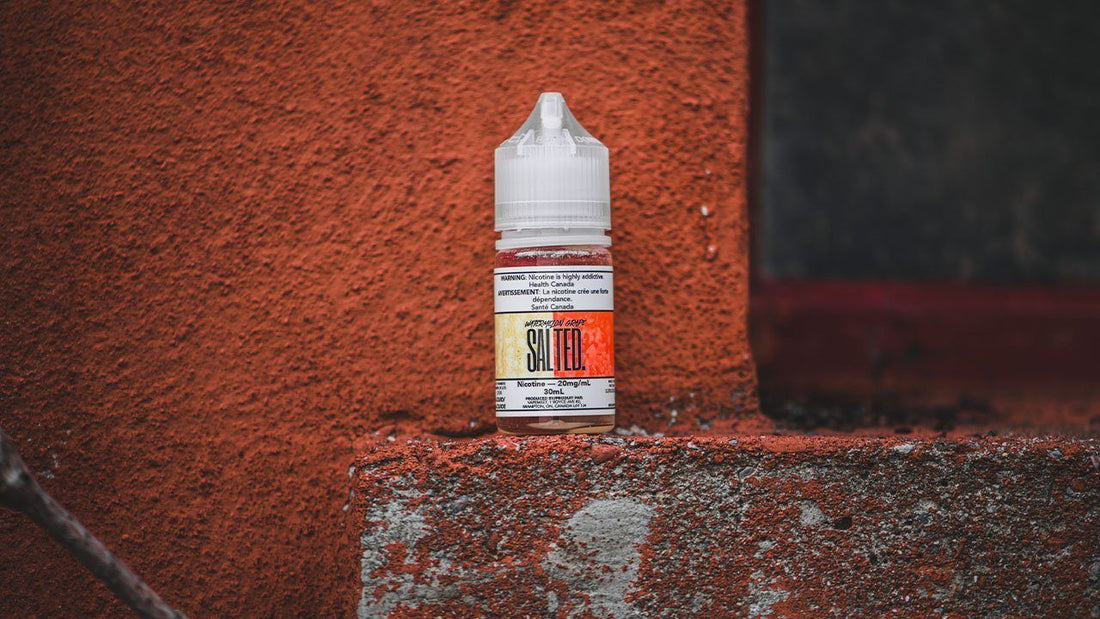 Salted E-Liquid Review
We've taken some of our most popular VapeMeet exclusives and have formulated them with strong kicks of salt nicotine. In our exclusive Salted line, expect to see old favourites, including Mint, OMC, Purple Tides, Tillson Reserve, Virginia Roast, and Watermelon Grape.
Salted e-liquids are available in 30mL bottles and in 10mg, 20mg, and 40mg salt nicotine concentrations. You'll find an even ratio of 60VG/40PG, meaning these vape liquids have a heavy emphasis on flavour but will still make thick mouthfuls of vapour.
The Flavours
Salted focuses on a wide range of flavours, from fruit to tobacco and more. Take a look and see if your favourite e-juices are also in the Salted vape juice line!
Mint continues to be one of our most popular flavours, and how could it not? It is a simple, straightforward blast of peppermint, spearmint, and menthol, creating a frigid experience from the moment vapour hits your mouth and long after you exhale. It is THE vape juice for mint lovers, and now formulated with the extra strong kick of salt nicotine!
It should be no surprise to see a reboot of OMC. After all, it continues to be the most popular creamy vape liquid in Canada. You'll get smooth, sweet notes of vanilla bean that coats your mouth in a pleasant, long-lasting way. The standard among creamy-based e-liquids, now available with salt nicotine!
Our most authentic grape flavour is back with the extra kick of salt nicotine. Purple Tides is an excellent flavour choice for vapers that love grape but hate that chemical-tasting "grape flavour" found in so many candies, drinks, and vape juices. Purple Tides provides a refreshing grape-taste in high fidelity while delivering the extra smooth kick provided by salt nicotine!
Plucked from our popular tobacco dedicated juice line, Tillson Reserve is back with a salt nicotine formula! Based on traditional tobacco flavours from strains grown in Canada, Tillson Reserve delivers a rich, slightly sweet taste that has made it one of our most popular tobacco-based flavours. If you are trying to quit tobacco smoking but can't get the kick you need from the freebase formula, try Tillson Reserve with salt nicotine!
Not to be outdone by Tillson Reserve, the savoury tastes of Virginia Roast have also been formulated with salt nicotine. Virginia Roast takes the classic taste of Virginia-grown tobacco and mixes it with Virginia-grown peanuts, creating a unique tobacco flavour that is a wonderful blend of salt, nutty, and savoury. Another great tobacco-based option with salt nicotine if the freebase formula of this vape liquid isn't giving you the kick you need.
While the collaboration of watermelon and grape may sound odd at first, it creates a deliciously sweet and smooth vape juice like none you've ever had. It is one of our most requested fruit blends, which is why it's been rebooted into a salt nicotine recipe! If you've never tried Watermelon Grape, the salt nicotine recipe is a great place to start!
Conclusion
Salted takes some of our most popular freebase nicotine flavours and brings them together in salted nicotine recipes, and we're confident you'll love them. Be sure to grab some of your old favourites with a new kick or branch out and try something new!