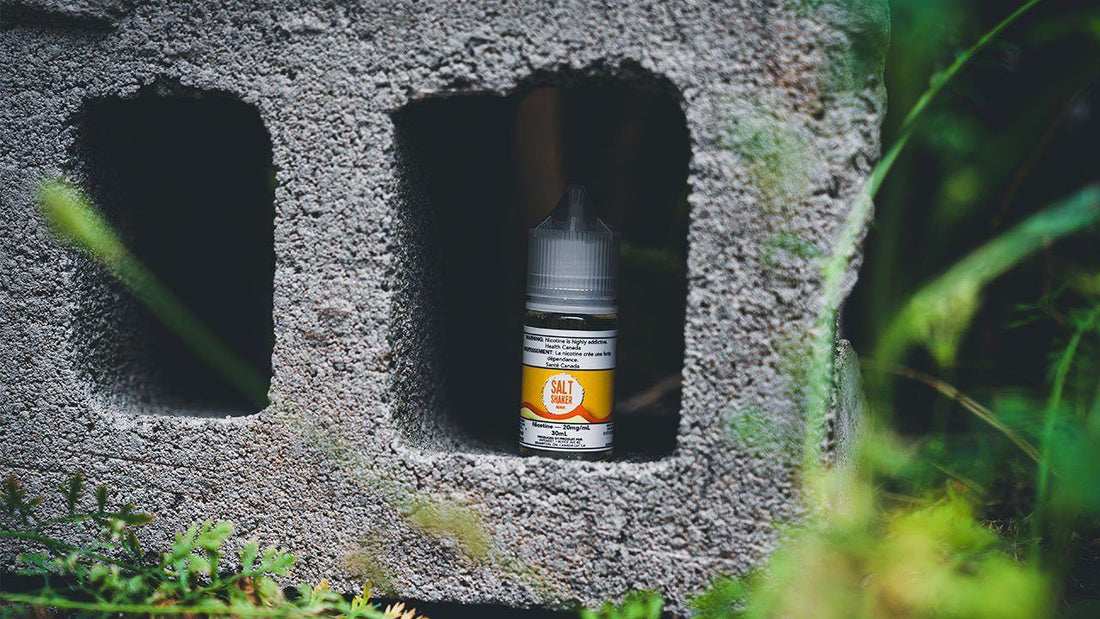 Salt Shaker E-Liquid Review
Salt Shaker is a VapeMeet exclusive line, focusing on providing a range of delicious flavours, anywhere from refreshing, sweet, sour, and more! You'll find tasty recipes like Cucumber Mint, Mango, Papaya Citrus, Raspberry Lemon, Vanilla, and Watermelon Punch.
Salt Shaker e-liquids are available in 30mL bottles and come in 10mg, 20mg, and 40mg salt nicotine concentrations. All flavours are balanced around a 60VG/40PG ratio, which will make it easy to get solid vapour clouds while still getting hit with a mouthful of flavour.
The Flavours
While the palate of flavours varies depending on the recipe, all of Salt Shaker's vape juices use fruity tastes as a base. Take a look at the different concoctions that will send your taste buds into a tailspin!
Cucumber Mint is one of the most refreshing, crisp vape juices you'll find. It takes the crisp brightness of cucumber, the icy flavours of spearmint, peppermint, and menthol to create an invigorating, rejuvenating flavour that is perfect for when you've worked up a sweat.
Mango makes great use of the smooth, gentle sweetness of real mango to bring an authentically delicious taste. If you love mango but hate mango "flavours" that taste like sugary syrup more than fruit, then Mango by Salt Shaker should have a spot in your vaping lineup.
If you love fruity tastes but are looking for something more unique, then take a closer look at Papaya Citrus. Papaya brings a smooth, tangy sweetness to the table, and the citrus cuts through nicely, providing a sharp sweetness on the inhale and an overall smooth, pleasant taste on the exhale. Papaya Citrus is a wonderful choice for vapers trying to branch away from traditional fruit flavours.
For lovers of sweet and sour, Raspberry Lemon does not disappoint. You'll catch bright notes of sweet and strong notes of sour through every step of vaping this e-liquid, which is sure to pleasantly shake up your tastebuds. Combined with the smooth kick of salted nicotine, you may find that Raspberry Lemon is the wake-up call you've been looking for!
Vapers aren't always looking to get blasted with sweet and sour, so Vanilla offers a smooth experience that's more like a hug on your tongue rather than a punch to your tastebuds. A great vape liquid to enjoy with a morning cup of coffee or a strong glass of evening whiskey.
Watermelon Punch is a watermelon-based e-liquid with a pleasant swirl of complimenting tropical and citrus flavours. You'll get punched with watermelon on in the inhale, while the more subtle notes of a tropical blend and citrus are more noticeable on the exhale. A bright, tasty watermelon blend that is easy to enjoy no matter what time of year it is.
Conclusion
Salt Shaker offers delicious, fruit-based flavours all wrapped up in the kick of salt nicotine. The e-liquids provide a very satisfying mouth and throat feel, which will help former or current smokers feel right at home. Vapers who love fruity tastes will also feel quite at home with the Salt Shaker line of e-liquids.