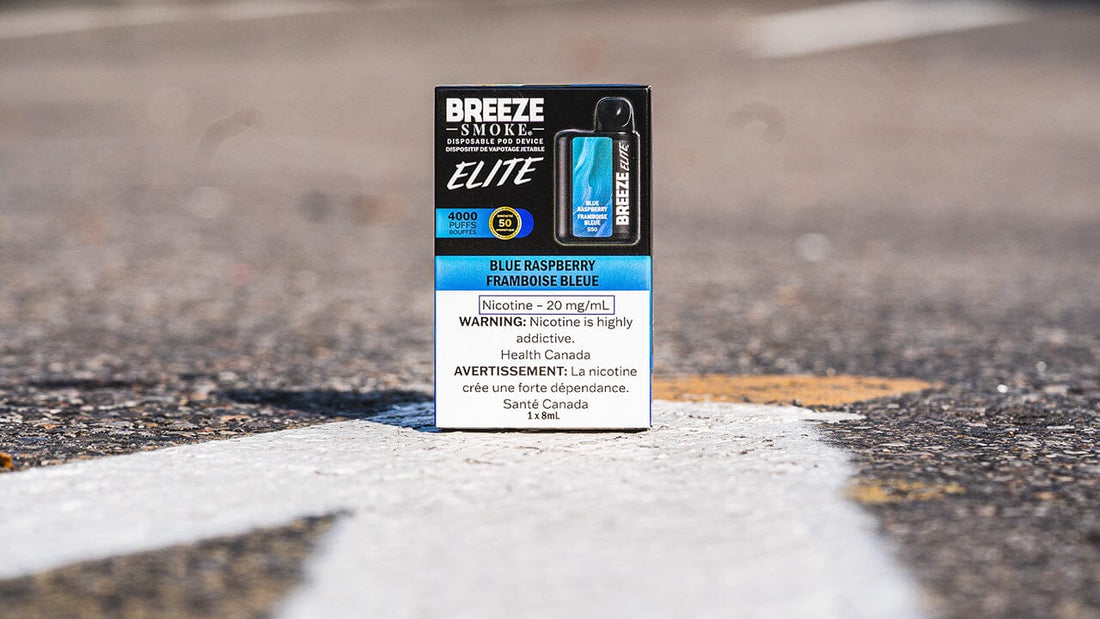 Review: The Next Level of Easy Vaping with the Breeze Elite Disposable Vapes
The vaping industry is continually evolving, and the introduction of the Breeze Elite vapes marks a significant leap forward in providing users with a remarkable vaping experience. This innovative vaping device is designed to elevate satisfaction and convenience, catering to novice and experienced vapers alike.
User-Friendly Experience
The Breeze Elite is a user-friendly vaping device that offers easy-to-use features and requires minimal maintenance. It caters to different types of vapers with customizable options for mouth-to-lung (MTL) and direct-lung (DL) vaping. The seamless design eliminates the need for buttons or complicated settings, making it easy to use. All you have to do is inhale and enjoy your vape. This automatic draw system ensures a hassle-free and intuitive vaping experience.
Portability and On-the-Go Convenience
The Breeze Elite is a unique vaping device that stands out for its lack of a charging port. This means that you no longer have to worry about running out of battery or carrying a charger with you. Its convenient design allows you to enjoy vaping anytime and anywhere, hassle-free. 
If you have an active lifestyle, the Breeze Elite is perfect for you. It's small enough to fit in your pocket and doesn't require charging. With no buttons to fiddle with, you can take a draw and enjoy the flavours and satisfaction that the Breeze Elite offers. You don't have to wait for the device to heat up or charge, making it an ideal solution for people always on the go.
Focusing on Signature Flavors: Breeze Elite 4000 Disposable Vape Range
One of the standout features of the Breeze Elite vapes is the broad range of flavours available. From classic flavours to innovative blends, the Elite offers an array of choices to suit every palate. Users can enjoy everything from refreshing fruit blends to rich and indulgent dessert-inspired options, ensuring something for everyone.
Let's dive into the distinctive flavours of three exceptional offerings from the Breeze Elite 4000 Disposable Vape range: Apple Cranberry, Blue Raspberry, and Strawberry Banana.
Breeze Elite 4000 Apple Cranberry Disposable Vape
Flavour Profile:
The Apple Cranberry variant combines the tartness of cranberries with the crisp, sweet notes of ripe apples. The tangy and refreshing cranberry flavour is expertly blended with the naturally sweet essence of juicy apples. The inhale brings the distinctive taste of fresh, slightly tangy cranberries, while the exhale leaves a lingering, subtle sweetness from the apple undertones.
Experience:
This flavour offers a delightful contrast between the tartness of cranberries and the sweetness of apples, creating a balanced and refreshing vaping experience. The combination of these fruits provides a harmonious blend, making it an ideal choice for vapers who enjoy a fusion of tangy and sweet flavours.
Breeze Elite 4000 Blue Raspberry Disposable Vape
Flavour Profile:
The Blue Raspberry vape is a nostalgic tribute to the classic blue raspberry treats. This flavour combines the vibrant sweetness of ripe raspberries with a hint of tangy blueberry, offering a bright and flavorful sensation. The inhale introduces the bold sweetness of raspberries, while the exhale reveals the subtle tartness of blueberries, resulting in a well-rounded and enjoyable vaping experience.
Experience:
Vapers can expect a burst of fruity sweetness with a hint of tartness reminiscent of their favourite childhood treats. The delightful balance of these berry flavours makes the Blue Raspberry variant an appealing choice for those who enjoy a sweet and tangy vape that's both refreshing and satisfying.
Breeze Elite 4000 Strawberry Banana Disposable Vape
Flavour Profile:
The Strawberry Banana vape is a luscious fusion of ripe strawberries and creamy, tropical bananas. This flavour brings together the sweetness of sun-ripened strawberries with the creamy, smooth essence of ripe bananas. The inhale introduces the vibrant and sweet notes of strawberries, while the exhale showcases the creamy and slightly tropical flavour of bananas, creating a flavorful and well-rounded vaping experience.
Experience:
This flavour combination offers vapers a smooth and fruity delight. The marriage of strawberry sweetness and the creamy texture of ripe bananas provides a rich and satisfying vaping experience. Ideal for those seeking a deliciously smooth and fruity vape with a creamy finish.
Conclusion
The Breeze Elite 4000 series presents a diverse range of flavours that cater to a variety of taste preferences. Whether you're drawn to the tartness of Apple Cranberry, the nostalgic sweetness of Blue Raspberry, or the creamy fusion of Strawberry Banana, these flavours are crafted to deliver an enjoyable and satisfying vaping experience, showcasing the fusion of carefully balanced, high-quality ingredients.
For those seeking an uncomplicated and hassle-free vaping experience without compromising on quality and satisfaction, the Breeze Elite's no-charging, no-buttons approach redefines what it means to enjoy vaping quickly.
At VapeMeet, we're committed to providing you with premium vaping solutions. Explore our range of products and take advantage of exclusive deals to enhance your vaping experience. Choose STLTH Pro and redefine the way you vape! Stay updated with all our deals and promotions by following our Instagram page!