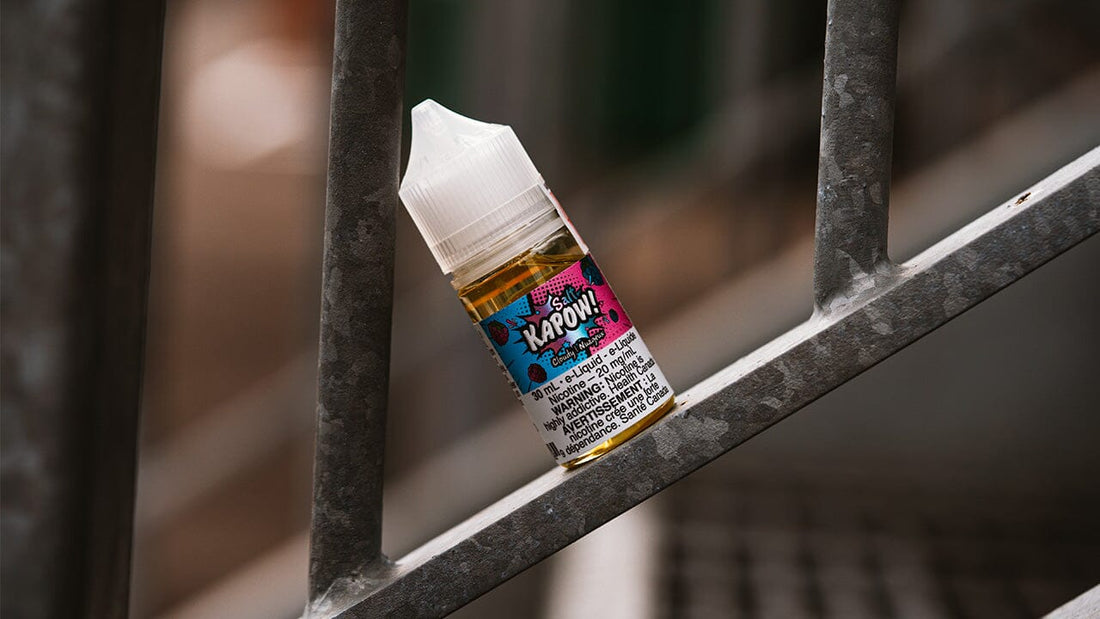 Review: Satisfying Sweet Tooth Cravings with Kapow Vape Salt Nic Juices
The Kapow line of vape salt nic juices presents a tempting array of flavours, tailor-made for those with an insatiable sweet tooth. This review explores how Kapow Belts, Kapow Cloudy, Kapow Rocket Ship, and Kapow Stick It offer diverse sweet treat experiences, urging customers to indulge in each for a satisfyingly sweet fix without compromising coil longevity.
Sweet Treats 
If you have a sweet tooth and are always looking for something to satisfy your cravings, check out the Kapow line of salt nic e-juices. These e-juices are specially made to cater to those who love the taste of sweets, particularly the treat kind. And we're not just talking about any ordinary sweets here; we're talking about those hard-treat flavours that you probably grew up with or still crave as an adult.
With Kapow e-juices, you can indulge in the taste of your favourite treats without worrying about the sugar rush or the calories. These e-juices come in various tantalizing flavours, each designed to give you an unforgettable vaping experience. Moreover, these salt nic e-juices are made with high-quality ingredients, ensuring you get a smooth and satisfying hit every time you vape. 
During my test of these nic salts, I noticed they were reasonably good for my coils. However, I needed to replace the coils on my SMOK Nord more frequently than my Eco vape device. I used both devices to test out these juices after writing about Fruitbae fruit flavours in this blog. I prefer using a low-powered device mainly for nic salts, as it eliminates the frustration of determining the correct wattage to vape these flavours. Although you can't go wrong hitting the temperature range between 25-35w, I noticed that the LP2 coil turned in a week while my Eco is still going strong. Your experience might differ based on your device and temperature settings, so take mine carefully.
Kapow Belts Salt Nic E-Liquid:
For those addicted to the allure of chewy, sweet treats, Kapow Belts is the perfect remedy. This strawberry sensation with a hint of satisfying sourness takes taste buds on an adventure, delivering the perfect sweet fix. It's an experience that captivates without overwhelming, making Kapow Belts an ideal choice for those seeking a delectable treat that won't compromise coil life. It's a delightful, creamy strawberry treat flavour and probably one of the sweeter-tasting strawberries I have ever had.
Kapow Cloudy Salt Nic E-Liquid:
If you crave the heavenly combination of fluffy, cotton-like clouds and berry bliss, then Kapow Cloudy is a must-try. The raspberry and strawberry flavours blend to create an explosion of sweetness, providing a unique treat that satisfies your taste buds without sacrificing the longevity of your coil. Kapow Cloudy promises an indulgent experience for those who love sweet flavours, making it an excellent option for vapers looking to elevate their vaping pleasure. This is the perfect sweet vape juice. It tastes like you are enjoying a carnival cotton confectionery treat, and I found myself addicted to vaping this flavour.
Kapow Rocket Ship Salt Nic E-Liquid:
If you're a vaper with a sweet tooth and a penchant for cosmic adventures, Kapow Rocket Ship could be just what you need. The cherry and blue raspberry notes offer a unique and sweet vaping experience that will take your taste buds to outer space. However, in Canada, these treats have a different name, and when we used to get them in our Halloween bags, we'd crush them into a fine powder and slurp them up - not the tastiest way to enjoy them!
Interestingly, in the USA, these treats are called Smarties, but in Canada, Smarties have an entirely different flavour profile. Some of my friends swear by the Kapow Rocket Ship flavour, claiming it's the best out of their line of Kapow nic salt juices. However, since the flavour is spot-on for the Rockets treats, which I'm not a fan of, I'm not a massive fan of this e-juice. But if you're a fan of those treats and want to experience a blast of flavour that'll transport you into another galaxy, Kapow Rocket Ship could be the one for you.
Kapow Stick It Salt Nic E-Liquid:
For those needing a sweet fix that's as playful as it is satisfying, Kapow Stick It is the go-to choice. The chewy, bubbly, and poppin' flavours of watermelon and strawberry make for a delightful treat that might trick you into chewing your clouds. Pro tip: you're smarter than that! Kapow Stick It invites customers to stick to their sweet cravings while enjoying a vaping experience that is both whimsical and long-lasting. This flavour is lovely but more tolerable as an everyday vape for my pallet. It's sweet, but you won't feel weighed down by the overall taste.
Conclusion:
The Kapow line of vape salt nic juices at VapeMeet caters perfectly to the sweet tooth cravings of vapers, offering a diverse range of treat flavours. Whether you're enticed by the strapping goodness of Kapow Belts, the fluffy clouds of Kapow Cloudy, the cosmic adventure of Kapow Rocket Ship, or the playful delight of Kapow Stick It, each variant provides a sweet fix without rapidly wearing down your coils. Indulge in the world of Kapow, trying each flavour for a different treat experience that satisfies your cravings while preserving the longevity of your vaping setup. Elevate your sweet tooth satisfaction with Kapow, where the sweetness lingers without compromising the durability of your coils.
At VapeMeet, we're committed to providing you with premium vaping solutions. Explore our range of products and take advantage of exclusive deals to enhance your vaping experience. Choose STLTH Pro and redefine the way you vape! Stay updated with all our deals and promotions by following our Instagram page!