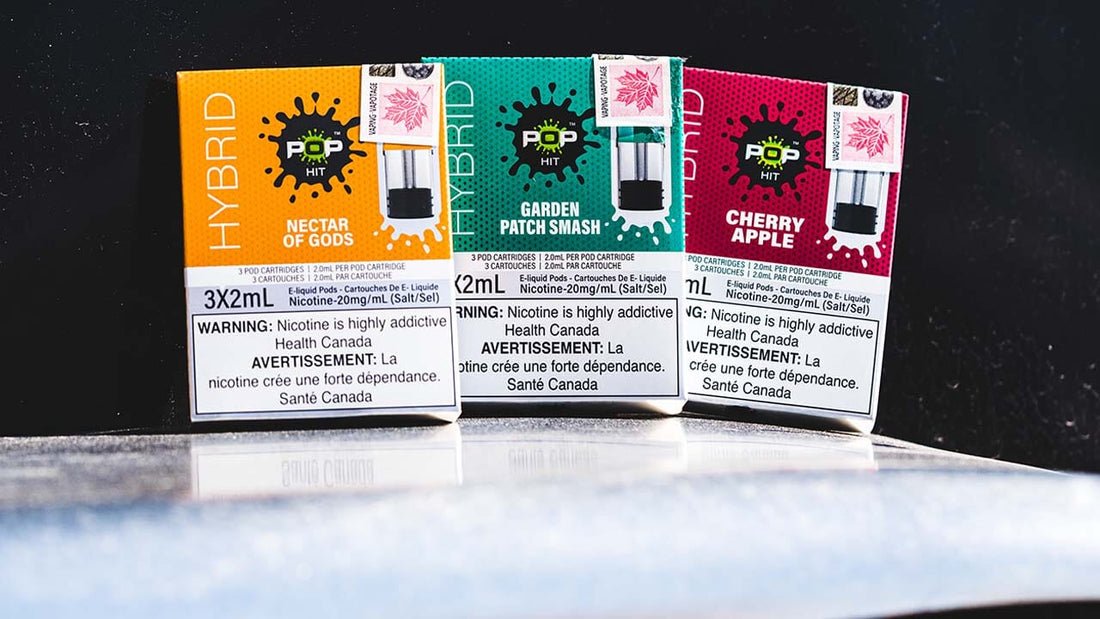 Review: Pop Pods with hybrid freebase nicotine salt e-liquid
Are you a STLTH vaper that is looking to switch up your experience? If so, then you should check out the Pop Pod Hybrids! These vape pods have a blend of nicotine salt e-liquid with freebase nicotine for an incredible vaping experience. Each pack of Pop Pods contains three 2ml cartridges made with hybrid strength and 20mg freebase nicotine salt e-liquid. Additionally, these pods are optimized for quality and durability as they were designed specifically for use in STLTH devices. Let's look at the unique Pop Pods and how they can provide a unique vaping experience.
Pop Pods are e-cigarettes with hybrid freebase nicotine salt e-liquid.
Pop Pods Hybrid is a product that provides the perfect burst of flavour from its 20mg of freebase nicotine salt e-liquid. They contain 2% nicotine salt/freebase strength so that users can enjoy the unique combination of flavours for a memorable vaping experience. Combining nic salt and freebase e-juice, Pop Pods makes it easy to enjoy the best of both worlds no matter your preferred vaping experience. If you are looking for an intense throat hit or bold clouds, Pop Pods offers solutions for each type of vaper. 
I wanted to see what the buzz was about as they kept coming up when I would search online for different STLTH pods. Names such as "Nectar of the Gods" and "Garden Patch Smash" confused me about what these vape pods would taste like. After trying them out for myself, I was pleasantly surprised with the flavour. The Nectar of the Gods Pop Pod had a subtle citrus honey taste that was not too sweet but still incredibly tasty and enjoyable to vape on. Garden Patch Smash had a more complex mix of ripe raspberries and blueberries with lavender and tequila-like flavouring nodes that provided a satisfying vaping experience.
Clearly, these flavours are some of the unique vape juices I have ever tried. You will not find more one-of-a-kind flavours packed into a STLTH compatible pods. But how do these pods compare overall outside of these out-there flavour combos?
The Advantages of Hybrid pods with nic salt and freebase e juice
Hybrid pods offer the best of both worlds for vapers looking for a unique experience. These pod types use nic salt and freebase e-juices, allowing users to experience the familiar and abundant flavours from traditional e-liquids with the smoother and milder nicotine hit associated with salts. The reduced harshness when inhaling with hybrid pods can also allow users to vape more freely without the throat hit in high-nicotine-strength juices. Although the advantages of hybrid pods tend to sway towards diversity of flavour, nic salt pod compatibility, and gentler inhales, it is essential to consider their drawbacks as well.
Since these pods use a mix of two different types of juice, they can last shorter than single-style liquid devices. Additionally, some more regular users of salt nic pods may be dissatisfied with the strength or flavour of the hybrid nicotine of Pop pods. In saying that, Hybrid Pop Pods are an ideal choice for vapers who want variety in their vaping experience.
Final Thoughts on Pop Pods
Pop Pods offer a unique choice for pod vapers seeking an alternative to the overwhelming amount of options available. These pods contain freebase and nicotine salt, resulting in a bold flavour with smoother throat hits. Pop Pods are also easy to use and convenient, making them an excellent choice for e-cigarette beginners and experienced vapers alike!
Check out all our cool new products on our Instagram page and stay up to date on whats coming out at VapeMeet!