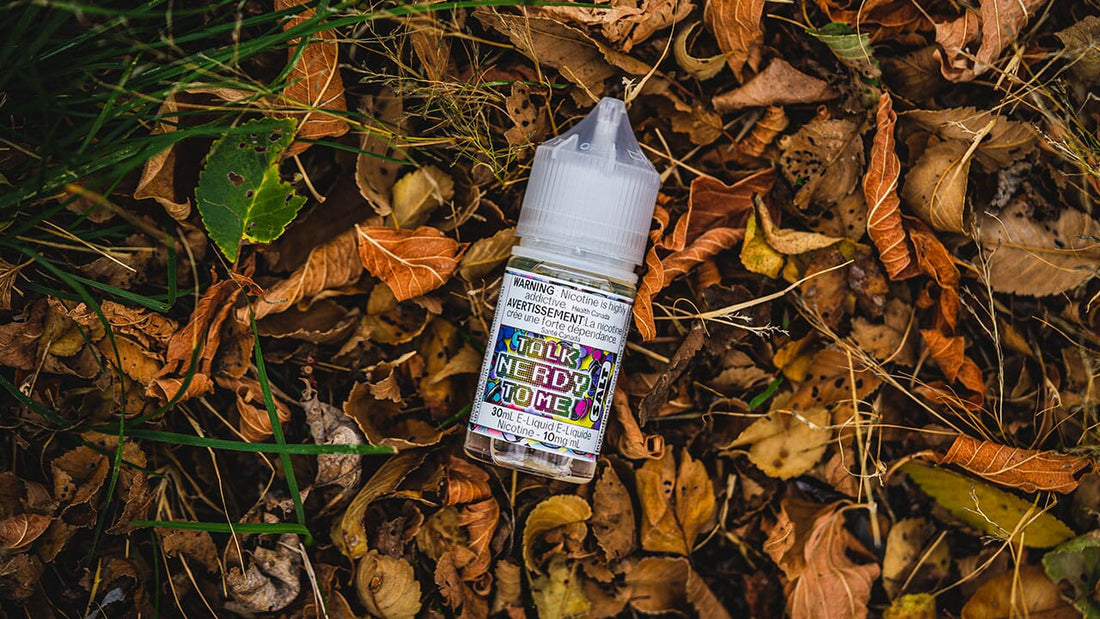 RCV Talk Nerdy To Me Salt Nic E-Liquid Review: A Flavourful Delight!
River City Vapes (RCV) knows that vapers always search for that elusive, perfect e-liquid flavour combination. In their pursuit of the ultimate vape experience, they've crafted something special: Talk Nerdy To Me Salt Nic E-Liquid.
In this blog, we'll take an in-depth look at this irresistible creation, which promises to treat your taste buds to an exhilarating adventure through the realms of sweet and sour grape and raspberry. This e-liquid is a remarkable addition to the world of vape juices, not only for its tantalizing taste but also for its excellent compatibility with a wide range of devices.
Get ready to delve into the delectable world of Talk Nerdy To Me Salt Nic E-Liquid – a flavour harmony that might just become your new favourite.
RCV Talk Nerdy To Me Salt Nic Flavour Profile:
Let's dive right into what matters: the flavour. Talk Nerdy To Me delivers a symphony of sweet and sour notes that dance on your palate with every inhale. The infusion of Sweet and Sour Grape with Raspberry is a genius blend that caters to vapers who appreciate a dynamic and multifaceted flavour experience. The sweet notes are harmoniously balanced with the raspberries' tartness, creating an incredibly moreish vaping experience.
Talk Nerdy To Me is a salt nic e-juice that offers a consistently rich and robust flavour profile. Whether you've got that experienced vaper tongue or just starting, this e-juice will impress you with its depth and complexity. It's not just a flavour. It's an experience that will leave your inner nerd rejoicing. I enjoyed this e-juice and found that the flavours remained consistent throughout my time using it.
Performance and Compatibility:
One of the remarkable aspects of this e-liquid is its adaptability to various devices, especially those with lower power wattage. It's designed for optimal performance, ensuring every puff delivers a maximum burst of flavour. This is a game-changer for vapers using pod systems or other low-powered devices.
Salt Nic e Juice delivers nicotine efficiently, making it an excellent choice for those looking to manage their nicotine consumption. Its formulation requires less e-liquid consumption to achieve a satisfying nicotine hit, making it both cost-effective and ideal for people who want to regulate their nicotine intake.
Quality Assurance and Canadian-Made Goodness:
River City Vapes, the manufacturer of this e liquid, is committed to maintaining high-quality standards, which is one reason I chose this salt nic juice. This product is proudly made in Canada using premium ingredients, so indulging in our delightful flavours also supports local craftsmanship. The attention to detail and quality assurance in our production process is evident with every inhale, ensuring you get the best experience possible.
A Hit in the GTA Area:
Talk Nerdy To Me is the e-liquid creating waves in the Greater Toronto Area (GTA) and all over Canada. The reason behind its popularity is simple: it's the perfect balance between quality and flavour. This product is the go-to choice of vapers who appreciate a satisfying and intriguing blend.
The flavour of Talk Nerdy To Me is not just a passing trend but an enduring favourite because of its perfect blend of sweet and sour taste. This unique flavour appeals to many people, making it a popular choice. Whether relaxing after a long day or enjoying a leisurely vaping session, Talk Nerdy To Me adds more enjoyment to your experience.
In conclusion, RCV Talk Nerdy To Me Salt Nic E-Liquid is a must-try for anyone exploring the world of sweet and sour flavours. Its compatibility with various devices, efficient nicotine delivery, and unbeatable flavour profile make it a top pick. With its 100% Canadian-made guarantee and longer shelf life, this e-liquid has all the hallmarks of a premium product.
So, if you're in the GTA or anywhere else, don't miss the opportunity to experience the delightful world of RCV Talk Nerdy To Me Salt Nic E-Liquid. It's no wonder it's flying off the shelves; this e-liquid is not just good; it's perfect. Grab a bottle and prepare to be impressed!
At VapeMeet, we're committed to providing you with premium vaping solutions. Explore our range of products and take advantage of exclusive deals to enhance your vaping experience. Choose STLTH Pro and redefine the way you vape! Stay updated with all our deals and promotions by following our Instagram page!