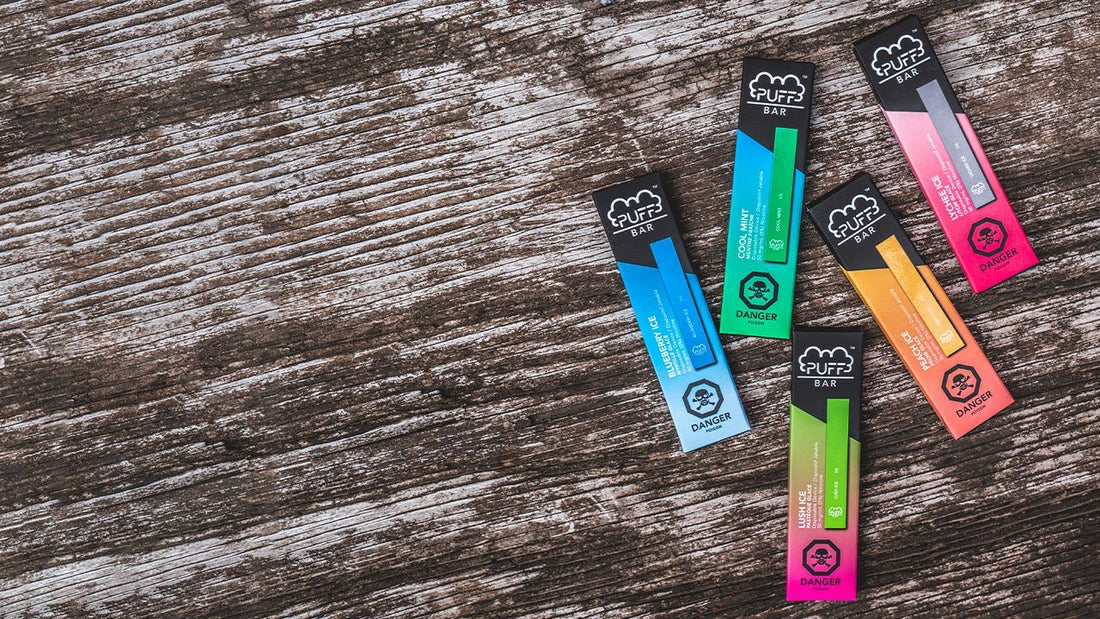 Puff Bars Review
If you're ready for on-the-go vaping that is easy, convenient, and discrete, the Puff Bar is ready to be part of your life! Puff Bar vaporizers are fully disposable, meaning they come pre-packed with vape liquid and a charged battery. All you have to do is open the box and start puffing! There's a variety of tasty flavours to choose from, including Blue Razz, Blueberry Ice, Cool Mint, Grape, Lush Ice, Lychee Ice, Mango, Peach Ice, Pineapple Lemon, and Strawberry.
Specs
Puff Bar vaporizers come preloaded with 1.3mL of vape juice and a 280mAh battery. The combination of the two will get you around 300 puffs off of a single device. The body of the vape is discrete and nondescript, and vapour is produced on coils with 1.3ohms of resistance.
Puff Bar vape juices are made with 50mg of salt nicotine and blended in 50VG/50PG ratios. The result is a pleasant vapour that is neither too harsh nor too thin.
The Flavours
Puff Bar has a few blends, but its primary focus is on high-quality, stand-alone flavours. Peruse below to see which tasty vape juice is right for you!
Blue Razz is a great blend recreating the delicious sweet flavour of your favourite treat. You'll catch tart notes of blueberry and raspberry all overlaid with a pleasant sweetness, making sure that the flavour profile is neither too tart nor too syrupy. If you're a fan of blue raspberry flavours, then you'll be a big fan of Blue Razz.
The powers of tart, sweet blueberry and tasty mint combine to make Blueberry Ice! Tart notes with just a bit of sweetness will grab your cheeks, while the minty blend will keep the flavour from being too overwhelming. The result is a crisp, delicious blend that mint and blueberry fans will clamour over!
If you're vaping exclusively for icy, minty blasts, prepare for your tundra excursion with Cool Mint! Your mouth will instantly be cooled as soon as you take a hit, with a gentle mix of mint and spearmint tickle your tastebuds on the exhale. Cool Mint is a deliciously pleasant mix that is hard not to like!
Simply put, if you like grapes, you'll love Grape! You'll catch the juicy sweetness of grapes in every puff, and the flavour is more natural tasting than it is chemical-like, which should even entice vapers that traditionally stay away from grape flavours.
We absolutely love Lush Ice by Puff Bar! The blend of juicy watermelon and cooling mint come together to create a full-bodied, complex vape juice that is simply delicious. If you're deciding which Puff Bar to try first, Lush Ice is an excellent starting point.
Have you ever vaped a lychee vape juice and thought, "I sure wish this had a splash of mint in it"? Consider your prayers answered with Lychee Ice! The soft, pear-like notes of lychee blend well with mint, creating a soft, relaxing flavour that vapes incredibly smoothly. Lychee Ice is an easy flavour to vape and an easy flavour to enjoy!
Puff Bar has taken mango flavour and crafted an incredible tropical flavour with Mango. Unlike other vape juices, which miss the mark and have syrupy flavours that are more sugar than fruit, this blend is authentically mango-flavoured. The bright, smooth flavour hits extremely well through each puff, making for a fantastic vaping experience. Mango is one of Pop Disposable's most popular flavours, and it will only take one puff to see why!
Peach Ice takes the unlikely duo of peach and mint to create an incredible summer flavour. The smooth, sweet flavour of peach is perfectly evened out with a fresh blast of mint. The result is a mouth-watering fruit flavour that is gently washed away by tasty coolness. Fans of peach vape juice will love this twist on an old favourite.
Equal parts sharp sweetness and sharp sourness, Pineapple Lemon will be an intense assault on your tastebuds. The sharpness of each flavour will hit as soon as you take a hit, which will make you pucker and your mouth water. On the exhale, the complex notes of pineapple and lemon will shine through, allowing you to enjoy tropical, citrusy flavours.
For berry goodness, Strawberry is right where you should land! You'll be reminded of some of your favourite strawberry flavours with each puff, and you'll enjoy a sweetness that is neither too syrupy nor sugary. Whether you're a strawberry vape juice fan or simply like pleasantly sweet tastes, Strawberry deserves your attention!
Conclusion
Puff Bar has a little bit of something for nearly all vapers, whether you like standalone flavours, fruity blends, candy tastes, or refreshing minty-ness. Whether you're new to disposable vapes or are experimenting with brands, we're sure you'll feel right at home with Puff Bar.