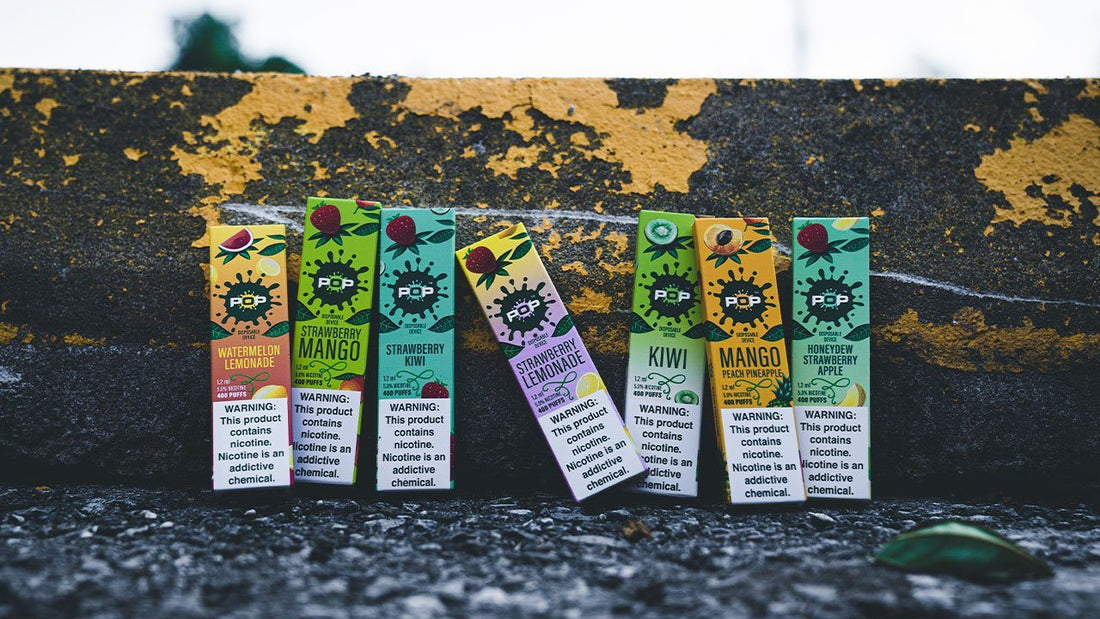 Pop Disposable Review
Disposable vaporizers are fantastic choices for low-maintenance vapers, and Pop Disposable offers incredible devices filled with tasty, fruit-forward vape juice. You won't need to refill or recharge; Pop Disposable vape pens come ready to vape out of the box. Pop Disposable offers a variety of fruity blends, like Honeydew Strawberry Apple, Kiwi, Mango Peach Pineapple, Pineapple Strawberry Coconut, Strawberry Kiwi, Strawberry Lemon, Strawberry Mango, Strawberry Watermelon, and Watermelon Lemon.
Specs
Pop Disposable devices come preloaded with 1.2mL of vape juice and a 280mAh battery, which will provide about 400 puffs. The device body is pleasantly discrete, and vape juice is vaporized on a coil with a 1.5ohm resistance.
Pop Disposable vape liquids are blended with 50mg of salt nicotine and are mixed with a 50VG/50PG ratio.
The Flavours
Pop Disposable focuses on a variety of different blends, only offering a single stand-alone flavour. Peruse the below flavours and see if you find something you like!
You'll be hardpressed to find a tastier collaboration than you'll get with Honeydew Strawberry Apple. It's an amazing blend of tart, sweet, and juicy flavours, with the complex sweetness revealing its depth when you exhale. This is one of our favourite flavours in the line (right after Watermelon Lemon), and you have just got to try it!
Kiwi is the only stand-alone flavour offered by Pop Disposable, and it does not disappoint. Tangy sweetness hits your palate as soon as you inhale, while the juicy sweet notes mix in and shine through on the exhale. If you like the traditional notes of kiwi, then you'll be a huge Kiwi fan!
If you're ready for a tropical blend with a peachy twist, then brace yourself for Mango Peach Pineapple. The sharp sweetness of pineapple will be the first flavour you taste, while the smoother, juicy notes of mango and peach will flood your mouth as you exhale the vapour. This is a delicious, juicy fruit blend that tropical juice vapers will adore.
Want another tropical blend with a traditional twist? Then take a gander at Pineapple Strawberry Coconut! You'll get that same pineapple sweet tartness like in Mango Peach Pineapple, but the sharper sweetness of strawberry and the mellow notes of coconut are the predominant players after you exhale. Pineapple Strawberry Coconut is another great tropical blend by Pop Disposable that you'll find quite intriguing.
If you'd prefer a more traditional blend, then Strawberry Kiwi is a scrumptious decision. You'll get perfectly blended sweet strawberry and tangy kiwi notes from start to finish with this flavour. Strawberry and kiwi blends are popular for a reason, and Pop Disposable does the iconic duo justice. Give it a taste!
Strawberry Lemon will give you a one-two punch of sweet and sour. Lemon will be the prominent flavour, coating your taste buds with sour goodness, while the sweet notes of strawberry help even out the sourness, leaving you with a well-balanced sweet-sour vape liquid. If you fancy sweet and sour combinations, then give Strawberry Lemon a puff.
Pop Disposable offers another tasty strawberry blend, this time combining sharp and smooth sweet notes with Strawberry Mango. These flavours blend together exceedingly well, so you'll catch equal notes of strawberry and mango from inhale to exhale. If you enjoy strawberry blends, then Strawberry Mango should be at the top of your must-have list!
Oh, you'd like another strawberry blend? Since you asked so nicely, sure! Strawberry Watermelon is a juicy blast of sweet flavours. You'll be hit with pleasant sugary sweetness when you first inhale, while the notes of strawberry and watermelon become more distinct as you breathe out. This is a super sweet vape juice, so if you have a sweet tooth, you should definitely be vaping it!
Watermelon Lemon is our favourite from the Pop Disposable line. The taste is almost a sour watermelon treat, except the citrus notes of lemon shine through the sour as you exhale. The delicate combination of sour lemon and sweet, juicy watermelon comes together for a crisp, refreshing vaping experience. We strongly recommend this flavour; we're sure it'll become a quick favourite!
Conclusion
Pop Disposable offers plenty of enjoyable fruit blends, through vapers that enjoy strawberry flavours will feel most at home. With so many well-blended fruit flavours to try, we've found that most vapers will find at least one flavour from this line that they love!