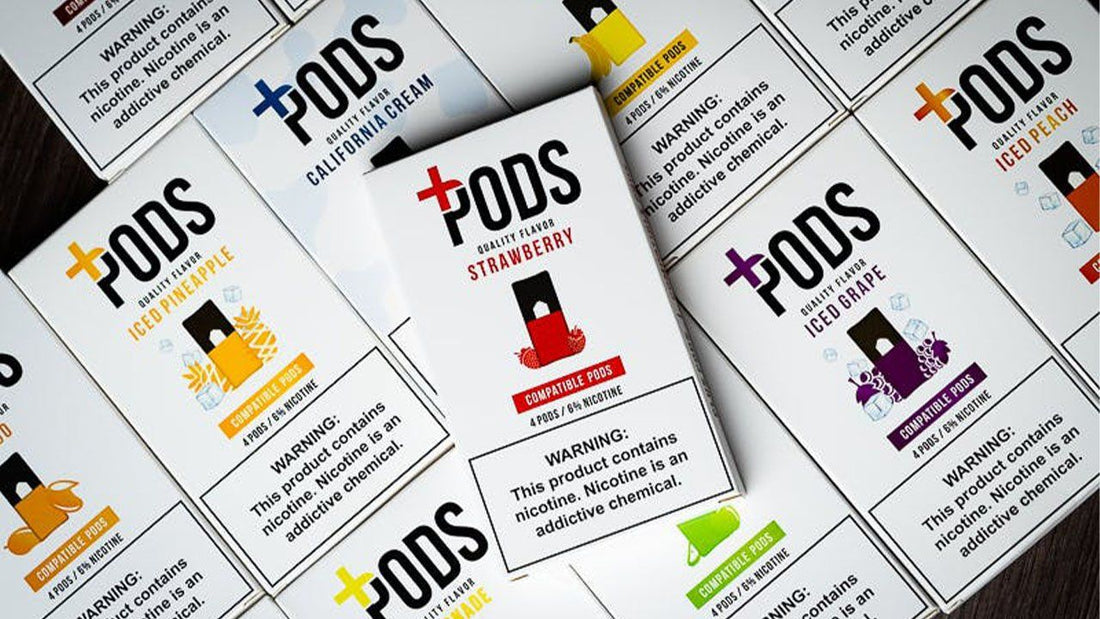 Plus Pods - Portable Smoking Device Review
The Plus Pods are JUUL compatible disposable vape pods. They are individually packaged and are pre-filled with 1.2 ml of e-liquid. They come in a collection of ten flavours. Plus Pods are available with 6% nicotine, which means that to satisfy cravings, it doesn't take as many puffs.
Specifications
Lasts 300 Puffs
LED Indicator
Draw-Activated
Pre-Filled with 1.2ml of E-juice
6% Nicotine Salt E-juice
Disposable
280mAh Battery
What's In The Box
Plus Pods
USB Charging Cable
User Manual
Design

Plus Pods disposables are small and thin.. For easy differentiation, the logo and line for each flavour are printed in a different colour. Disposable Plus Pods are sold in a pack of 3 and are prefilled with 6% liquid nicotine salt containing 1.2 ml. These salts will probably be too strong for you unless you're a heavy smoker trying to quit, or you've previously used highly concentrated nicotine salts (~50 mg).

Flavour Production

Most flavours are flavours of pure fruit, but some have a hint of menthol or mint. Some of these include:

Orange Burst: Exactly what I expected was this disposable plus pod; a citrus flavour that is neither too sharp nor too sweet, but in the middle somewhere. It is a true, almost natural, orange flavour.

Pineapple: It's too subtle, instead of being strong and sweet. I love the flavours of pineapple, but this one isn't sweet or strong enough, and I can barely taste the pineapple flavour.

Grape: Grape is one of my favourite flavours, so I'm happy it's available. For me, it's perfect. It is a delicious grape flavour, without being too strong, it's just sweet enough.

Performance

Of the ten plus disposable pods I tried, I had no problem with any of them. Since these are 6% nicotine salts, the throat effect is much more pronounced and aggressive than a 5%. For those who are already vaping high levels of nicotine, it is still satisfying and enjoyable and won't be too strong. Also, 300 puffs should last for a few days, but I got between 211 and 253 puffs. That's a far cry from the 300 advertised, but for the price, there are still a good deal. Depending on the intensity of the puff, one of these should last at least a couple of days.

Verdict

With the flavours, I'm impressed. The range is great, and most of the flavours are delicious enough that I'm going to be back for more. Lush Ice is the only flavour I don't really like, but that is 1 in 10. The nine others are worth a try.
If you're still reading at this point then there's a good chance this product is exactly what you're looking for. Check out the Plus Pods - Portable Smoking Device product page and order yours today. You owe it to yourself!