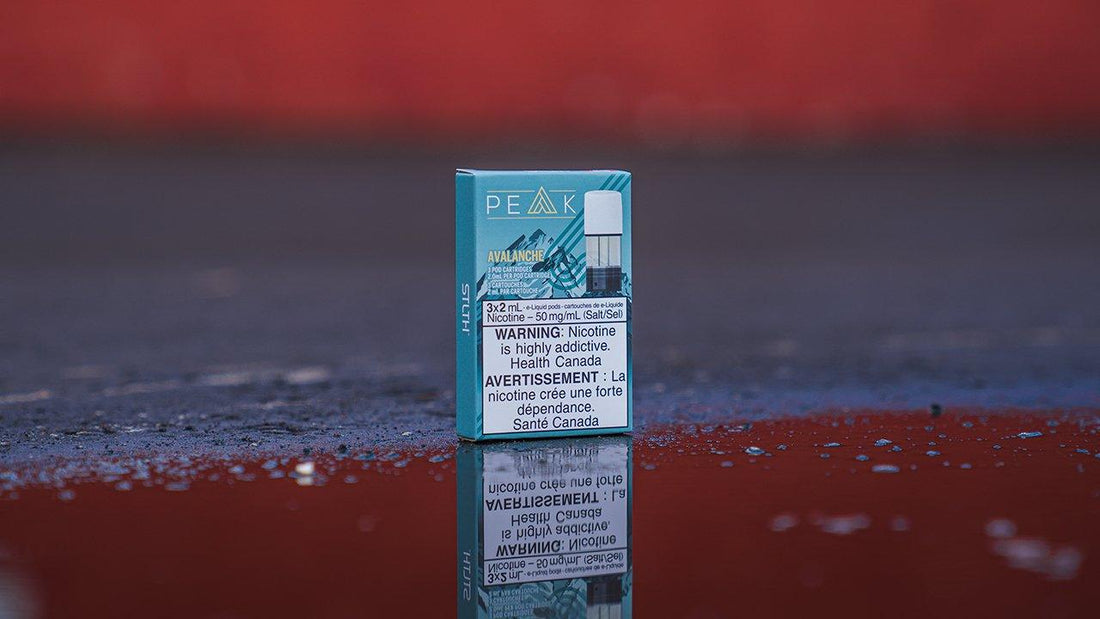 Peak STLTH Pods Review
Want to elevate your vaping game? Then look no further than Peak to ascend new heights of great flavours. You'll enjoy the varying fruity flavours each e-liquid provides, while all flavours are wrapped in a satisfying coat of minty freshness. Trying Peak will be the most refreshing mountain climb you've experienced, and you can expect to experience Avalanche, Descent, and Summit vape juice blends.
Peak vape cartridges come in three pod packs with 2mL of vape liquid in each. All flavours are available in 35mg or 50mg salt nicotine concentrations, with all juices blended in a 50VG/50PG ratio. If you've been looking for flavour-forward, minty juices, then start your climb with Peak!
The Flavours
All Peak e-liquids have a base of mint and a unique recipe of different fruity flavours. If you're curious to know what minty blends to expect, then read below!
Get ready to be bowled over by an avalanche of flavour! Avalanche takes green apple, watermelon, and honeydew, all combined with a fantastic blast of mint. Avalanche is tart-forward with gentle melon notes on the exhale. Avalanche is a delicious concoction that will cover your taste buds with fruity, minty goodness!
Once you've reached the top of Peak, you'll find the Summit, a strawberry-forward vape juice with smooth kiwi sweetness and tarty pomegranate notes. Summit offers the perfect way to relax with frosted, tarty, sweet notes after a hard day's climb.
Once you've enjoyed your time on Summit, it's time to begin your Descent. On your way down, you'll catch all kinds of berry notes, including blueberry, raspberry, and blackberry. The mixed berry flavours will grab your right in the cheek, while mixed in mint will keep flavours from becoming too tart or too sweet. A perfect way to end your Peak vaping experience!
Conclusion
If you love a variety of fruit blends splashed with a healthy dose of mint, then Peak is the STLTH pod line for you. You'll taste the quality in the fruity flavours that make up each blend, and the overall mint tastes will come across as crisp and refreshing. Peak is a must-try for mint-lovers, though we recommend any STLTH pod vaper try them!
Find the perfect pack of pods? If you've made it this far in our review, this may be the right line for you! Check out the Peak STLTH Pods collection page to shop now!