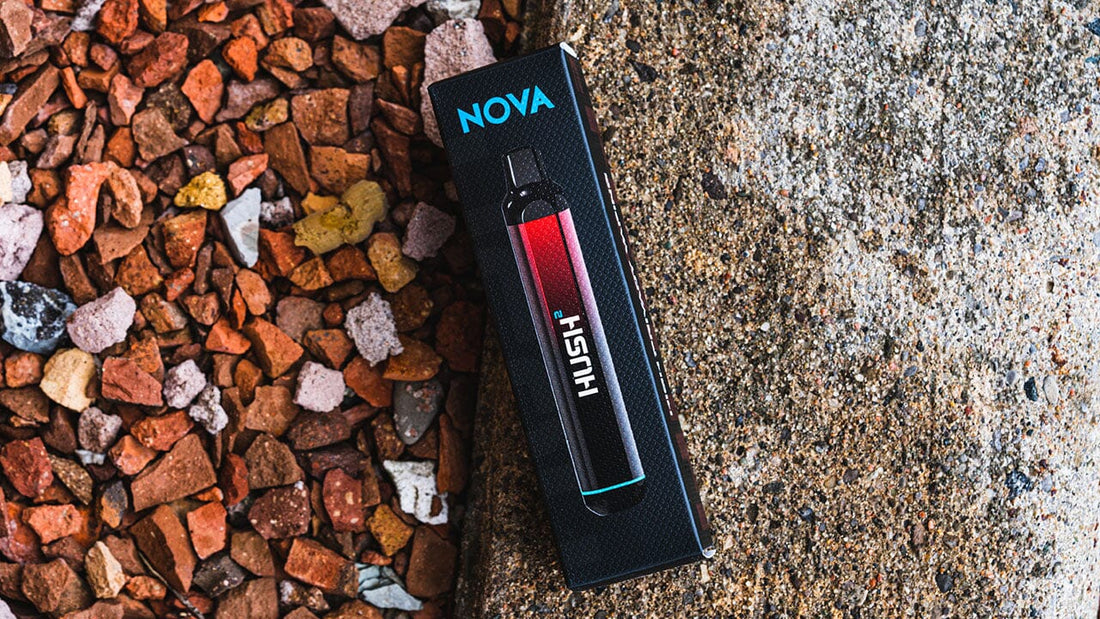 Nova Hush 2 Review: The Discreet Cannabis Battery That Passes as a Regular Vape!
Do you know what's the best thing about vaping cannabis? Simply enjoying it! But let's be honest, getting a lecture every time you hit your weed vape can be a real buzzkill. Especially when those basic 510 batteries you screw into your cartridges are bland and often don't hold a charge. Plus, they're not very discreet either. Sure, disposable weed vapes offer some visual comfort, but buying them regularly can add up fast.
Wouldn't it be great if you could make your cannabis vape look like a regular vape? That's precisely what the Nova Hush 2 offers - a quality vaping experience without any explanation. It's sleek, compact, and can easily pass as a regular vape. You won't have to worry about anyone knowing what you're vaping, and its rechargeable battery means you won't have to keep buying throwaway vapes. It's the perfect solution for anyone who wants to enjoy cannabis without having to answer any questions.
Design and Features:
The Nova Hush 2 510 Thread Battery Vape is designed for vapers who want a discreet and seamless experience. This device has an adjustable voltage setting that can be tweaked according to your preferences. The device also has a preheat function, making it ready to use in no time. The Nova Hush 2 is compatible with 510 cartridges and is designed to be discreet, convenient, and portable. The small device is 84mm by 15mm by 8mm, making it easy to carry around.
Advantages of the Nova Hush 2 510 Thread Battery Vape:
The Nova Hush 2 is an innovative device with several advantages over other vaping devices. The device offers a superior vaping experience thanks to its adjustable voltage setting and compatibility with 510 cartridges. Additionally, the device is effortless to use, making it an ideal choice for beginners and seasoned vape users. The Nova Hush 2 is also designed with discretion in mind, allowing you to vape in public without drawing attention. Finally, the device is cost-effective, providing value for money.
How to use the Nova Hush 2:
The Nova Hush 2 510 Thread Battery Vape is efficient and super easy to use. As soon as you go to insert your cannabis cartridge, a magnet snaps it into place like magic! No fiddling around trying to get the cartridge in the right spot. Just snap, twist and vape!
Maintaining the device is just as simple. Regularly cleaning and storing it in a cool, dry place will help prolong its lifespan. And when it comes to cleaning, a simple wipe-down with a damp cloth does the trick.
The new Nova Hush 2 makes vaping a breeze with its easy-to-follow instructions. You won't have to fuss with any buttons or complicated settings. You only have to take quick draws from the mouthpiece to turn the device on or off. It's that simple!
Adjusting the voltage is just as easy. Three quickdraws will do the trick, and if you want to preheat your cartridge, take two quickdraws. You can see the preheating in action by looking at the light on the bottom. I found the light indicator a bit hard to see at first and had to keep flipping the device upside down to make sure it was working at first. But overall, the device worked like a charm and delivered on its promises.
Speaking of the light indicator, it's worth noting that it shows green for 3.0V, red for 3.8V, and rainbow for preheating mode. Also, you'll know if you need to charge the battery by looking to see if the light comes on. You'll also see that the battery is charging when you plug it into a USB-C charging cable (included), and it lights up. So if you want to customize your vaping experience, the Nova Hush 2 has you covered. Don't let complicated settings get in the way of enjoying your cannabis cartridges. Get your hands on the Nova Hush 2 and enjoy a hassle-free vaping experience.
If you prefer keeping your cannabis use private, the Nova Hush 2 allows you to do just that. The Nova Hush 2 is compatible with 510 threaded cartridges and makes it easy to enjoy cannabis on the go. Its discreet design features a lanyard for added convenience. With its rechargeable 350mAh battery and built-in micro-USB charging, you don't have to worry about running out of power while you're out and about. Enjoy your cannabis cartridges with ease using the Nova Hush 2.
Conclusion:
Personally, I was impressed by the Nova Hush 2. It's a huge upgrade from the traditional 510 batteries I've used in the past, and I loved that it came with colour options. And let's talk about the discreetness of this device - it's next level! No need to worry about people staring or asking questions. The Nova Hush 2 lets you enjoy your cannabis in peace.
And here's the cherry on top - every Nova Hush 2 comes with a free lanyard! How cool is that? Not only would I buy this for myself, but it's also the perfect gift idea for your friends who love to vape cannabis or who need to make the switch from smoking cannabis to vaping.
If you're looking for a high-quality and rewarding cannabis vaping experience doing practically nothing, look no further than the Nova Hush 2. It's worth considering, and I guarantee you won't be disappointed.
Stay current with all the new deals and vaping news by following our instagram page!