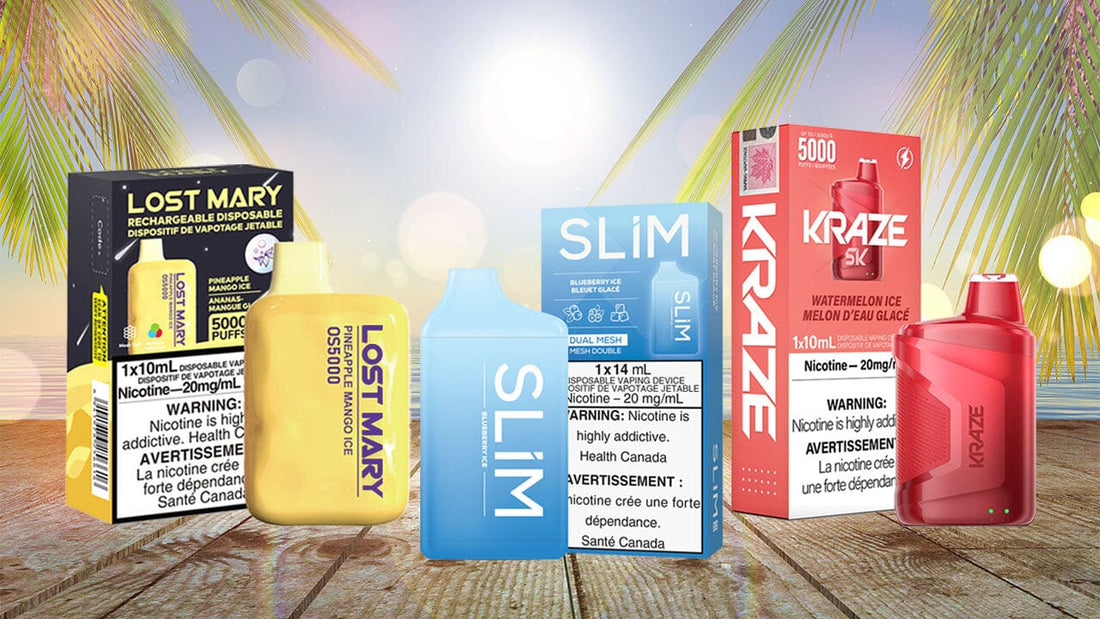 New Disposable Vapes at VapeMeet: Pick up the hottest vapes for the summer!
Today we'll be diving into our brand-new arrivals of disposable vapes - they just landed, and trust me, they're pretty unique. If you're looking for fresh new disposable vapes, look at VapeMeet. We've recently added four new options to our lineup: the Slim 7500, Kraze 5000, Lost Mary OS5000, and Flavour Beast. With all these choices, you will find a vape that fits your style. The best part is that VapeMeet is conveniently located near you, so swinging by to grab your new vape is a breeze!
New Vapes Available at VapeMeet:
The Slim 7500 has gained popularity in the market for its impressive 7500 puffs per device. Its long-lasting battery life and five delightful flavours make it the perfect choice for vapers seeking a hassle-free experience without refilling and charging.
We have the Slim 7500 in five irresistible flavours: Banana Berry Ice, Blueberry Ice, Mango Peach Pineapple, Razz Peach Lemon Ice, and Red Apple. Whether you fancy something sweet, tart, or refreshing, there's a flavour for everyone to enjoy. Its compact design makes the Slim 7500 perfect for vaping on the go and will last you.
For a high-quality and long-lasting vape, the Kraze 5000 disposable is the absolute best choice. With an impressive 5000 puffs, you can rest assured that your vaping experience will always be well-spent. The device also boasts a powerful 650mAh USB-C rechargeable battery and adjustable airflow, providing a fully customizable experience tailored to your preferences. And with its rechargeable USB-C battery, you can quickly power up whenever needed. Take control of your vaping experience with the Kraze 5000 Disposable's adjustable airflow, giving you the ultimate personalized experience.
It is available in four flavours at VapeMeet: Grape Ice, Lemon Lime Cranberry, Peach Mango and Watermelon Ice. Its rechargeable battery makes it perfect for those who need to vape on the go. You'll have plenty of options to satisfy your taste buds. Get ready to experience the convenience and flavour of the Kraze 5000 disposable!
Vapers should not miss out on the Lost Mary OS5000 disposable vape. Its cutting-edge mesh coil technology and ergonomic design deliver an unparalleled vaping experience. But what sets Lost Mary OS5000 apart is its one-of-a-kind flavours. From the tangy Blue Razz Ice to the refreshing Pineapple Mango Ice, the surprising Strawberry Surprise Ice, and the relaxing Tropical Bliss, there's a flavour for every taste. With 5000 puffs and superior quality, Lost Mary OS5000 is the ultimate vaping option.
Don't waste time searching for a disposable vape that delivers premium flavour with every puff. The Flavour Beast Disposable is what you need. This vape offers a satisfying and refreshing experience with its 4000 puffs of delicious Arctic Ice flavour. The sleek and user-friendly design makes it easy to enjoy a long-lasting and icy vape session anytime. Taste the difference for yourself by trying the Flavour Beast Disposable today!
Conclusion:
Explore our exciting new range of disposable vapes at VapeMeet. These devices cater to your unique vaping preferences and offer long-lasting battery life, adjustable airflow, cutting-edge mesh coil technology, and top-notch flavour. Discover a new flavour that steals your heart, or find your next go-to everyday vape. We're always adding new disposable vapes and vape products to our shops and online store, so remember to check back and see how we're switching things up!
Need more vapes in your feed? Stay up to date with all our deals and promotions by following our Instagram page!