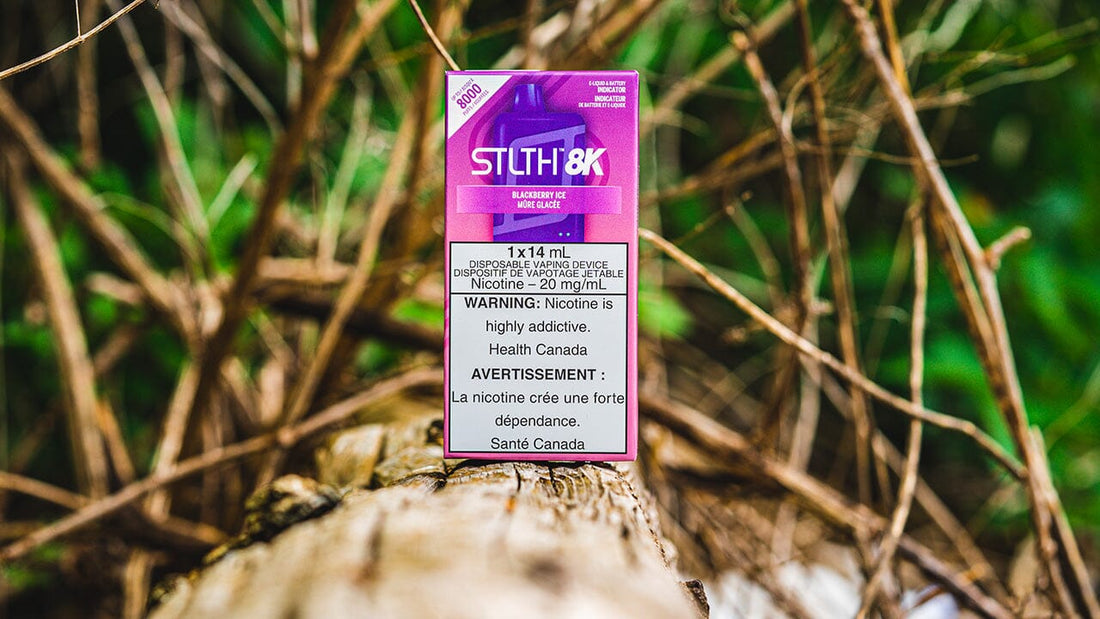 The STLTH 8K Disposable Vape Review: A Long Weekend Fling That Lasts
I recently enjoyed trying out the new STLTH 8K disposable vape and am excited to share my experience. With its powerful battery, impressive puffs, and a price tag of just $22.99 before taxes, the STLTH 8K is nothing short of a game-changer.
How long of a charge did the STLTH 8K Disposable Vape hold?
First impression? I was truly amazed by the vaping time I got from just one charge! This vape is powered by a strong battery that kept me puffing effortlessly throughout my weekend. I enjoyed about 8 hours of vaping time before needing to charge up, which is truly impressive for a disposable vape. Overall, the STLTH 8K Disposable Vape is hands down one of the best products I've ever used, and its long-lasting charge only adds to the enjoyment. 
Speaking of the weekend, let me paint a vivid picture for you. Close your eyes and imagine a gorgeous, sunny Canada Day weekend at a charming lakeside cottage. The air is filled with excitement and laughter as my lovable dog, Splash, bounds around, happy that we can't set off any fireworks this season. Surrounding me are a handful of wonderful friends, their smiles, the deck all set up with chairs, the BBQ, and us feeling like we just scored the best VIP seats at the party.
This tranquil and picturesque setting creates the perfect atmosphere for pure relaxation. As we immerse ourselves in the breathtaking beauty of nature, the refreshing aroma of Kiwi Dragon Berry Ice vaping fills the air, adding a delightful touch of refreshment. It's hard to believe that just a few years ago. I would have to sneak away from my friends to smoke a cigarette, tarnishing the experience and dealing with the aftermath of cigarette butts. While not everyone in my group vapes, we collectively agreed that vaping is more socially acceptable during our get-togethers due to the odour and mess associated with smoking. 
Additionally, there's concern about smoking in and near the woods, especially when there's a burn ban, as a stray cigarette butt can cause significant damage in the forest (especially when drinking is involved).
How portable is a disposable vape with 8000 puffs?

The STLTH 8K was an absolute delight to hold with its comfortable and natural feel. Its sleek design perfectly complemented its outstanding performance. It effortlessly slipped into my bag, becoming my trusted companion wherever I went. The smooth airflow delivered delightful flavours to my taste buds, enhanced by a touch of salt that made every puff perfect. What truly amazed me, though, were the voluminous clouds I could effortlessly produce with each exhale. Even after hours of vaping, the clouds remained as big and fluffy as when I started. Paired with refreshing gin cocktails and sangrias, we brought to the serene lake, and this flavour created a harmonious blend of sensory experiences that elevated our time there to sheer bliss.
The Pros and cons of the STLTH 8K Disposable Vape
The STLTH 8K device had one minor drawback - it required a long-term commitment. However, I was genuinely impressed with its quality performance. As someone who loves anything with dragonfruit, it delivered on the flavour front! The bold and enticing taste was an absolute delight. If I were to be a little picky, I started to get sick of the ice by Sunday evening. Nevertheless, the overall satisfaction and enjoyment I derived from the bold flavour more than made up for that slight inconvenience.
The STLTH 8K was my constant companion through it all. The Kiwi Dragon Berry Ice flavour was a refreshing treat with each puff, making it an ideal choice for the summer season. The sweet, tangy kiwi paired with the exotic dragon fruit and a cool icy finish delighted my taste buds. What impressed me more was the ease of charging the vape. Getting it up and running again when I needed it was a breeze. Despite being a disposable vape, the STLTH 8K held up well over the weekend.
Come Tuesday, and I was genuinely sad to see it go. But on the bright side, its performance left me thoroughly impressed. It held up over an intense weekend session that didn't want to stop, and I felt for what I paid, I got an excellent value for my dollar. For its affordability and quality, the STLTH 8K is a perfect treat that won't hold you back from enjoying your summer.
In conclusion, if you're looking for a disposable vape that delivers on all fronts - flavour, battery life, and affordability - the STLTH 8K is the way to go. Trust me, your summer weekends will thank you!
Happy vaping!
Need more vapes in your feed? Stay up to date with all our deals and promotions by following our Instagram page!