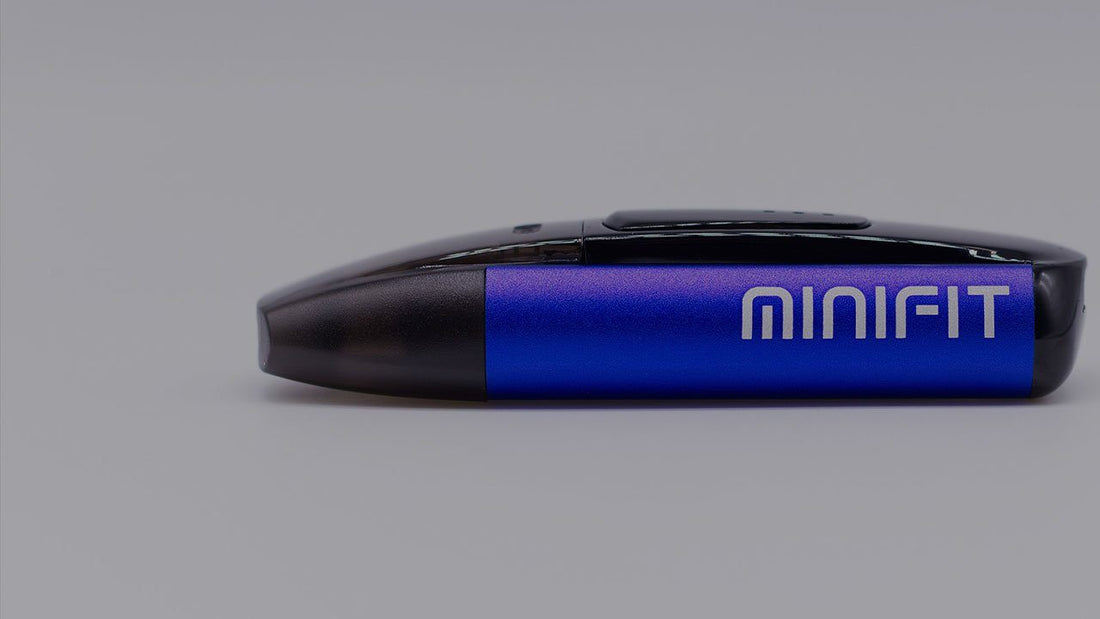 Justfog - Minifit Starter Kit Review
The Justfog Minifit is a tiny device, I can't overstate this, an extremely compact and lightweight pod system built for vapers on the go or just looking for an easy-to-use unit. To keep things easy, the Minifit uses a single one-button interface that consumes 3.4 volts from its 370mah battery. With 4 clicks on/off and short circuit protection, this little beast charges so easily from its micro USB port that you'll be on your way in no time.
Specifications
Dimensions: 70mm X 16mm X 22mm (Including Cartridge)

Refillable Pod/Cartridge System

All-in-One Device

Simple One Button Design

Constant Voltage: 3.4V

Built-in Battery Capacity: 370mAh

Battery Life LED Indicator Light

Lightweight and Compact Design
What's In The Box
1 x Justfog Minifit

1 x Micro USB Cable

1 x Justfog Minifit Cartridge
Design
At first glance, the device will appear to be a thumb drive. Now, because of its small size, you can easily slip it into your bag, purse or pocket. The MiniFit comes with a sleek, ultra-small, anodized alloy body with 5 color choices (black, red, silver, blue and bronze). The air flow device, the LED indicator, the battery, the charging slot and the pod are ideally positioned and planned. It is also an ultra-small capsule, with a height of 7 cm and a weight of 24.3 grams, without any e-liquid. Its thumb-sized configuration makes it simple to hold and vape discreetly.
Flavour Production
The Mini-Fit pod comes with a 1.6 ohm built-in coil, and I've been using it for a couple of weeks, and I really enjoy the amount of vapour and the consistency of the flavour I get from the MiniFit pod. It should be remembered that the MiniFit coil is reconstructable (i.e. you can re-wick and re-install it), but it is very difficult to do so because of its ultra-small scale, so it's easier to change it and buy a new one. The pod is made to use nicotine salts, but I use the free-base e-liquid instead of the nicotine salts, and it works fine. I have to admit that the MTL tanks provide better taste and flavour, but the MiniFit is still doing a good job.
Overall Performance
The Justfog Minifit Starter Kit comes with a 1.5ml e-liquid capacity and a 370mAh battery to support a constant voltage output with a three color battery indicator. Now, the battery safety feature actually prolongs the life of the battery. Its lightweight and compact architecture gives it a stellar look. This system is rechargeable through micro-usb. There are also no risks of leaking while vaping. It will last for around 1-3 hours depending on the use of the battery. It charges quickly, however, within 15 to 20 minutes.
Battery Life
The MiniFit has an integrated C601 Li-ion battery with a capacity of 370 mAh, which is very small but anticipated due to its ultra-small size. In case of regular use, the battery will last for 1-3 hours, but will be charged super-fast (15-20 min.). You can charge it by simply plugging the micro-usb cable into the bottom of the unit and connecting the other end to any power supply not exceeding 1A. The battery has 3 LED indicators to display the charging speed, which I think is a great feature that we all need. It also comes with smart safety functions to avoid: short circuits, overheating, overcharging and overloading.
Verdict
The Justfog Minifit Starter Kit offers everything you need in a good vape unit. Whether it's a good battery or a smaller form factor, it's all provided by the unit. However, due to its small size, it is compact and extremely convenient for use. For a simple, beginner friendly and pocket friendly intro to vaping, the Minifit Justfog is a great device!
If you're still reading at this point then there's a good chance this product is exactly what you're looking for. Check out the Justfog Minifit product page and order yours today. You owe it to yourself!