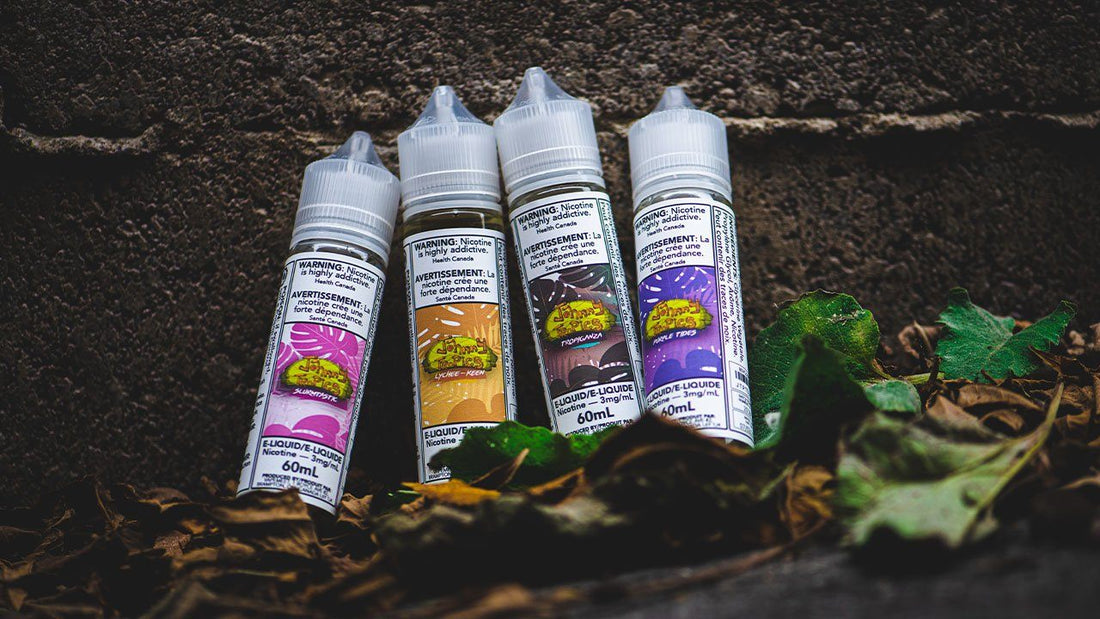 Johnny Tropics E-Liquid Review
Tropical vape juices that don't taste like artificial or syrupy flavours can be hard to come by, but Johnny Tropics knocks it out of the park. Crafted right here at VapeMeet, you'll find several different tropical recipes that blend your favourite exotic fruit tastes to create mind-blowing experiences. Expect blends like Lychee-Keen, Purple Tides, Slurmtastic, and Tropiganza.
Johnny Tropics e-liquids are available in 60mL and 120mL bottles with 0mg, 3mg, 6mg, and 12mg freebase nicotine concentrations. Every Johnny Tropics vape liquid has an 80VG/20PG ratio, which will help make big, thick vapour clouds with an incredible mouthfeel.
The Flavours
Nearly all Johnny Tropics flavour is tropical fruit oriented, but each recipe lets different tasting notes shine.
Lychee-Keen excels in providing a wonderfully smooth, fruity experience. Blending the tastes of Peaches, Mangoes, and Lychee, Lychee-Keen gives a gentle sweet hit on the inhale, with a perfect blend of the three tropical fruits coating your mouth on the exhale. An excellent choice for those wanting a tropical fruit experience without being too sweet-forward.
A unique juice among Johnny Tropics e-liquid line, Purple Tides hones in on a single flavour: grape. However, unlike other grape flavoured juices, which can taste chemically and nothing like actual grapes, our recipe has nailed an authentically grape flavour. If you love grape but have hated grape-flavoured juices in the past, Purple Tides might be what you wanted all along!
Don't worry, our Slurmtastic recipe isn't a highly-addictive, futuristic soft-drink. It's our creative imagining of what the 31st-century flavour might taste like! You'll catch notes of berries and lime mixed in a predominately sour e-juice recipe. Of course, discerning vapers will be able to detect some mystery fruit flavours, too!
Get ready for a delicious tropical blend with a twist! Tropiganza takes bananas and berries and mixes them with the taste of pillowy, baked goodness. The soft, inviting sweetness and berries is topped off with just a bit of straightforward decadence, a true tropical experience. A great alternative flavour for vapers who love sweet flavours but are burnt out on vanilla bean bases.
Conclusion
Johnny Tropics is a standout vape liquid brand that uses its carefully crafted tropical flavours to create wonderful beach-side vaping experiences. You have your choices of complex recipes, simple single flavoured choices, and a unique vaping option.
This line is geared specifically to give vapers who love tropical flavours a top of the line vaping experience. If that describes you, then give the Johnny Tropics line a try!