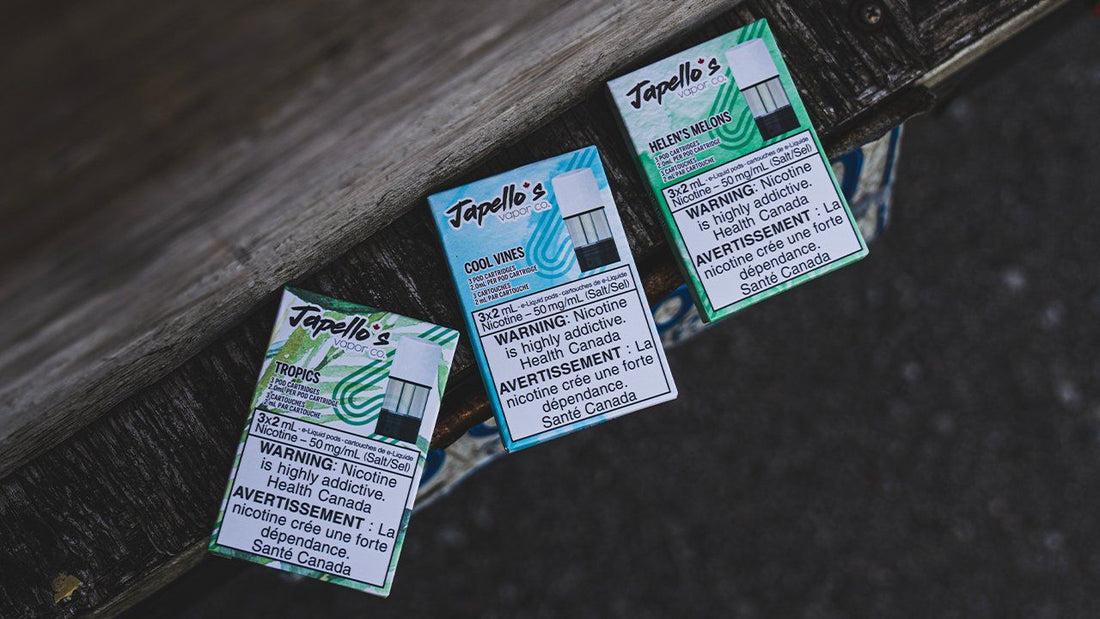 Japello's STLTH Pods Review
Lover's of fruity vape juices will appreciate the refreshingly unique tropical fruit blends brought to you by Jappello's. You won't find simple flavours like simply grape, strawberry, or watermelon. Instead, you'll find delicious vape liquids like Cool Vines, Helen's Melons, and Tropics.
Japello's vape pods come in packages of three with 2ml of liquid in each pod. Most flavours are available in 20mg, 35mg, and 50mg salt nicotine blends. All flavours are mixed with 50VG/50PG recipes, which means you'll get reasonable vapour production combined with a punch of clear, crisp taste!
The Flavours
Each of Japello's vape juices is a blend of mouth-watering flavours. Take a look to see what flavour blends to expect in each pod!
Cool Vines offers a frigid spin on a classic vape juice flavour: grape! Expect tasty, sweet grape notes mixed in with a pleasantly cool mint blast. The sweet grape will hit on the inhale, and a slightly grapey mint blast will coat your mouth on the exhale. If you like grape or mint, then Cool Vines will find a happy home with you!
Named after what we assume to be a prodigious melon gardener, Helen's Melons offers two enormous blends of flavour: classic watermelon and even more watermelon! You'll detect at least two solid handfuls of authentic watermelon tastes mixed in a super sweet-forward flavour. For fans of enormous mounds of watermelon delight, Helen's Melons are certain to hit that sweet spot!
Tropics will make you feel like you're in the heart of the Caribbean with a tasty blend of traditional fruit flavours. Feeaturing a pleasant mix of banana, pineapple, and coconut, you'll find an amazing, delicious recipe of smooth, sharp, and mouth-coating sweetness that will have you coming back puff after puff!
Conclusion
Japello's is the vape juice line to stop at if you're looking for a refreshing take of some of your favourite traditional fruit tastes. Formulated to be flavour-forward, Japello's e-liquid pods make great use of salt nicotine to provide a superior mouth and throat feel combined with tasty blended recipes. If you're ready for a different fruit experience, give Japello's a try!