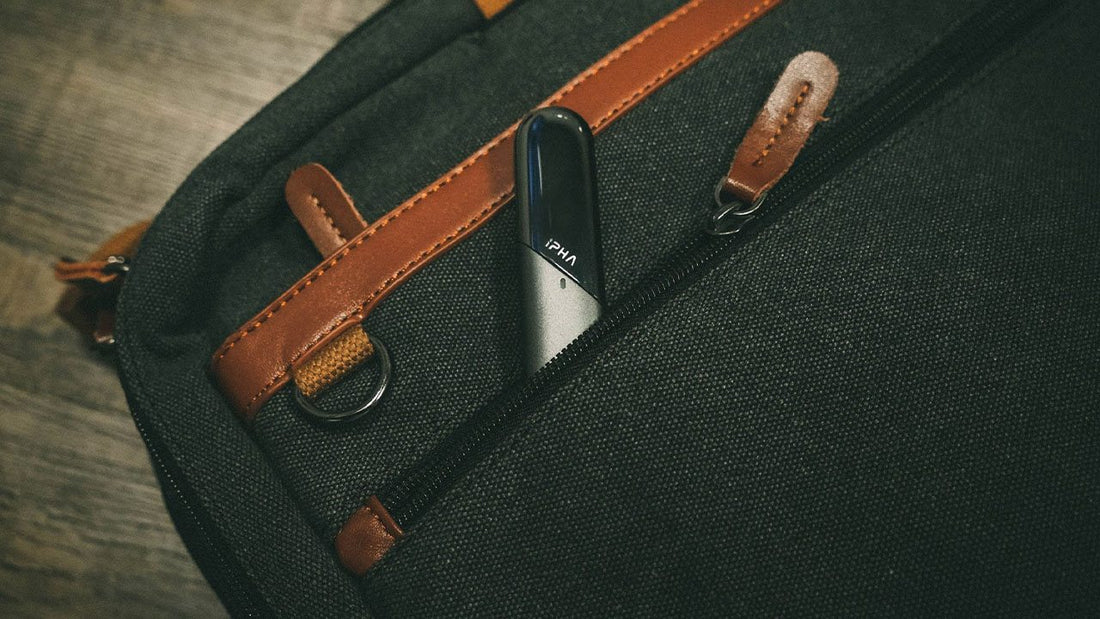 IPHA - Swis Pod System Review
IPHA has been in the manufacturing industry for over 20 years and in the design and development industry for over 8 years. Brands such as Apple and Huawei have been working with them. The IPHA Swis pod system kit is the first stainless steel pod system built for simplicity on the market.
Specifications
Dimensions: 116 x 21 x 10.7mm
Over Time Protection
Output Wattage: 5.5W
MicroUSB Quick Charging
Ultra-Portable Pod System
300mAh Built-in Battery
Short Circuit Protection
What's In The Box
IPHA Swis Pod System
USB Cable
User Manual
Cleaning Fabric
Design

Ipha swis is the world's first stainless steel pod system and is available in several colours. The device's dimensions, 21 x 10,6 x 116 mm, make it very compact. The design performance is very good and this

pod system looks very elegant. A resistance of 1.4 to 2.5 ohms may also be tolerated by this device. The device is very clean, there is only "Ipha" engraved, and there is the battery indicator, that's it basically. This is a very clean and elegant device.

Vapor Production

Compared to other pod mods I have attempted before, this device offers a very good flavour. Swis is compatible with pods from JUUL. I've only tried it with pods from JUUL, but I bet it's also compatible with other pods from other manufacturers. This is always appreciated. The Swis is good for showing off when you place it on your lips, thanks to its rounded shape. Pass-through is supported by the Swis, so you can continue vaping as you charge it. However, you need to wait a few minutes when you fill the cartridge for the first time, and then you can use the device, because if you don't wait, you can get a dry hit, so when you fill it, just wait a couple of minutes before you vape.

Performance

The Swiss outperform Juul by 50 percent in terms of autonomy (300mh vs. 200mh) and are charged conveniently via an usb Port. It is also regulated at 5.5W, which is lower than the estimated 6-8W range of Juul, but does not seem to affect the production or drawing of vapour, as we found that the same pod vaped on both devices. On both devices, Juul's pods work just as well, but the Swiss pods are even better. There is not much to gain with the same 0.7ml capacity, but the Swis pods are refillable! This means that your favourite flavours, nicotine levels, and blends of choice can be used, with the added advantage of being able to refill the same pod several times.

Battery Life

The device is equipped with a 300 mAh battery, so the use of nic salt e-liquids is preferable as the battery will last longer as you do not use the device all the time. There is also an LED light and this LED light is the indicator for the battery. It shows you the 3-colour battery capacity, white, blue and red:

White: 100-50%.
Blue: 50-20%.
Red: less than 20%.

Verdict

This year, I've seen and tried many pod mods, and this is perhaps one of the most beautiful pod mods I've ever owned. It's a winner in terms of aesthetics. But would I recommend IPHA's Swis pod system? Perhaps, especially after discovering that I can also use other pods on it. The rounded shape of the device makes it comfortable for hands and lips, with no sharp edges. It's a shame that IPHA didn't put more effort into the pod, because hit and flavour are just as essential to marketing a successful kit as the design.
If you're still reading at this point then there's a good chance this product is exactly what you're looking for. Check out the IPHA - Swis Pod System product page and order yours today. You owe it to yourself!