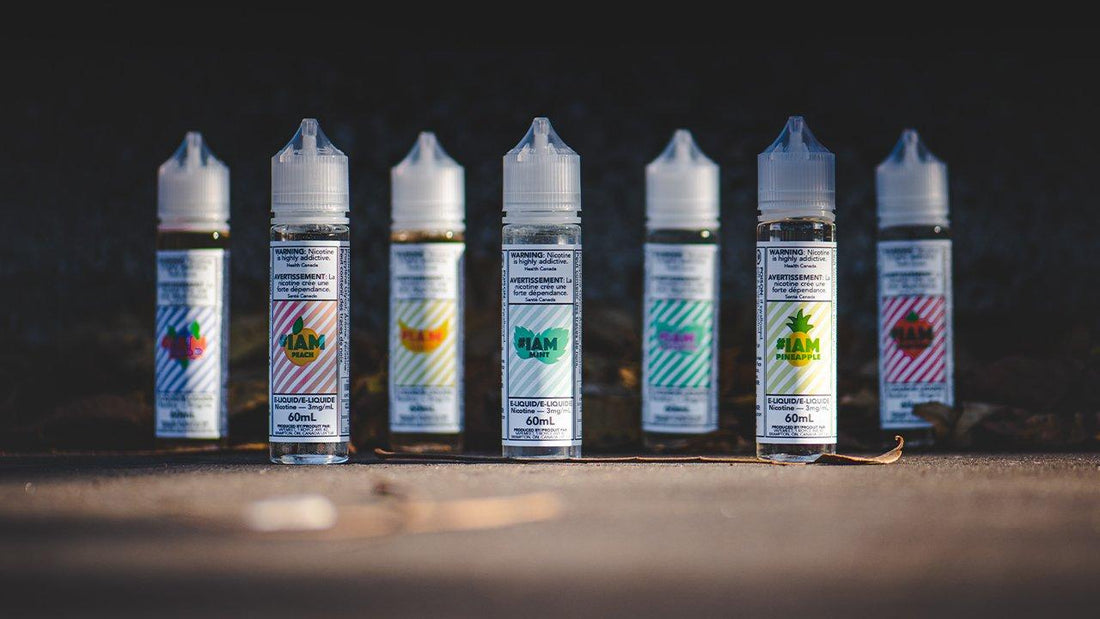 #IAM E-Liquid Review
#IAM E-Liquid is a vape juice brand that keeps its flavours simple and straightforward. You won't find complex recipes or exotic flavours. Instead, you'll find classic, delicious flavours that serve as a great introduction to flavoured vaping. Flavours include apple, banana, blueberry, mint, peach, pineapple, spearmint, strawberry, strawberry kiwi, and flavourless.
Regardless of the flavour, #IAM offers their e-juice in 60mL and 120mL bottles in freebase nicotine concentrations of 0mg, 3mg, 6mg, and 12mg varieties. The VG/PG ratio for all flavours is 40VG/60PG, which isn't going to produce huge vapour clouds, but all flavours will be vibrant and fruit-forward.
The Flavours
Though the flavours are simple, you'll find that they are delicious! Take a look at what #IAM has to offer:
A perfect mix of sweet and tart, #IAM nails the apple taste without being too sweet or too sour. The taste is close to authentically apple, which is ideal for those looking for a fruity, but not candy-like, flavour.
This is one of our favourite flavours from #IAM. It is smooth and sweet, with the banana flavour hitting hard and providing a great aftertaste. Banana is an excellent choice for vapers looking for flavoured e-juice that is neither sweet nor sour.
If you love blueberry-flavoured candy, then the blueberry vape juice is a must-try. It's crisp and sweet without having a chemical aftertaste.
Want to vape without worrying about taste? #IAM's flavourless e-liquid is crafted exceptionally well. No forward flavours and no weird aftertastes either. A great tasteless vape juice option!
Possibly their magnum opus, #IAM's mint vape juice is just about as close to a perfect mint flavour as you can get. It provides a crisp, strong, minty flavour that leaves a fresh, cool aftertaste. If you love mint or don't like fruity tastes, give this mint e-juice a try!
Remember the peach-o gummy candies? Now imagine vaping them, and you get this peach e-juice. You get a super sweet, peachy taste with every puff. If you like the sweeter side of vape juice flavours, you'll be a fan of this peach vape liquid.
Just like the real fruit, this pineapple vape juice is sweet with just a dash of tartness. We found this flavour to be very authentic without being syrupy, sweet, or chemical tasting.
If #IAM's mint is too mint forward, we recommend giving their spearmint vape juice a try. It's still minty but has just a little bit of sweetness to it (kind of like Wrigley's Spearmint Gum).
This strawberry flavour does an excellent job of tasting like strawberries and not sugar with a few strawberries mixed in. Sweet, but not too sweet, and packed full of genuine fruit flavour.
Strawberry kiwi is the only blended flavour of #IAM that we carry, and it is delicious. It carries the sweetness of strawberries with the sweet tang of kiwi. The taste is more complex and sweet forward than their strawberry e-juice and has a more complex aftertaste.
Conclusion
Simple, straightforward, authentic flavours are what make #IAM e-liquids delicious. The simple flavours are perfect for beginners to flavoured e-juice who want easily recognizable flavours, but the real-world recipes and focus on flavour quality is what keeps veteran vapers coming back for more.
Find an interesting flavour in this review? Check out #IAM e-liquid now!