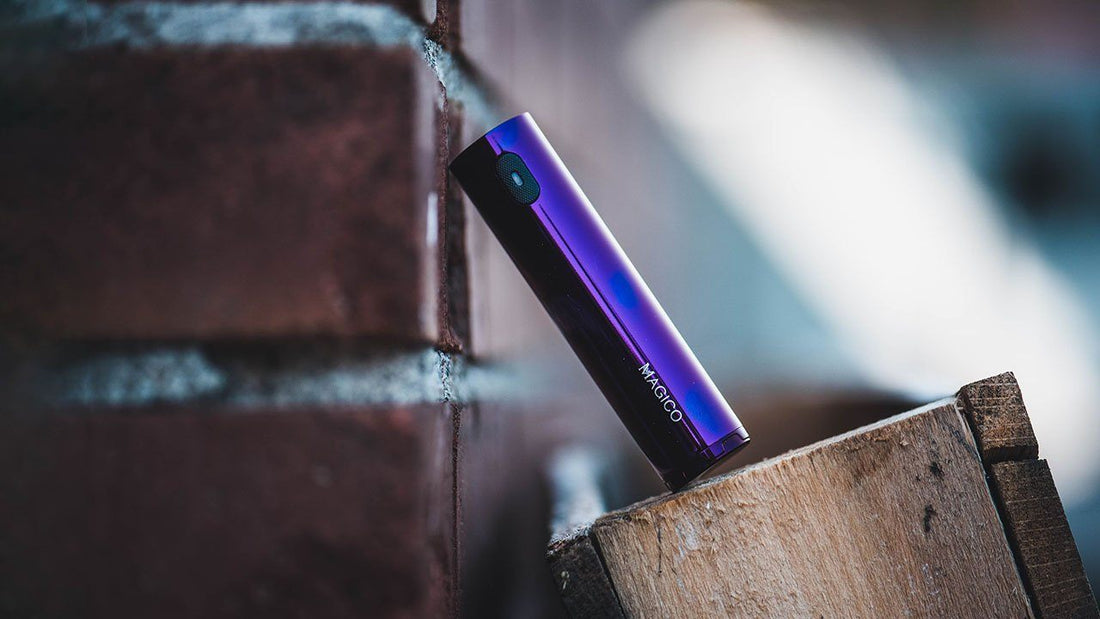 Horizontech Magico Starter Kit Review
Salt nicotine vape juice lovers know that a low-quality vape pen just doesn't cut it. You need consistent power, consistent powering, and enough wattage to properly vaporize the e-liquid. Without the proper device, you're left with harsh tasting, inconsistent vapour that will drive you crazy.
Enter the Horizontech Magico. It is designed specifically for salt nicotine vaping, and Horizonetech prides itself on how consistent power production is. The vape is a traditional pen design with a hefty battery and large vape tank, so you'll easily be vaping all day!
Here are some of the specifics of what makes the Horizontech Magico such a compelling option for salt nicotine vapers.
What's in the Box
1 x Magico Device
1 x Magico Tank
1 x 1.2ohm Mesh Coil (Pre-Installed)
1 x 1.8ohm Coil
1 x Micro USB Cable
1 x User Manual
Look and Feel
The Magico looks fantastic and is going to fit comfortably in your hand. It stands just shy of 5.5in, so it will be easy to grip and use while still being reasonably discrete. The multi-purpose firing button is located in a wonderful ergonomic position, so even though this device is heftier than a more traditional vape pen, you'll find single-hand use is easily achieved.
The body is constructed with a zinc-alloy, giving it a cool, slick feel while still affording a comfortable weight. You won't want to drop it and knock it around, but it's sturdy enough to handle just a little rough and tumble action.
The tank connects with a spring-loaded 510 threaded connection, which makes it easy to know whether or not a tank has fully connected. While the Horizontech Magico can be used with a large selection of e-liquid tanks, we recommend starting with the included tank for best performance.
Overall, the look and feel of the Horizontech Magico are exactly what you would expect from a high-end, box mod-like vape pen!

Performance

The performance of the Horizon Magico is its huge selling point. It offers a voltage range of 3.2-4.2V, which is enough to give some variety to your favourite e-juices without completely overwhelming beginners with precision features.
The vape juice tank holds a whopping 5.5mL of juice, which is going to be hard to beat from other vaporizers with similar builds and designs. Combine the juice capacity with the built-in 2000mAh battery, and you'll easily cruise for all day (and maybe even all night) vaping. The included tank features a child-proof top-fill design, so you'll have no problem filling it with your preferred e-juice.
Where the Magico shines is the attention to salt nicotine vaping. If you want to fully enjoy salt nicotine vape juices, you can use the 1.8ohm Magico NS Coil to create incredibly good vapour. If you'd prefer to stick with freebase nicotine e-juice options, considering using the 0.12ohm Magico Mesh Coil to create thick, tasty clouds packed full of your favourite flavours!
When you put together the battery life, the attention to performance, and the huge tank, we believe the overall performance will more than win you over.

Final Verdict
If you are a salt nicotine vaper that doesn't want to make the investment into a full-fledged box mod, then the Horizontech Magico is a must-own. You'll get a device designed to easily accommodate freebase and salt nicotine vape juices, with enough customizable features to really curate a taste that is perfect for you.
The Horizontech Magico is also a great option for an on-the-go device since its build is convenient and discrete and its battery life is incredibly long-lasting. Horizontech really has made an incredible device at an extremely reasonable price-point, and we're sure you'll be impressed right from the very first puff!
Are you feeling the magic with the Magico? Head over to the Magico Product Page to shop now!