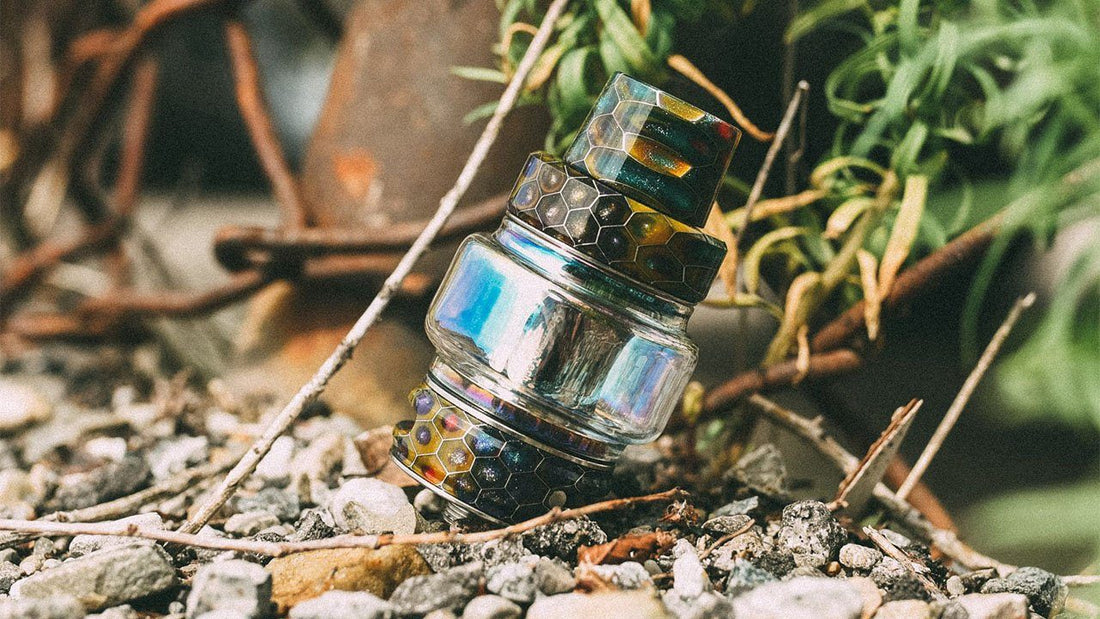 HorizonTech Falcon Resin Tank Review
HorizonTech is great at focusing on giving as much customization as possible to the vaping experience, even to the point of offering an almost overwhelming selection of coils. Experienced vapers looking to hone in on their specific vaping preferences should take a look at the HorizonTech brand, and in particular the Falcon Resin.
What makes the Falcon Resin pop? As the name implies, this e-liquid tank features a beautiful resin design but also sports plenty of vape juice capacity, a decent selection of coils to use, and adjustable airflow.
Let's take a closer look at the design and the performance of the Falcon Resin to see what sets it apart from other vape juice tanks.
What's in the Box
1 x Falcon Tank
1 x M1 Mesh Coil (Pre-Installed)
1 x F1 Mesh Coil
1 x Replacement Glass
1 x Instruction Manual
Design
The first thing you'll notice about the design of the Falcon Resin is its vibrant resin design. You'll have several choices in bright, eye-catching resin designs that can be difficult to find in other high-end vape juice tanks.
Another eye-catching feature is the vape juice capacity. The standard tank can hold 5mL, but the tank kit comes with a bubbler attachment that increases this capacity up to 7mL, which is perfect for heavy vapers or those that simply dislike refilling. However, when refilling time comes, you'll get an easy top-fill design with large filling slots to make refilling easy and reduce messes.
The physical measurements are pretty standard for a vape tank. It has a 25mm base equipped with 510 threading. When you consider the modest wattage requirements of the Falcon Resin (more on that in the next section), this vape juice tank is a great choice for most box mods.
Performance
The performance of the Falcon Resin is fantastic, especially if you're focused on sub-ohm
vaping. The tank comes with two coils: the M1 Falcon Coil that reads 0.15ohms of resistance and the new 0.16ohm M2 Falcon Coil that features HorizonTech's new mesh atomizer system. The wattage requirements for these coils range between 60-80W.
When available, you'll have a broad option of wick types to choose from, including those featuring cotton, bamboo fibres, and even wood pulp. The kind of wick being used has a direct impact on the flavour of vapour produced, so if you're looking to get a vape juice tank with a unique wick, the Falcon Resin is a great place to start!
At the base of the Falcon Resin, you'll find dual-slotted airflow vents, which are great for hammering down the exact amount of air you want when taking hits. You may even find different airflow across different vape juices (or even different wicks and coils) creates the ideal experience, so be sure to play with the settings to find the perfect setting!
Overall, the performance is a fantastic sub-ohm vaping experience for beginners and experienced vapers alike (though experienced vapers will better appreciate the availability of customization).
Conclusion
If you're looking for an easy-to-use sub-ohm vape juice tank that provides plenty of unique customizable options and eye-catching styles, then you'll be thrilled when you try the Falcon Resin for the first time. You'll have a hard time finding a tank that performs this well and looks this good!
You'll want to be sure that your box mod has the wattage output to make the best of the Falcon Resin. You'll need at least 60W output capability, but we recommend a box mod with 80W for the best performance with this tank. If you're an exclusive vaper of salt nicotine vape juices, you may want to consider a tank with higher resistance coils (you tend to get smoother, better-tasting hits with higher resistance coils when vaping salt nicotine).
Should you have the power requirements and love sub-ohm vaping freebase nicotine juices, then the Falcon Resin will fit your needs with a much-needed splash of style!
Ready to soar to new heights with this tank? Head over to the Falcon Tank product page to shop now!