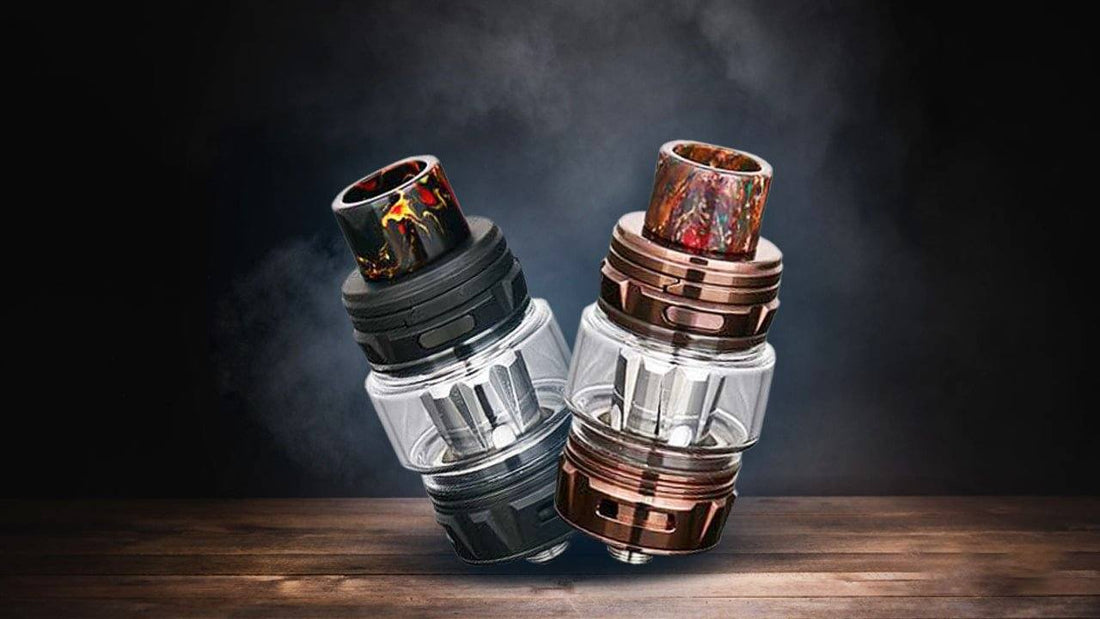 HorizonTech Falcon King Tank Review
When serious vapers look at a potential vape juice tank, all kinds of requirements come to mind. How well does it produce vapour? What's the style? What's the capacity? It can be hard to find a vape juice tank that ticks all the boxes you need for a suitable primary tank.
If you're still in the midst of shopping, the HorizonTech Falcon King is a formidably choice for experienced vapers looking to upgrade to a high-end, mid-watt e-liquid tank. This is especially true if you're looking to niche down into an incredible sub-ohm vaping experience.
Sound interesting? Read more to see if the Falcon King is the sub-ohm vape tank you've been shopping for!
What's in the Box
1 x Falcon Tank
1 x M1+ Mesh Coil (Pre-Installed)
1 x M1 Mesh Coil
1 x Replacement Glass
1 x Instruction Manual
Design
The physical size of the Falcon King is pretty modest, and that with its 510 connection makes it physically fit on most box mods. The standard e-juice capacity is 4mL, but with the included bubble tank attachment, that pops up to an impressive 6mL. The tank is a mixture of stainless steel and pyrex glass that gives it a great look and a durable build.
The drip tip features amazing resin designs, and such a small addition of detail really makes these vape tanks pop! The matching colours are on all stainless steel parts, and since there are several colours available, it makes it easy to match a tank with your choice of box mod!
Overall, the design is not only high-quality but also very aesthetically pleasing, which makes the Falcon King's design a must-have among experienced vapers.
Performance
Sub-ohm vapers will adore the performance of the Falcon King. It features two new coils: a 0.38ohm M-Dual Mesh Coil and a 0.16ohm M1+ Mesh Coil. Both of these coils come equipped with bamboo fibres in their wicks, which give an incredibly clean burn and great tasting vapour.
The wattage requirements for these coils aren't super high, but they are high enough that it will disqualify a handful of box mods. You're looking at needing 75-80W to enjoy either one of these coils. Anything less and you won't get the kind of vapour product you need to have a quality vaping experience.
If you don't like those specific coils, worry not! For lo, the Falcon King is compatible with all F1, F2, F3, M1, M2, and M-Triple Coils. You'll have a wide selection of coils to choose from (and if you're already invested in this line, it's one less thing you have to spend money on!)
The performance of the Falcon King is very, very satisfying, in particular, if you're sold on sub-ohm vaping.
Conclusion
The Falcon King excels in so many different areas that will appeal to a wide variety of vapers. Those that are concerned about a durable build, an attractive design, and great sub-ohm vaping will love what they find with the Falcon King. The vape tank will work with most box mods, though you'll want to check to make sure yours is capable of the minimum power requirements.
The capacity is attractive for those who hate to refill throughout the day, especially if you like the 6mL bubble attachment. The only potential drawback would be for those that aren't sold on sub-ohm vaping or prefer to vape salt nicotine e-liquids, which vaporize better with coils that have higher resistances.
For sub-ohm vapers looking for an excellent, beautiful tank with modest power requirements, the Falcon King is a guaranteed win!