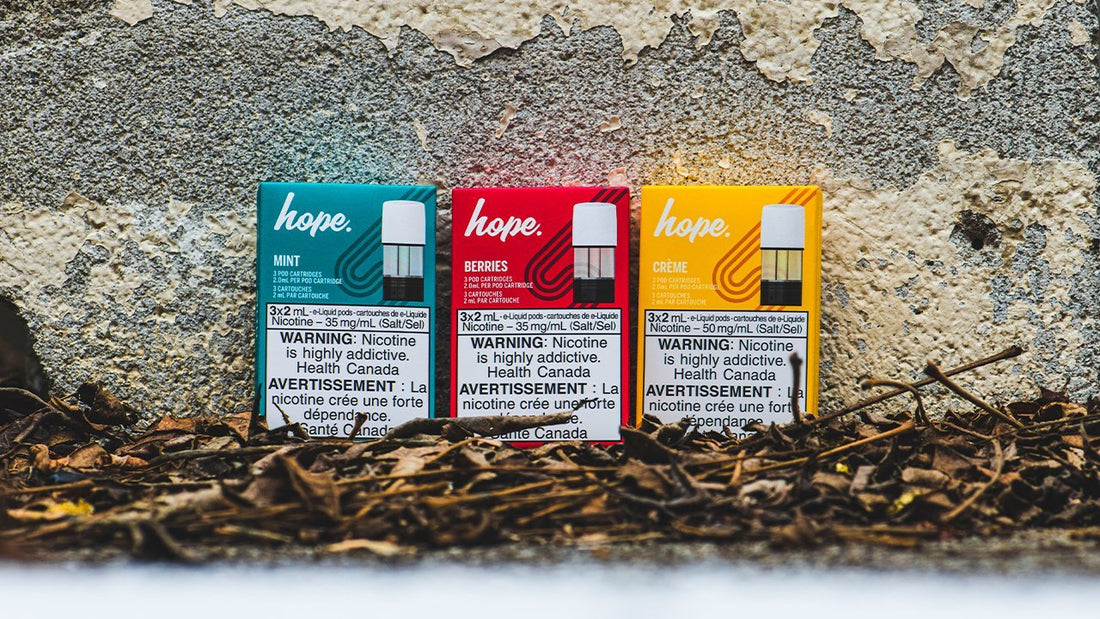 Hope STLTH Pods Review
Hope vape pods will restore your faith in great tasting, well-balanced vape juice pods. Each of their flavour blends focuses on a specific palate of flavours, be it Berries, Creme, or Mint. A great product line for vapers looking for distinctly different fruity, creamy, or minty vapour clouds! 
Hope vape pods come in packages of three, with each pod containing 2mL of e-juice. Most flavours are available in 20mg, 35mg, 50mg salt nicotine concentrations. All flavours are blended in a 50VG/50PG blend, which will provide light, great tasting vapour.
The Flavours
Each of the vape juices in Hope focuses on a particular flavour blend. Take a look and see what each unique recipe brings to the table!
For those looking for something a bit fruity, Berries is going to zero in on that sweet spot! A mouth-watering mix of strawberries, raspberries, and blueberries will leave your taste buds in a sugar-fueled daze. If you want fruit-forward flavours from your STLTH pods, then Berries is where you need to head.
Berries is only available in 35mg and 50mg salt nicotine formulas.

Lovers of smooth, vanilla bean will feel right at home with Creme. You'll catch the thick, gentle sweetness on the inhale and a mouth-coating creaminess on the exhale. If you love creamy flavours, then put Creme in your shopping cart!
Need to cool down? You'll find a faith of cooler weather with Hope's Mint vape juice. A fantastic blend of a variety of different minty flavours, Mint is a delicious, well-balanced mint recipe that is more than just a cool blast (though it does do that well). Give mint a whirl if you value high-quality mint vape juices.
Mint is only available in 35mg and 50mg salt nicotine formulas.
Conclusion
Hope is a wonderful vape liquid line for vapers not wanting to hunt through subtle differences between similar vape juices in a brand. Hope has a clear distinction between their fruit-forward, vanilla forward, and mint forward recipes, and their no-nonsense approach makes choosing a new vape juice easy!
Find the perfect pack of pods? If you've made it this far in our review, this may be the right line for you! Check out the Hope STLTH Pods collection page to shop now!